Ze Plane Ze Plane!!!!
This tweet, this one right here –
sent the interwebs ablaze with hyperbole, tomfoolery, sarcasm and conjecture all in one simple less than 140 character post. I enjoyed it like an arsonist enjoys a bright burning fire. Of course what the tweet tries to indicate is that Tiger is/was at Augusta today, and that means he's playing next week in the first major of the year. Or not. Wha?
There's still no official word from TW's camp. Golf Channel's Tim Rosaforte indicated yesterday he had heard the odds of Tiger playing were increasing. And the Augusta Chronicle knew that there was a chance Woods would be on ANGC's grounds this week. We also know that Woods was at the club on Tuesday, he played, and he was back in the air about 5 pm Eastern to get home to Florida. He probably had car pool duties for the kids today. There was no truth to the rumor that Woods sent his pilot to Augusta with the plane to troll the entire golf world.
I think its safe to say at this point that Woods will be in the 100 man field next week, unless something crazy happens. Who wins from his appearance? We all do, plus all the golf journos that will be writing about his return. Who else? Rory. Rory can now slink quietly down Magnolia Lane and go post 67 or so on Thursday before anyone gives much of a shit that he's there. By then Tiger will either have WD'd or played poorly enough that missing the cut is a foregone conclusion. Woods hasn't finished under par in a Tour even in nearly 600 days.
The D Word
The other breaking news of the day was the Golf Channel saying Jason and Amanda Dufner had filed for divorce two weeks ago in Alabama. The couple was married in May of 2012. She filed first and they apparently have agreed that Amanda will get a $2.5M payment while Jason will keep their two houses. No word on who gets the dog. They have no children.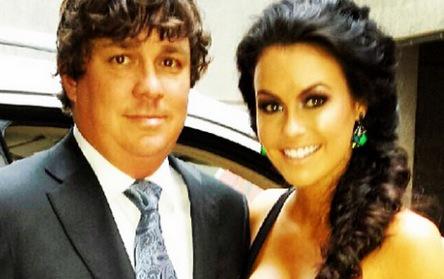 First off, I'm shocked they will be out lasted by Paulina and DJ, but then again those two aren't even married. Second, unless Amanda ends up with another golfer, there will be far too few bikini pics on golf sites like mine going forward. Damn it! Is it possible this is an elaborate April Fools joke? Don't bet on that. There are court documents that actually exist according to TGC.
Jason has won over $20M playing golf and has buckets of cash outside of that from endorsements deals. Why is she only getting 2.5M? That doesn't make sense. Now if SFG were some sort of respectable site with an ounce of journalistic integrity, I'd stop right there…….of course that isn't the case. It either means he had her sign a pre-nup or she cheated on him. Because the divorce was filed in March and they expect it to be final in April, I'll lean toward pre-nup. That still doesn't mean there wasn't infidelity. Better luck next time Duf.
Oh, did you want more of the newly single Ms. Boyd? Friend of ShutFace, Busted Coverage, has a whole gallery for you. Hit me!
Very Sick Men
Oh yeah, there was actual golf news the last two days too. Henrik Stenson withdrew from Houston because he has a bad flu bug. He says this will cut into his practice at Augusta National. That sucks bad for him because of how well he's played for about a month. Its hard to find your game after being sick. You're weak, your timing is gone, and it takes time to get back. I hope you didn't bet any cheese on him with your recent Vegas trip.
Jimmy Walker also withdrew from Houston this week. NO, NOT THAT JIMMY WALKER. I'm talking about the number 10 golfer in the world that won last week in San Antonio. Every time I stay up too late drinking and get up early and do too much the next day I get sick. That is what happened to Walker after winning the Texas Open. His wife says the champagne was limited, but they were up until the wee hours celebrating on Sunday. Then JW got up early to fly to Augusta for extra practice. That'll do it. Hopefully both Jimmy and Henrik are rested and ready to go next week.