Better Late Than Never
Yes, I left you in a lurch on Monday. You woke up, you grabbed your iPad, you went to take a shit……and there was no Monday morning ShutFace post to get your through it. Hopefully for you everything came out okay without me. If not, eat more fiber. As for Sunday's golf, it was yet another entertaining final round of the Florida swing, with Matt Every holding off an angry Henrik Stenson down the stretch of the Mastercard Arnold Palmer Invitational. Yes, that's the same guy that won it last year.
In 2014 Matt Every held on as Adam Scott folded down the stretch. And just like last year, a top ranked player with a balky putter gave Every an opening that he capitalized on with clutch shots and great rolls of his own. He did so after telling the media how awful he putted on Saturday. What did he do to fix it? Naturally, he changed putters right before his final round began. He made almost everything with the new wand, including this clutch birdie on the 72nd hole for a 1 shot lead:
ONIONS! I don't know if I'm more surprised that he made the winning putt, or that Miller called it and got it right. Regarding Miller –  broken clock theory, right twice every day. This is Every's 2nd career win. He's somewhat local to Orlando and went to Bay Hill as a kid to watch the pros play. Now he's living his dream and he's won at Arnie's place twice. When the Golf Channel got the camera in front of the API champ he was emotional about his accomplishment. It was easy to see what it meant to him. Like I said last year when he won, he's easy to root for.
Mrs. Every
You saw her. Mother of two, seems nice, but I'm not going there with this one. Matt's wife is a ginger, full blown, red hair. If there's one rule about this site its that we don't give gingers a second look. They have no souls.
That's that.
The Field
Every's win means that the tour's streak of having different winners for each event of the year continues. In other words, no one has won twice since the wrap around season started after the Ryder Cup last fall. Is that good for golf? Yes and no. Its only a matter of time until someone gets it going and knocks off a 2nd trophy for 2015.
Behind Every's group was the twosome of Henrik Stenson and Morgan Hoffman. One of these two should have won. There's no sugar coating that. Stenson seized control after Hoffman started making sloppy bogies over his last 10 holes. The Ice Man barely missed a shot all week and he hit it close enough that making putts wasn't completely necessary for him to win. If he 2 putts both 15 and 16, instead of 3 putting he wins by a shot without making a putt over 7 feet for the whole fucking round. His only silver lining was that finishing 2nd moved Henrik to 2nd in the world rankings behind Rory McIlroy. Bubba dropped to 3rd.
Stenson's comments were a bit more interesting than his putting woes, although according to him the two are related. Stenson and Hoffman were putt on the clock on the 15th hole, the site of his first 3 jack. They were a hole behind on the front nine and of course no one was behind them waiting. Henrik feels as though the final group in the final round deserves a bit of leeway with them being timed and that tour officials that warned them about being clocked influenced the tournament outcome. The group was behind. And on the 9th hole Stenson took close to two minutes to replace his mark (moved to allow Hoffman to putt), his ball, and knock in a four footer for par. That's ridiculous. Stenson needed to be warned, but the Tour doesn't actually dole out penalties for such infractions. He should have just said fuck it and continued on his way as is.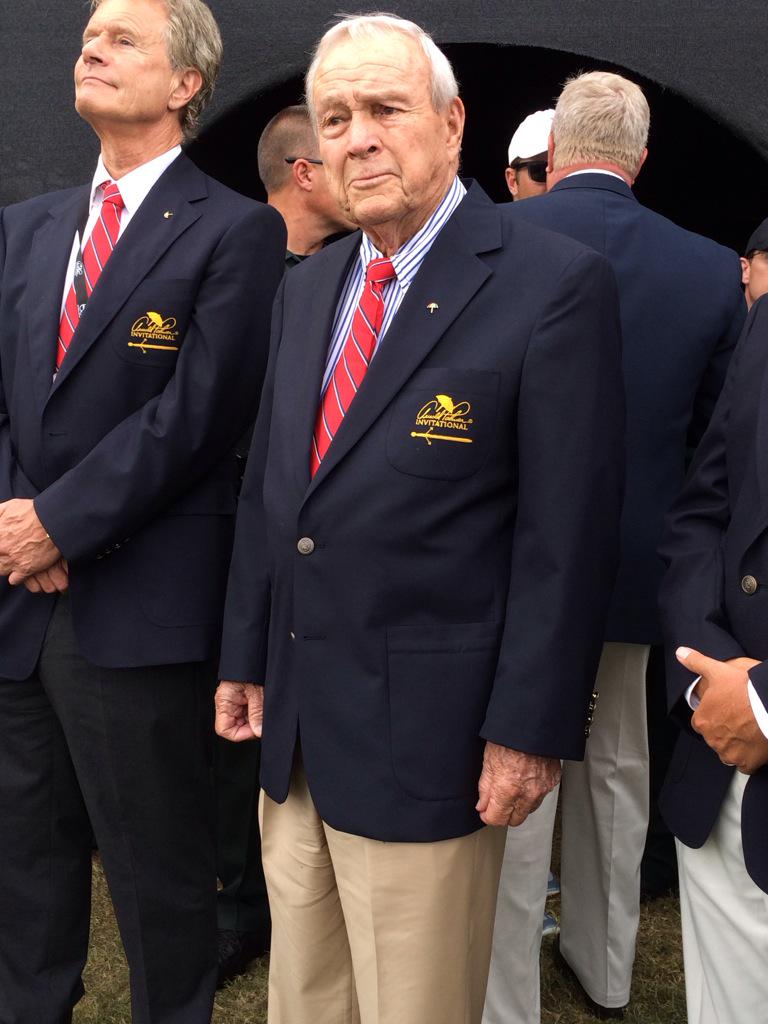 Hoffman's issues were more nerve related. He had a 3 shot lead with 10 holes left. Easy shots became harder. He over thought them. The free swinging kid that played so well for 63 holes stopped having fun. This was most clear at the final hole where, according to Hoffman, some of the patrons were harassing him. Apparently some cat calls caused his wretched snap hook to go out of bounds and made for an easy double bogey. Hoffman will learn from this. He's too good not to get another shot soon.
Shots Of The Week
If you saw a minute of the AP Invite, you probably saw the Co-Shots Of The Week from Bay Hill. How could you not? First there was the 2 made by Daniel Berger on Saturday at the par five 6th hole. Yes, a fucking two on a par 5!
Before Berger's shot there had never been an albatross in Bay Hill's history. So of course a 2nd occurred just 24 hours later when Zach Johnson holed his 2nd shot from the fairway at 16.
Twitterverse went ape shit. Why? Because what should a deuce on a five par be called? Purists say it can only be an albatross. That is fine by me, but there's a whole other group that wants to say double eagle. These are probably the same folks that drink wine from a box and get drunk of hard lemonade, but I'll let you make the call. Hit the poll so we can hash this out once and for all.