He Can Thank Me Later
I called out Padraig Harrington two weeks ago because he disappeared from championship golf like Tiger has in 2015 and no one ever seemed to notice. So of course he comes out guns blazing to make me look bad by playing well this week. Then yesterday I said his 36 hole lead meant nothing because he had no chance to actually win the Honda Classic. I'm wrong again. Hey Paddy, for the right price I'll gladly type that you have no chance to also win the Masters!
By now you've seen how Manic Monday at the Honda Classic played out. Harrington took advantage of Ian Poulter's collapse, over came a horrific double bogey of his own at the 71st hole of the tournament, then beat rookie Daniel Burger in a two hole playoff for his first PGA Tour win in nearly 2400 days. Read that again. TWENTY-FOUR FREAKING HUNDRED DAYS!!!!!!
He did win an event in Asia last year that was not affiliated with any major tour. Outside of that, there's been no evidence that this win was coming. In fact, Harrington has become more known for his crazy swing tweaking and bizarre training regimens (he believes in the Swing Shirt and hits drivers like Happy Gilmore as a drill).
Harrington's win is a popular one as he's a beloved character on tour. He was emotional, to an extent, about the win and gave every scribe within earshot a good 10,0oo words to work into their stories. That's what he known for and its another reason he's popular among these dorks.
I like Paddy. Him winning again is great for golf in almost every way, except one. He plays slow as fuck. It felt like he took hours to hit shots today while playing the back nine. It wasn't that windy. The conditions weren't that tough. Why wasn't he on the clock? His group was out of position thanks to Poulter's high jinx at the 14th hole. That aside, congrats to him for finding his game again.
Homie celebrated the same way I would have, by literally eating his competition.
There's no truth to the rumor that a Five Guys deal is in the works for his bag next week.
Keep Your Irish Eyes Up Here
Who knew a funny looking dope like Padraig had this in him? Yes, I'm talking about a rich guy scoring another chick that's way out of his league. Keeping with SFG tradition, here's Mrs. Harrington for you fappers to gawk at. Her name is Caroline.
She looks good in the pics where she's not lugging around baby weight. There's not much else out there so don't waste your time looking. I gave you the good ones. Trust me.
The Field
Outside of Paddy, there were only 4 other contenders after 63 holes of the Honda. Daniel Burger lost in the playoff. This kid was phenomenal until the 2nd sudden death hole. He trailed Poulter's 54 hole total by nine. He shot 64 in round 4 and posted a 6 under total and had to wait out Harrington's slow play for over an hour in the club house. The 64 included birdies on 17 and 18 that showed huge onions. His swing isn't text book, but its great where it counts. If you give it a second look, watch how good he is from the transition at the top through the ball. Only his takeaway and turn look a bit unorthodox. I see some Dustin Johnson in that move.
Then there's Dan's mom. NBC/Golf Channel kept showing her as he moved up the leaderboard. I think she's gross, but I know some of you pervs would do her after 3 beers. Feel free to comment on that.
Paul Casey lost last week in L.A. in a playoff. This week he finished one shot out of the playoff. That's not a bad way to start your 2015 as a guy trying to find himself on the PGA Tour. Several media types are talking about Casey's game like its been gone in the way Harrington's has. Not so much, he won a Euro event last year. Casey's T3 showing get him in to Doral next week where I think he'll be a popular pick for fantasy types.
Fatrick Reed was around again and ready to pounce. Then he lost it inexplicably. After a birdie at 14 he played his next 3 holes in 4 over, which included a rinsed ball in the hazard at 15. He couldn't find a fairway. He had the lefts. His collapse might have been the most shocking outcome of the day. He's been a killer in every opportunity presented to him. At least he wore that black and white outfit on Sunday like a boss. Usually his Tax Slayer garb makes him look like a sloppy frat bro.
And lastly, we have Ian James Poulter. Where should I begin? For Ian's sake I'll take you back to where he was 9 under at the beginning of the final round. Then this happened.
That result in and of itself shows what 1.5 million people all hoping for the same thing can accomplish. Poulter made double there and opened the door for Paddy, Reed, and Casey. He did make a birdie before Sunday's play was halted by darkness. He also looked pretty good on Monday morning until he found the H2O again at 11 on his 2nd shot. Amazingly that was his third water ball of the round and he wasn't done! He was back in the swamp twice on 14.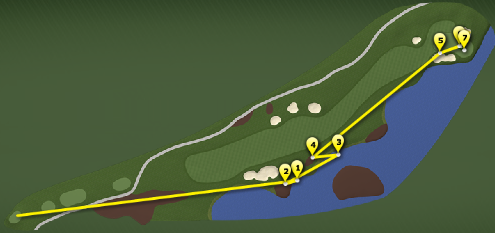 Somehow this didn't break shot tracker, but the triple bogey took all the pressure off IJP's back from that point forward. Of course he then made birdies on 17 and 18 to finish one shot back. The guy doesn't have the goods. He's a weak ball striker and Brandel Chamblee's take on Poulter's game was spot on after the dust settled. He said Poults isn't afraid of pressure, see Ryder Cup, but his swing flaws lead to too many foul balls (I'm paraphrasing). Poulter has never addressed said flaws. There are guys that play in regional amateur tournaments against me that hit it better than Ian, they just don't putt and chip like he does.
Look at the bright side, Ian. At least you didn't run out of balls and get DQ'd missing your biggest payday in 3 years.
Shot Of The Day
This is an easy one, but it is worth a 2nd look. Paddy's dart on 17 put pressure back on Berger to hit it close. He didn't respond well.
This shot was also redemption for Paddy's fuck up here on the 71st hole of the tournament. How very steely of him to be able to block those demons out and hit such a ballsy shot.
TV Time
I said last week I wasn't going to revisit and regurgitate the same TV talk every week. It isn't worth it. Johnny is Johnny and we'll just have to live with him until he goes away. I did enjoy his quip about Poulter running out of balls. IJP has had rabbit ears about Miller's comments before. Hopefully he gets wind of this one too.
Besides NBC giving Jack Nicklaus time to talk about his new line of ice cream on the air, NBC and Golf Channel were a nice change from the CBS shit we've had for a few weeks. Monday's action was golf on TV at its best. Team Peacock covered everyone at the right time, with the right level of drama, and didn't miss a shot from a contender that mattered. There was no overkill of swing analysis, no fluff, no sponsor bull shit, and plenty of actual golf shown to viewers. Kudos to that group for getting it right. Well done.