Good Guy, Great Win
Everybody loves Brandt Snedeker, what's not to like? And because of this phenomenon we can all sit and feel warm and gooey inside (while its -15 in most of the country) thanks to his 2nd win at Pebble Beach. BS won this event two years ago and appeared to be atop the golf world at that time. Little did we know back then that he'd injured his rib on the 14th tee of that final round. He's hardly been the same since. I proclaimed him the Masters favorite after that win, as did others, but his game has never been the same. He took a few weeks off after that injury in 2013 and came back to resume his normal schedule, but his only win post-injury was the RBC Canadian Open that was somewhat handed to him when Hunter Mahan pulled out with the 36 hole lead due to his wife going into labor.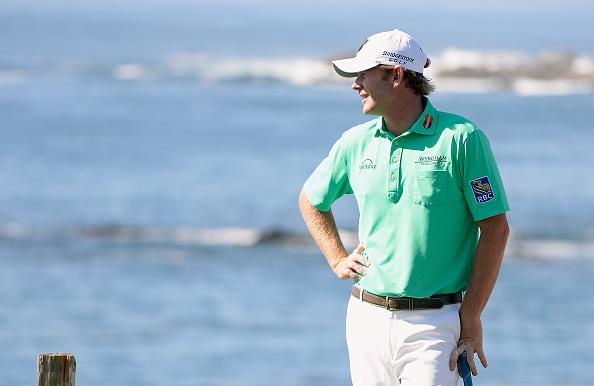 Sneds was also injured in a strange segway accident in late 2013. He had hip and shoulder surgeries that hindered him most of 2014. Even with such injuries and ailments he pressed on attempting to make his idol's Ryder Cup team. Last year poor play and his absence from team USA must have crushed him. He also wasn't ranked high enough thanks to a shit year to assure that he'd be in the WGC and majors fields. Today his win validates that he's back. His emotion in the moment of his win showed what this means to him. He also assured that he's in the 2015 Masters field. Sneds doesn't shy away from how much those four days in April mean to him.
Brandt called his shot last night, albeit he likely was kidding around and referencing the pro-am competition, but still:
That's just more of why we like him, he's confident, but not cocky. And he knew today was going to be his day. Why would he think otherwise with only choking Jim Furyk in front of him? He made one bogey all week and that was the 3rd hole of his 3rd round yesterday at Pebble. The fact that he does all this with putter from 2002 and a driver from 2010 dumbfounds me.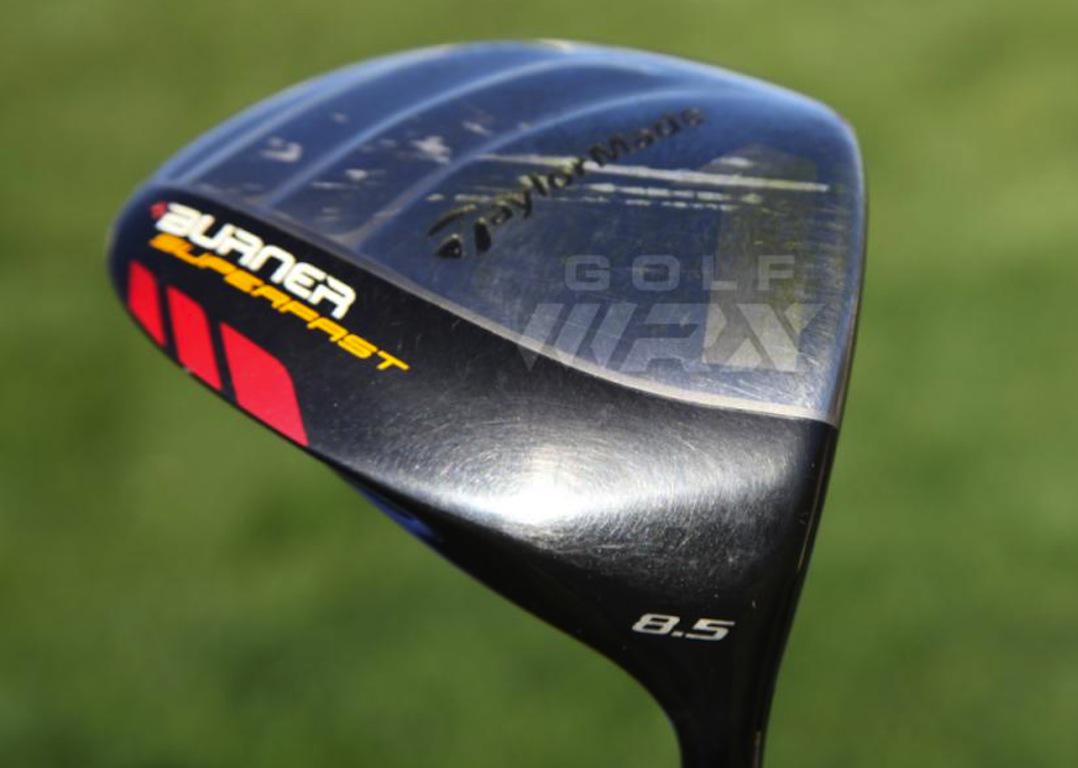 And Mr. Snedeker, if by some strange chance you're reading this….well, you can thank me later for your victory. I couldn't decide between picking you or Jimmy Walker for my pick'em this week. I of course took Walker, which opened the door for your certain victory. Welcome back to the winner's circle.
The Field
Let us start with Jim Furyk. He's what, about 0 for his last 9 or 10 in closing 54 hole leads? That's clearly eating away at him. This was his first tournament since September, but a 74 closing round at Pebble in perfect conditions after shooting 63 on the same course a day before screams 'choke job'.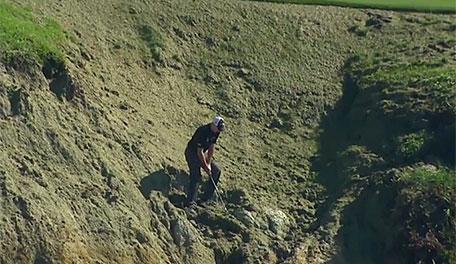 Jim playing from the side of the cliff down the right side of the 6th hole should have been an omen to all of us that him not winning the AT&T was the surest bet of the day.
Pat Perez was also in the hunt and got there by making birdie on 6 of his first 8 holes. Bogies at 8, 10, and 12 cooled him off, but he hung in there to finish T4 and grab his first top 10 finish since the same event last year. He and his partner also won the pro-am part of the event thanks largely to his am's 71 on the Monterrey Peninsula Country Club earlier in the week. CBS glossed over this, but tweeter Adam Fonseca was quick to pick up on the fact that an 8 handcicapper shot par and how rare that actually is.
Sandbagger indeed. He looked like some Vegas mobster Pat owed a lot of cash to, so I'm sure his index is correct. Nothing to see here. Move along.
Jason Day was also back in the mix this week fresh off his win last week in San Diego. Day had no business being there thanks to his ordinary 72 at Pebble on Thursday. He was also battling the flu. Still, his 62 on Friday to go with early birdies at Pebble on Sunday gave him a chance, he just ran out of holes and gas in his tank. On his way in he did drop a "fuck" for the TV cameras to catch and hear at the 12th tee. He did that last week too. Jason will have a nice fine to pay the Tour for his verbiage. Nantz gave him a proper scolding and apologized to viewers. I took it very seriously, how could you not?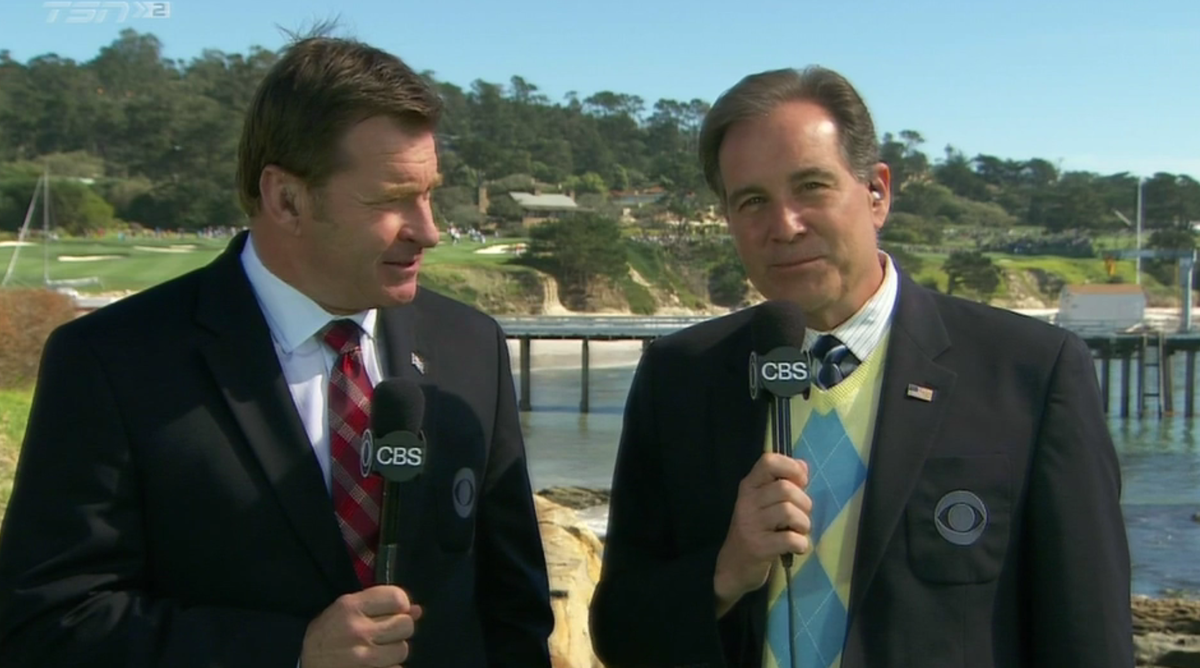 UPDATE:
Mr. and Mrs. Day say that he wasn't the one who dropped the F-bomb:
Too bad, I like that kind of fire in a player.
John Daly lead the tournament after about 21 holes. He shot 65 on Thursday at Pebble and made a few early birdies on Friday to get the interwebs all excited about him being more relevant to tournament golf than Tiger Woods. Come on. I scoffed thinking he could actually still miss the 54 hole cut. The NLU team apparently nailed it as well:
Solid work, as always boys. Lastly, for the non-winners of the week, there was Nick Watney. He's been AWOL for too long (hasn't won since 2012). He had a top 10 last week and his solo 2nd place at Pebble was his best finish since his last win. Two top tens already in 2015 is as many as he had all last year. I'm glad he's back. I'm a big fan, but now is as good of a time as any to bring up what Gary McCord said about him today. If you missed it, McCord said something along the lines of Nick not looking confident in what he's doing on the course. He's won, he's a great player, and at this stage of his career he shouldn't look scared to be playing with the big boys on Sunday. I think that's accurate. And I think that's a huge difference you see between Watney and Snedeker. Brandt believes he will win, Nick hopes he'll win.
N.W.A Doesn't Have A Song About Mandy
I like Mandy Snedeker. She seems sweet. So I hate having to write anything negative about her. She's cute, a typical trophy wife of a PGA Tour member. She's made cute kids. She's got a great body. But I can't get passed her look when she takes off her sunglasses. She's definitely 'sun-glass-hot'. Am I wrong on this?
You saw her today with the kids behind the 18th green. Here's more:
You have to like a chick in red boots, right? But note, she looks good in this pic and has the glasses on.
On the right in this one, something is different.
There, this one's better sans glasses.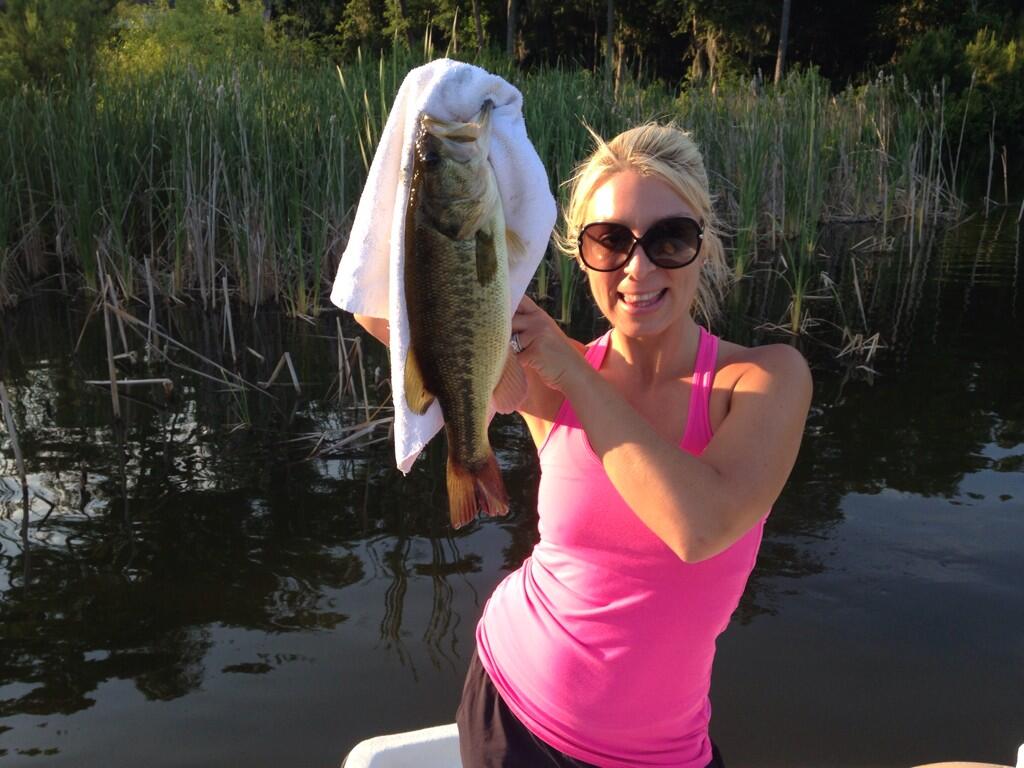 Ehhhh……fuck it, I'll let you pervs decide. My work here is done.
Shot Of The Day
When the winner walks home with a wide margin and doesn't have to do anything spectacular the Shot of the Day award is wide open for the taking. And that is why today's SFGSOTD goes to journeyman Steve Wheatcroft. Steve nearly made an albatross on Pebble's 18th hole while playing 90 minutes in front of the leaders.
Which begs the question, if you make an albatross do you have to buy drinks like you do for an ace? Shit, perhaps you have to buy double the amount of drinks. What is the protocol for such an occasion…..you know, just in case I ever need to know?
Poor Bastard
Mark Hubbard is a PGA Tour rookie from San Jose State. On Friday at the AT&T Pro-Am he walked off of 18 green and dropped to his knee to propose to his girlfriend.
Word on the street is that she said yes. I sincerely congratulate the young couple. Great for them, but what the fuck is the point of being a Tour pro at the highest level if you can't tag hot golf groupies for a few years before you tie the knot? Isn't that why we all want to be professional athletes when we're kids? Check this kid's head.