Show up, Shut Up, And Keep Up
That is the caddie mantra if you weren't aware. Loopers have lived by this creed forever. Throw it out the window because today 80 caddies decided to sue the PGA Tour so they could have rights to have sponsors bid on their bibs. No, I'm not kidding. These independent contractors that can go and work for whomever they want whenever they want are suing the organization that puts food on their table so they can get more money for not being the attraction or talent that actually brings the money in.
The suit is idiotic. No one tells them what shirts, shoes, hats, etc. they can wear. They merely have to wear a bib to show their player name on the back and the tournament sponsor on the front. Sign me the up. So what if the bib covers up their back and gut and they can't have an advertisement everywhere like a race-car. They get paid. The 80 guys on the suit aren't starving, don't think that for a second. By my calculations, Zach Johnson's caddie – Damon Green – made at least $230,000 last year before taxes. He worked about 150 days. And now he's signed his name to a suit that says he thinks he should be able to sell the space on his chest to the highest bidder to supplement his income.
Sorry guys. You're not making half that without the sponsor who's name is on the bib. And they're not paying even close to the $7M a week they pay for an event's purse if Tiger hadn't come along to raise the stakes. So how is this going to play out? I'd assume some changes are made to how the caddies are compensated. They'll still get paid by their guys, but I also bet they're paid some fee to wear the bib based on the place their guy finishes in (essentially payments based on airtime). This will happen sometime down the road via a settlement because the Tour has tiny balls and doesn't want what is assumed to be bad press. Meanwhile I'll go on thinking these fellas are greedy and risking crashing their gravy train.
There Must Be Great Short Game Facilities In Snowy Colorado
Tiger Woods, he of the yip-shank-short-game, left Phoenix last week after missing the cut to go back to Florida to fix what is broken. On his way to La Jolla this week Tiger stopped in Colorado to watch girlfriend Lindsey Vonn ski. He didn't have his Ghost Recon mask on for some reason, which I assume is because he wasn't trying to hide a missing tooth.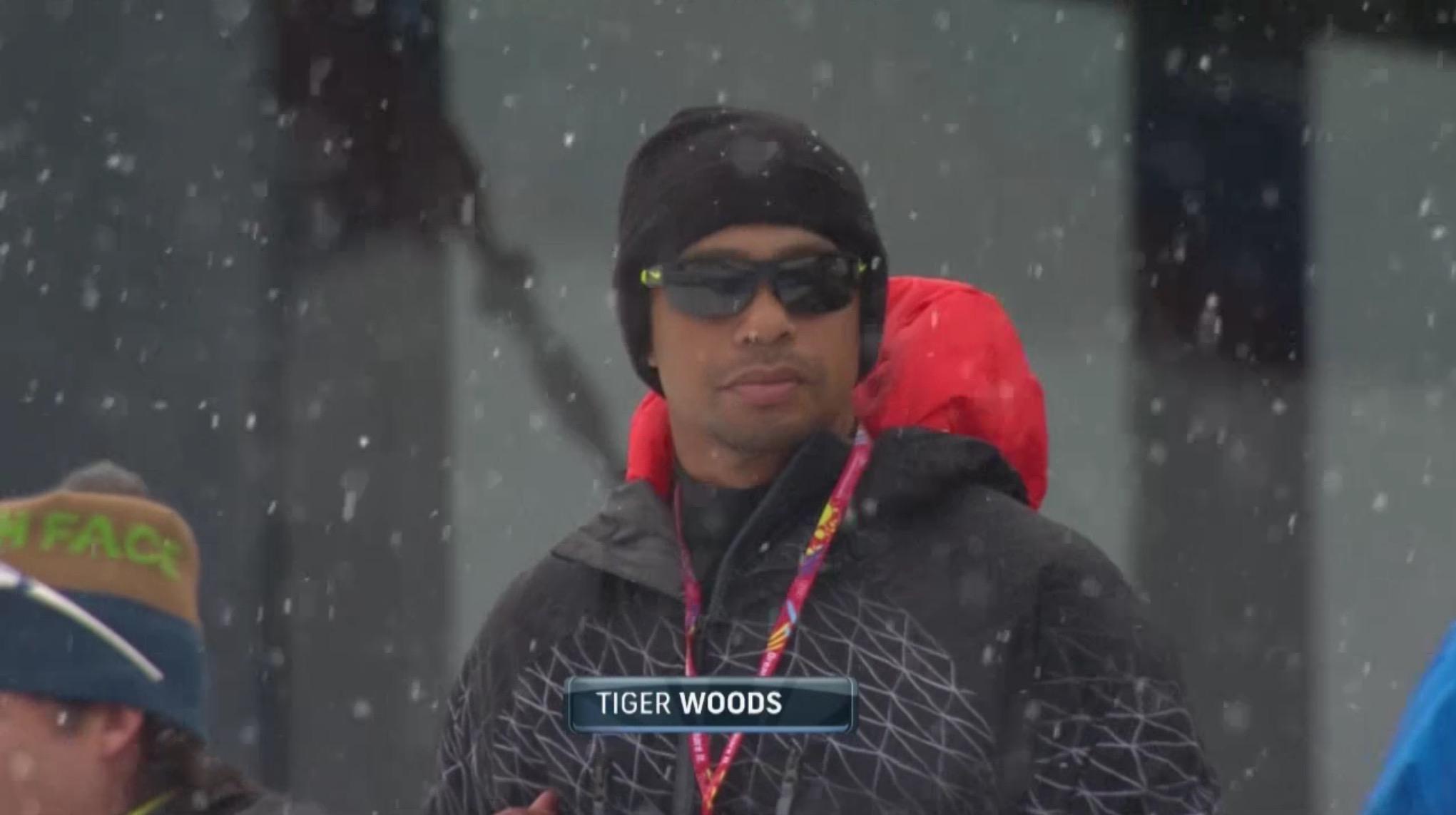 What I'm gleaming from this is that he thinks he's fixed his short game. If he hasn't, and he misses the cut at Torrey Pines this week, the media is going to have a field day with his ski stop.
Tiger has won 8 tournaments at the San Diego county municipal facility. I'd guess that 7 or 8 years ago at this event he had 2:1 odds of winning. This week? Vegas opened with a 50:1 number that has since moved to 40:1. That is astonishing. What's more astonishing is that Tiger is now out of the top 50 in the official world rankings. If he doesn't start moving up soon he'll be missing the WGC event at Doral. At the rate he's going he won't be exempt for the 2018 U.S. Open at Shinnecock (his exemption from his 2008 victory will have run out).
Torrey Times
In more Torrey news, the 1st and 2nd round tee times for the Farmers Insurance Open were released today. Tiger is playing with Billy Horschel and Rickie Fowler. He might only get beat by 10 shots this week. Dustin Johnson is back after his cocaine suspension and playing with Justin Rose and Jason Day. Phil is playing with Jimmy Walker and Bill Haas. And the marquee group, the one with this week's winner in it, is Spieth, Matsuyama, and Brooks Koepka. Oh that's tasty. What a great field, but who's missing?
Oh yeah, that guy. What the fuck? For some reason that I can't find or figure out, Gerry Watson decided to sit out this week at the Farmers. He's the 2011 champ and he's fresh off a 2nd place finish. Why wouldn't he play? I should stop trying to figure him out.