Tiger Couldn't Chip A Tooth Right Now
Well, of course he could/did. But anything else involving a chip, pitch, or lob is not in his vocabulary right now. What I'm referring to is Tiger's 73-82 scores of the first two rounds at the Waste Management Open. Ouch. That's good for DFL (dead fucking last) with a few players still on course. He hasn't finished DFL since…..well…… his own tournament in December. Yeah, his last start.
When TW closed his round yesterday he looked to be getting comfortable with his new swing under tournament conditions. That warm and fuzzy feeling left him quickly on Friday as he went out in 44 shots on his first nine, the back nine at TPC Scottsdale. That ties his worst every nine holes on the PGA Tour (2013 Memorial). His 38 shots on the back nine weren't much prettier, but he did make two birdies. 82 is his worst ever professional round.
Ouch. Pretty solid take from the NLU dudes. So what's the fucking problem? Its all short game really. Sure his long game isn't up to snuff, but he's been there before and his short game and putter have been the glue that has held him together. For whatever reason, Woods is shanking, skulling, and muffing chips like a weekend hack. That is hard to watch. Here's a glimpse if you like a good car wreck.
At least he took the disaster like a good sport. He played hard. He did his interviews. And he even made a joke when he said he was only talking to the media so he doesn't get fined. Playing companion Jordan Spieth beat Woods by 17 shots over two days! The Golf Channel is treating the 82 like a funeral. Oh boy. I don't even know where to start.
His effort around the greens got so bad that he had to take desperate measures. He putted from well off the fringe. Then he tried to bump shots with 7 iron and 4 iron. You don't chip with a 4 iron unless you're at the British Open. I can't stop shuddering at what I saw. The cause? If you ask me, he's neglected his short game, and for some reason he tries to implement new movements in his full swing into his short shots every time he makes a change. I don't get it.
What I do know is that he'll get it fixed. It will take time. He will win this year if he stays healthy. Changes like those that he's making don't happen over night, and they don't happen in 2 months. Remember, he's only been healthy for about 70 days. It's easy to call him a hack today, but that is an incomplete grade. Final exams are months away.
Then What Is Phil's Excuse? 
The weather for round 2 of the WMPO got nasty. There was wind, rain, and cold temperatures to put a damper on the big cocktail party. That is a recipe for also putting a damper on Phil Mickelson's golf game. Old guys with arthritis don't have bodies that agree with that mess. Bitch Tits muddled through it and smiled, wearing rain gloves, and now he's also heading home for the weekend after missing the cut.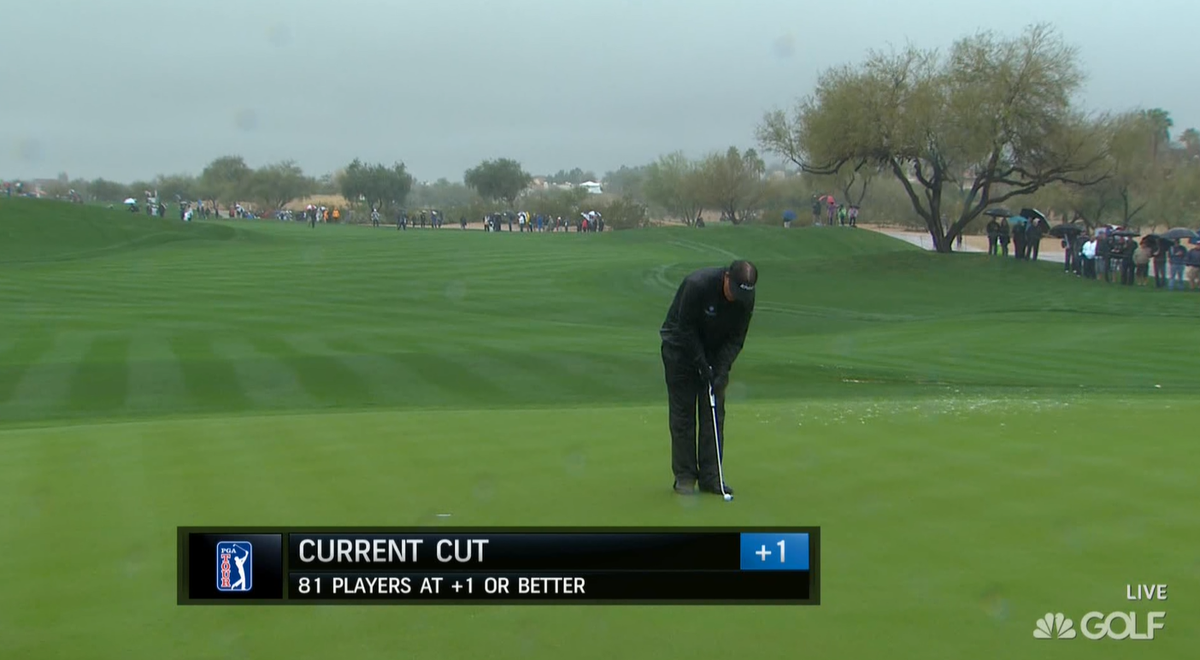 Meanwhile, Rory is way under par and leading the Euro event after 36 holes on the other side of the planet and Tweedle Dee and Tweedle Dumb are missing the cut in Phoenix. They're worlds apart in every way imaginable. Next week at Torrey Pines will be very interesting bounce back rounds for both Lefty and Tiger, and I have no clue what to expect.
And Then There's The Patrick Reed Thing
Writer Shane Ryan threw a grenade at Patrick Reed today. Ryan had a few tips on Reed's past to feed off of and ran with them. What he unearthed is somewhat shocking, until you realize it is Patrick Reed we're talking about. Among the highlights are that Reed was kicked off the Georgia golf team because he cheated in qualifying. None of his teammates at Georgia or Augusta State liked him. And that Reed has become estranged from his parents because of his ego, his brashness, his stubbornness, and perhaps even something to do with his wife. Here's the full blow from Ryan.
I enjoyed the read on Reed, but I have to take it with a grain of salt. Much of it is hearsay, and I'd like to hear from Norlander and Harris English myself…..but there must be some truth to it. Should we be surprised? No, many successful people labeled as villains are fueled by their egos and extreme confidence. His relationship with his teammates sounds much like the one David Duval had with his fellow Yellow Jackets. The accusations of Reed stealing and cheating are the headlines here from me. That makes him a borderline psychopath. Yet something tells me Reed with likely never even see/read this article. He's got blinders on.