Saber Tooth Tiger
Tiger Fucking Woods came to Scottsdale this week to see what the party was all about. Of course he'll also play golf and attend the Super Bowl, but before any of that can happen he had to hold his usual pre-tourney presser on Tuesday morning. What did he say? A lot but not much. Does that make sense? He was in a good mood and amazingly playful. I figured he'd have to come out cranky and defensive thanks to his recent tooth issue and the media hoopla around it. That wasn't the case. He stuck to his story about a camera knocking out his front chomper. He said he wore that odd skeleton mask because he plays Ghost Recon (a video game) and he was trying to blend in because "there are not a lot of brown guys at ski races".
That is a direct quote. And that is also why I still don't buy the camera story. The one brown guy at said ski race, who is one of the most famous athletes in the world, goes unnoticed while getting his tooth knocked out? No. My gut says Vonn stuck a Lexington Steele plastic mold in his mouth doing something kinky. Oh, don't Google Mr. Steele at work by the way.
In other Tiger news, his pairing for the first and second round of the Waste Management Open was announced. He'll be playing with Patrick Reed and Jordan Spieth, who of course were a great Ryder Cup duo last fall. That'll draw some eyeballs. And take note, his two playing companions have 6 combined wins since Tiger last had one.
My prediction for the week? He'll back door a top 10 finish, but never truly contend. You have to start somewhere. He usually doesn't play that well at events that require an insane amount of birdies to win. Next week in San Diego will tell us more about the state of his game.
$woosh!!!!
Yeah, more Tiger. Sorry, the guy makes news. And this blurb is my chance to show you the image he tweeted of his new kicks for 2015. I have to say, I actually like those and could wear them. If the white part of the sole matched the upper it would be money. The TW 2015 shoe of course also comes in standard Tiger colors of white and black. The black model has red woven into it and looks kind of queer.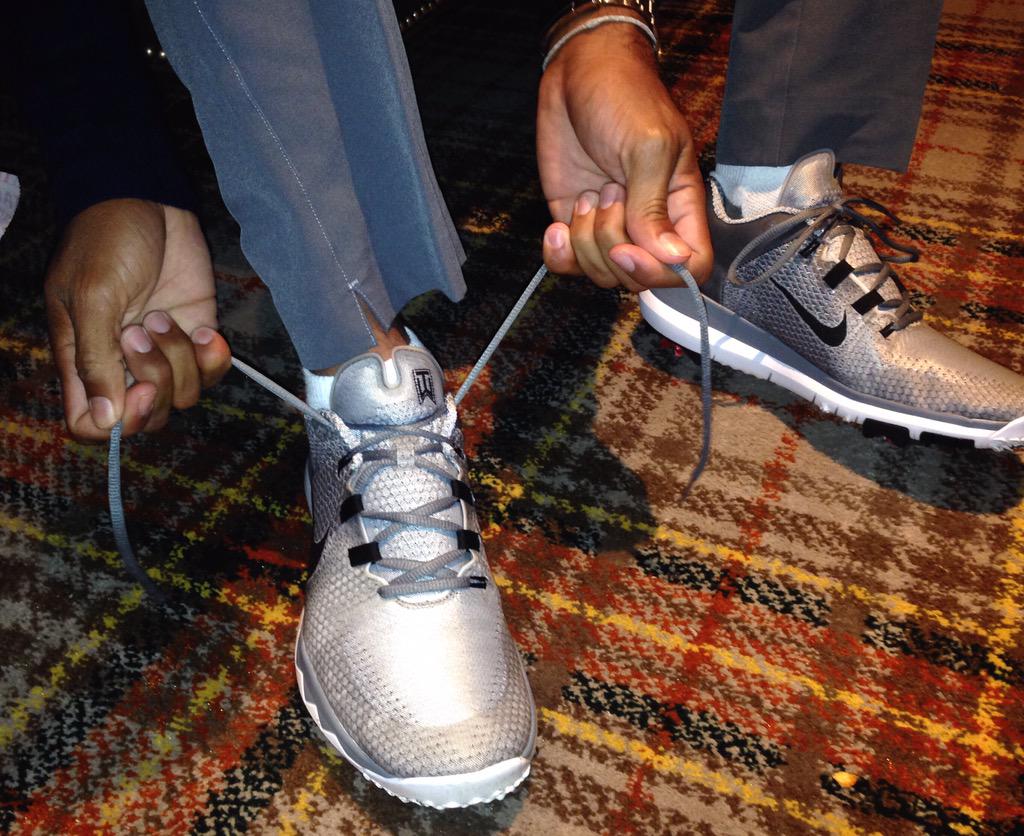 If you want a pair you can get them when they hit shelves in February for a tidy sum of $250 MSRP.
Odd Aussie
Tiger's presser wasn't the only gathering of note with nerdy golf journos attending today in Arizona. Robert Allenby, yes he of the kidnapped and beaten notoriety, grabbed the microphone about an hour after Woods to try to explain his story again. Now that Deadspin and Golf Channel have essentially called him a liar and exposed several holes in his original story, most figured Robert might apologize in some regard for his fabrication of that night's events. He did no such thing. Instead he blamed the media for their part in the saga and essentially told everyone to fuck off and leave him alone. What?
First, we still don't know why he hasn't cancelled his 'stolen' credit cards. Second, spending $3400 in a strip club in 115 minutes is astonishing, and impressive. On top of that, Allenby says he has no recollection of the events that occurred between 11:06 pm and 1:27 am. Well then how the fuck does he know the exact minutes in which he lost consciousness?
Allenby wasn't required by the Tour to hold a presser. This was his doing. Then he got up in front of media members and scolded them. He's a fucking moron. Now some wise ass is going to work even harder to get the facts of this ordeal and expose him. He made his own bed. Fuck him.
Goodbye Peter, Hello Frank
In the past few days word began to leak out that CBS and Golf Channel's Peter Oosterhuis (who is already semi-retired) was going to hang up his microphone and headset for good. Oostie was working Thursday/Friday broadcasts for TGC and then did Masters and PGA Championship weekends with CBS. I've always liked his voice, tone, and delivery and was sad to see him walk away.
CBS moved swiftly to replace him. Today they announced that they'll use Golf Channel's Frank Nobilo to fill Oostie's spot in the Masters and PGA telecasts. That is a fantastic hire and probably an improvement. Nobilo is one of the most prepared guys covering golf these days. He'll add more substance to any production he is involved in. That is a win for true golf fans. Well done CBS.