He Wasn't Even Trying
Five years ago to the day, Bill Haas snatched up his first PGA Tour win at the Bob Hope Classic. Ironically, this was a tournament his father had won during his own career, and almost won twice. Bill always seems to play well at the Hope. He hits it well, there's no wind, and he can make birdies in bunches. That's a recipe for success for him. Yet this year when he left home for Palm Springs he had very low expectations for the tournament. He even told his wife that he didn't think he'd play well because he hadn't had a chance to knock the holiday rust off his game. Funny how things works out when you're not trying too hard.
Over the first 3 rounds of the Hope/Humana, Haas quietly snuck up the leaderboard while Patrick Reed, Matt Kuchar, and Ryan Palmer made noise. He of course found his way to the top when it mattered and then survived anyone making a run at him once he got to 22 under. Bill's final round 67 was steady, and he hit some great shots, but there wasn't anything spectacular that truly stuck out. That's kind of Haas' game in a nutshell.
In the end Bill had his 6th career win. He's a shoe in for the Presidents Cup team this fall (his dad Jay is the captain). And he has a new baby on the way at home. That's a pretty decent start to the year. What else can we expect from Bill in 2015? Don't count on much. He's a great player. He's talented as hell. But Bill has yet to even score a top ten in a major. He's 32. He's been doing this for a decade. Now or never time is fast approaching.
The Field
Outside of Haas, 8 other players had realistic chances to win the Humana on Sunday. Charlie Hoffman – made a late charge, posted -21 early, but that wasn't enough. Still a nice pay check for Chuckles. Brendan Steele – my god is his swing ugly, and I can't root for this guy, thankfully he didn't have enough in the tank to run down Haas. Sung Joon Park – who the fuck he? The South Korean plays at a snails pace. If there'd have been an 8 man playoff with him included we'd only be on the 2nd hole. Matt Kuchar – golly gee, what else can you say about Matty. I almost picked him this week, went with Ryan Palmer instead, whatever. Another high finish for Matt. Color me shocked.
Steve Wheatcroft – I like this guy, if only because he's the ultimate journeyman. Golf Channel was great in telling his story about almost giving up the tour life. Then he won a Web.com event in Boise and seems to be ready to stick on the big tour now. Remember his run at Houston a few years ago? Remember his wife?
Yeah, her…great cans. Go Steve!
Webb Simpson – bible boy was in the mix. He looks like he's going to have a pretty good 2015. And we haven't seen him shank one yet in two tournaments. Boo Weekley – Boo made birdies, Boo posted a number, Boo went and drank lite beer somewhere with his dinner. And lastly, there's Justin Thomas – oh boy is this kid a player.
I told you last week he'd pick off a win sometime this year before the Masters. I didn't think it would be on the West Coast. Mother fucker he's good. And if you didn't catch the broadcast, Golf Channel had an M.O. to keep telling us he only weights 145 lbs. What does that matter? He's wiry fucking strong and generates serious club head speed. But he's not just a bomber, he's a shot maker. He hit numerous iron shots today that were gripped down and backed off. He's going to be legit. He could have won today but for that fatal second shot at the 16th. If you missed it, JT's tee shot found the fairway bunker and he dumped his next shot in the canal fronting the green. Easy double. Tournament contention over. That's a tough break but he'll be back. Soon.
And then there's the sheep. I've probably watched somewhere between 10 to 20 iterations of the Hope Humana over the years. I've never noticed these animals about the golf course.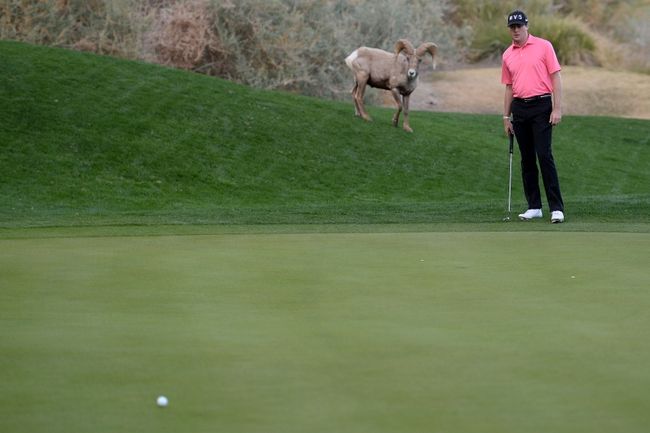 That's a big horn sheep. They were scattered about the mountain sides of the Palmer Private course. It wasn't intrusive, just strange. After Luke Donald's recent run in with baboon I'd have had my caddie on guard while I turned my back on these things.
Different Bubba, Equally Annoying
When Bob Hope died his golf tournament almost went with him. Then the (Bill) Clinton foundation stepped in to get involved and the tournament is somewhat revitalized thanks to his presence. So of course the Golf Channel 18th tower crew of Nick Faldo and Rich Lerner are obligated to have the 42nd president up for a chat during Sunday action. Ugh.
If you DVR'd the action, at least you could fast forward through Bill's commentary. Politics aside, Bill is a golfer, but not a golfer's golfer. Does that make sense? Yes, he loves the game, but he loves it because it gives him time away from his husbandwife and he has a lot of free time on this hands. He's not an ambassador to the game. The way he discussed it with Faldo and Rich reminded me of the guy at work who plays twice a year, shoots 125 on his best day, and then wants to tell me about his round while I'm working on my TPS reports. Fuck off.
Lets Get Wasted!!!!
Yes, Phil was in the field this week in Palm Springs. He tied for 24th and by all accounts hit it great but didn't score because his short game was off. He can clean that up easily. He's also using two different putting grips. Claw inside of 8 feet, standard on anything longer. Only Phil. But hey, he told Roger Maltbie that he and Pelz have the data to justify why he should give it a try. Phil will also be in the field at Phoenix this week, as will Tiger. That usually gets Phil's game to peak. I hope the tour has the onions to pair them together.
In Tiger news, the tour said today that Woods will have a pre-tourney presser in Phoenix on Tuesday at 10:30 am. That's the same time as media day on the other side of town for the Super Bowl. Who will get more questions? TW, Brady, Belichick, or Richard Sherman? Will Tiger have his tooth fixed and a better story about how he lost it? I'm giddy.