Ended On Saturday, Won On A Friday?
In Qatar, the weekend begins on Thursday night and their Friday and Saturdays are the same as our Saturdays and Sunday. And that is why the Qatar Masters is played from Wednesday through Saturday of this week. The tournament ended in grand fashion this morning (state side) with Branden Grace capturing his 4th win in his last 54 starts. After being one of the International Team goats of the 2013 President's Cup, Grace has righted his ship to be one of the hottest players in the world right now.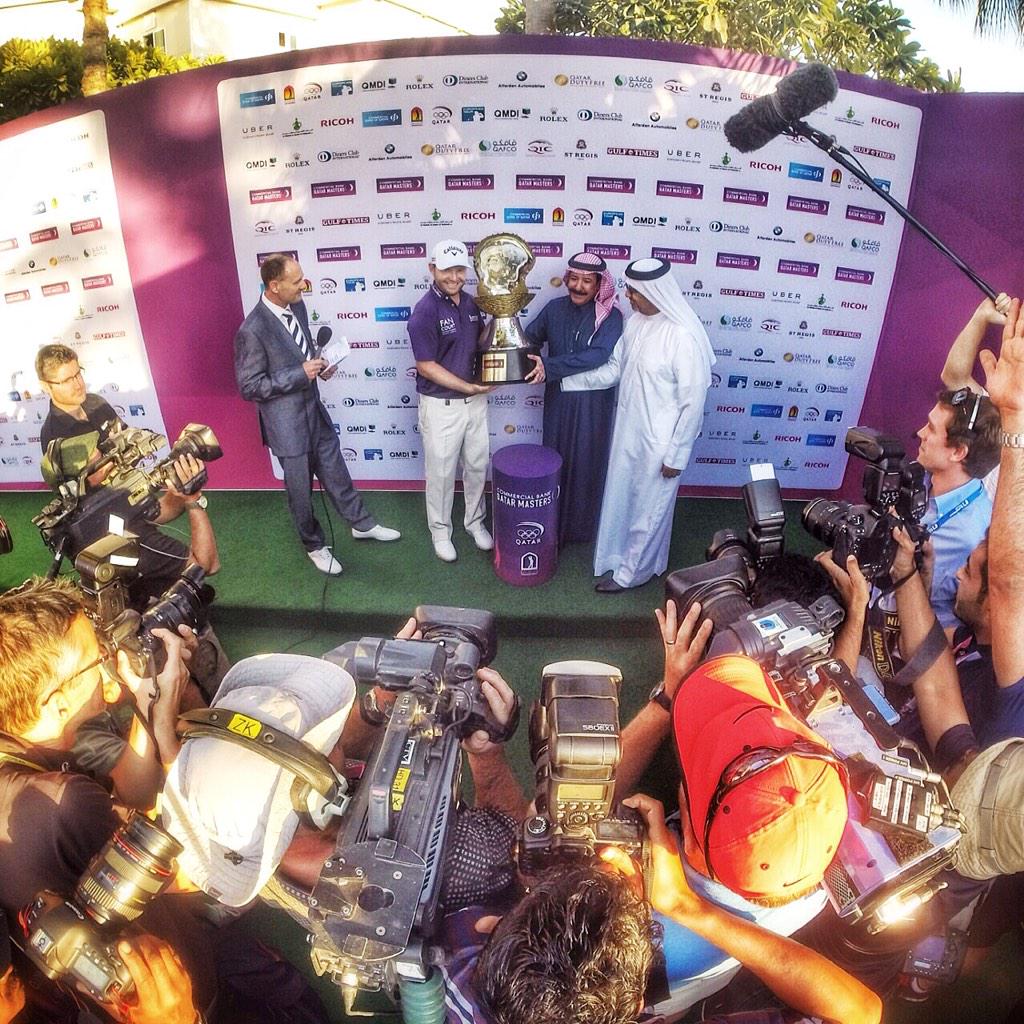 Nothing quite like getting a big clam for your mantle. Grace defeated a hard charging Marc Warren by a shot with some absolute brilliance down the stretch. First he pulled off an eagle at the drive-able par four 16th hole with this great swing:
And if that wasn't eye-popping enough, he probably out did himself at 18. He knew he needed birdie at the par 5 final hole and he nearly holed his third shot from the fairway to leave himself a 4 foot putt for his 4. Sadly, no one has video of it. You'd think between nearly holing your final swing and driving a par 4 to set up an eagle you'd have your shot of the tournament right there. Nope. Grace's one shot victory margin might actually be attributed more to the miracle shot he hit on Friday. This has to be a nominee for Shot of the Year.
Branden of course made the putt for unlikely birdie. Funny how that works out in the end. Now, back to his form. Grace is only 26 and is starting to build himself quite a resume. This win might sneak him into the top 50 in the world rankings which could get him into Augusta and other majors and WGC events in the United States. He says he won't change his schedule to chase U.S. dollars, but would have to enter some fields in America if he gets into bigger events. Ummm….no shit. And that roll he's on right now, Jason Sobel puts some perspective on it here.
Yeah, that'll play.
Mrs. Grace
A man playing golf that well can only be measured by one other thing, how hot a broad he can snag……right? Here's a few pics of his wife that I know you came here looking for.
Hey, you asked for it. What do I think? She's alright. Seems to have some nice sweater meat, but perhaps she's a little thick. Whatever.
Congrats to the Grace's for Branden's victory today. We might be saying that more often in 2015. I think he'll win again very soon.