Toothless Tiger
News broke on Monday that Tiger Woods lost a tooth while trying to watch girlfriend Lindsey Vonn race in Italy over the weekend. Tiger's agent, Steiny, sent a press release stating that Woods was essentially ambushed by some overzealous cameramen. When they bum rushed TW a camera hit him in the face and knocked out his upper middle-left tooth.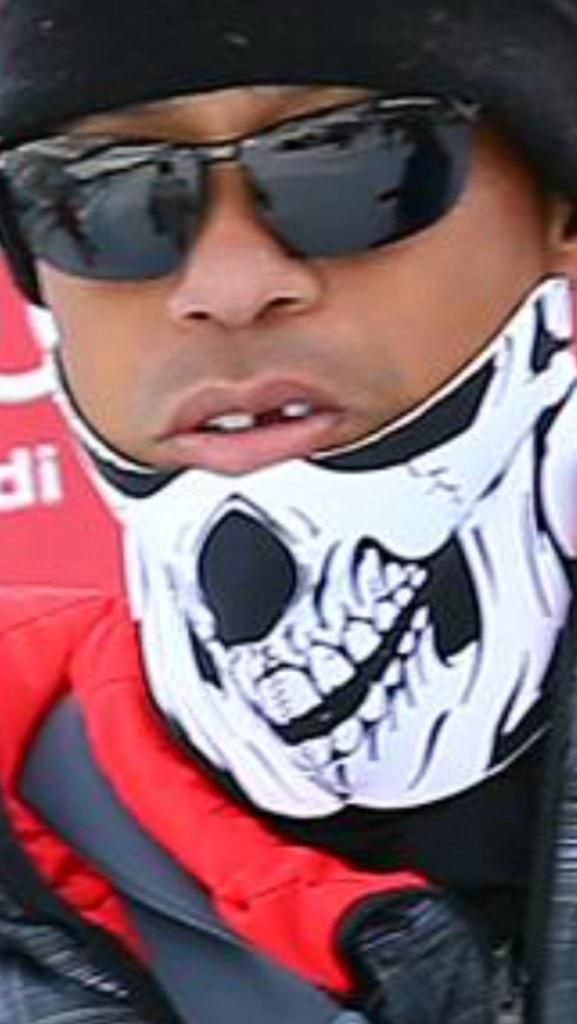 First off, what the fuck is with the skeleton thing to guard his face? Nike couldn't provide something better for him? Second, no one affiliated with Vonn's ski race can verify Steinberg's story. Tiger Woods is one of the most famous and recognizable athletes in the world. And no one saw or can verify a story of a camera taking out his tooth? Bull shit. Didn't happen.
There's always been rumors that this tooth was knocked loose when Elin took a 9 iron to his face in 2009. That's why it had a brownish tint. I don't buy that either. The tooth always had a slight discoloration and you can see it in close up shots going back to the 90s. What I think happened is that the tooth finally needed to get yanked and TW delayed the implant for some reason. Woods didn't want to tell that embarrassing story so he made Steiny lie, that's what agents do best. We'll never get the truth. If you've got a better idea of what's really going on I'd love to hear it. A guy I know once showed up to work with his two front teeth chipped in half. He said they broke biting into an apple. I think he either got his ass beat or some chick went kinky on him and shoved a big vibrator into his mouth. Shit happens. Own it.
Allenby's Alibi
On Sunday I posted my thoughts on Robert Allenby's weird Friday night. Since then this tale has only become more bizarre. I had my doubts as to what really happened simply based on his friends and caddie leaving him behind. Now the homeless woman that supposedly helped Robert has reported that Allenby's story has a few holes in it. First, he wasn't dragged 6 miles away from the wine bar. She found him a block away. Second, Allenby was being assaulted by other homeless people when this woman found him.
The facts are this. Robert signed his check at 10:48 pm. His caddie says he wasn't hammered so he must have been drugged. His credit card was used later that night to buy liquor at a nearby store. Officials have this purchase on surveillance tapes. So many questions. Why did his friends leave him? How did he plan on getting back to meet his friends get to the hotel? Why does he think he was in a car? If he was drugged, why isn't his blood being tested? Could he also have been raped?
Like the tale of Tiger's Tooth, there's a lot of information being withheld from the public. What is our right to know? What do you think really happened to Robert? Hit the poll.
Pancake House
If you're an avid reader of this site you're already aware of young LPGA Tour member Brooke Pancake. If not, Google her and enjoy. Why is she in this post? Well, Ms. Pancake signed an endorsement deal with Waffle House this week and such news was a funny little note circling around the PGA Show today in Orlando.
How IHOP missed out on this opportunity is beyond me. How Waffle House couldn't also ink Bubba Watson is another head-scratcher. To promote this new partnership, Brooke will be making waffles at the PGA Show on Wednesday morning.
The New DJ
Dustin Johnson's suspension is set to expire in February when he returns to the Tour at Torrey Pines. To catch up with DJ, Golf.com interviewed him in the setting of his new life at Sherwood Country Club in Southern California. Let me give you the cliff notes of the article.
To summarize, he's not suspended, he's now not drinking, he's playing great, he was dealing with personal issues, he partied too much because of stress, and Wayne didn't threaten him in anyway last fall to get his shit together. Ummmm…..sure. I believe that like I believe Allenby wasn't butt fucked and Tiger got hit by a camera.
I think DJ had a nose candy problem. I think knowing he's about to be a dad helped get him clean (for now). I think he'll relapse from this at some point in his life. I think Paulina Gretzky is the first of 3 or 4 wives for him. That is all. The article wasn't convincing. I'll believe there is a new DJ when I see it.