Dyno-mite Deja Vu
In January of 2014 Jimmy Walker won the Sony Open with a powerful final round 63. Fast forward a year, and Jimmy Walker again won the Sony Open with a final round 63. That in itself is pretty amazing, but winning after a crushing back nine collapse last week at the Tournament of Champions is damn impressive.
After losing a sudden death playoff to Patrick Reed six days ago Walker talked to coach Butch Harmon about his defeat. Harmon told him to forget about it, and use the next few days to get better, then get mad about and kick ass next week. I guess that worked. Walker one putted his last 11 holes on Saturday on his way to a 62. On Sunday he started a little flat with 7 pars in his first 7 holes. He then birdied 7 of his last 11 to cruise to a 9 shot victory. What a difference a week makes.
For now Walker regains his familiar spot on the top of the Fed Ex standings. This is a position he held for most of 2014 thanks to early victories in the fall and at the Sony. Hawaii has been good to Jimmy. He thinks his success here is because he doesn't mind putting on grainy greens like the ones he grew up on in Texas. I think it is his mindset. I see a confidence in Walker that I didn't see last year when he was winning. I saw it at the Ryder Cup too. Now I want to see if Walker can carry that confidence over to a major.
@TourWifeTravels
That's Mrs. Walker's Twitter handle. I gave you a little bit of a look at her last year when Jim won the Sony.  As I noted before, she seems pretty normal, nice, and way more down to earth than a lot of tour wives. Now that she's grown her hair out and has been seasoned by the sun for two weeks in Hawaii she looks pretty damn good. The red dress appears as though it was painted on her. And did I spy a nice rack on her too?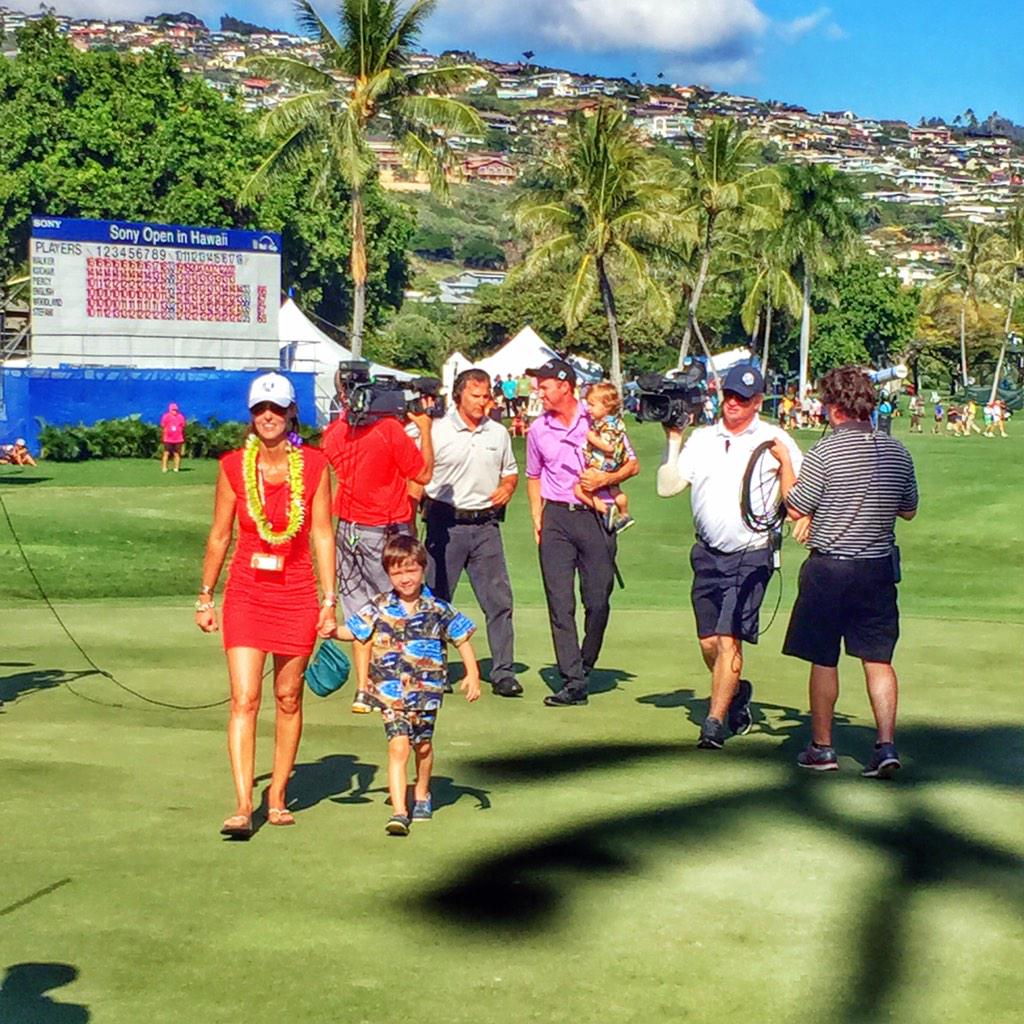 God bless her. As a mother of two fairly young kids she's done well to bounce back from the evils of child birth.
The bottom image is from 2014. I'm not insinuating anything, but something about her looks different, in all the right places.
Rookie Lessons
Justin Thomas was a collegiate phenom at Alabama. Now he's playing on tour in his rookie year and has been a popular pick by the golf media to be the Tour's Rookie of the Year for 2015. Thomas proved all those picks to be pretty accurate by sitting atop the Sony leaderboard through 36 holes. His rounds of 67-61 were eye opening.
Even par rounds of 70 for the weekend…????? Not so much. He didn't blow up. He just shot his load a few days too early. Thomas is a 21 year old kid that should be a junior in college. Instead of beer bongs and late night munches, he's in Oahu posting T6 in his first start of the calendar year. Keep an eye on him as the season moves on. He might pick off a win somewhere in Florida before the Masters.
Awww Shucks
Am I the only one that feels like Matt Kuchar never finishes outside of the top 5 at the Sony? And then he doesn't win it. Ever. Weird. Here we are in 2015 and there's golly-gee- shucks-fanny-pack-Matty as the 36 hole leader and playing in the final group with Walker on Sunday. Kooch wasn't going to catch Walker no matter what he did today. So what is the problem? Matt had a serious birdie streak going that he may or may not have known about while playing out the back nine in Walker's wake.
Kooch had it inside of 10 feet at least 3 times in the final 7 holes and didn't hit the hole. He also had a 6 iron for his 2nd shot on the last hole that is a par 5. Of course he made a par there as well and closed with a round of 71 that included 17 pars, 1 bogey, and no birds. Ouch. I guess all good things must come to an end.