Ten Shot Shit Show
I doubt Frenchman Gary Stal thought he'd be toasting his first big boy tour win on Sunday evening when he woke up today. He and the entire HSBC Abu Dhabi field trailed Martin Kaymer by a million shots. No, literally at one point on the front nine Kaymer held a ten shot lead on the field……IN THE FINAL FUCKING ROUND. Golf journos started writing articles comparing this performance to what he did in the U.S. Open and how dominant he was when he was 'on'.
And why wouldn't guys like Mr. Sobel get a head start on that kind of piece? Kaymer has been nothing but a killer in the last year once he has a lead. But a funny thing happened over the last 12 holes of the championship. Kaymer started missing fairways and finding the type of scrub areas he avoided all too well at Pinehurst last June. He took two penalties for unplayable lies, made some sloppy bogies, and capped it all off with a big fat triple bogey at the 13th hole. That triple included a chili-dipped pitch like my dad would hit from about 40 yards across a bunker.
At that point it could have been anybody's tournament to win, but Stal was the man that stepped up and owned it. I'd never heard of the 357th ranked player in the world before today. The Froggy was impressive and gutsy. His punchy swing found the fairway hole after hole and his putter got hot at exactly the right time.
The only guy that even had a shot at catching Stal and his closing round of 65 was McIlroy, who had this shot on the 72nd hole for eagle. Had it gone in he would have been in a playoff with Stal assuming Stal still makes par at 18 playing a group behind Rory.
My gut says we never hear from Stal again and very likely don't see him contend at any tournament this year. In my opinion, this was a perfect storm, lightning in a bottle, or whatever other cliche' you want to use. Hey, great for him, and think of the story he can one day tell his grand kids about beating a world class field and two big time champions in McIlroy and Kaymer. Nice playing, kid.
Krazy Kaymer
Some media types and other Twitternerds like me are wondering what Kaymer's implosion means for his game for the foreseeable future. Ummm…..nothing at all. He's a 2 time major champ who simply lost it on the closing holes. He knows how to fix it and he knows how to win. He's a world class player and he'll be fine. In fact, I bet he wins soon on the Euro Tour. Remember when Rory blew up at Augusta in 2011? Remember what he did in his next major after that? He won the U.S. Open at Congressional by a wide margin.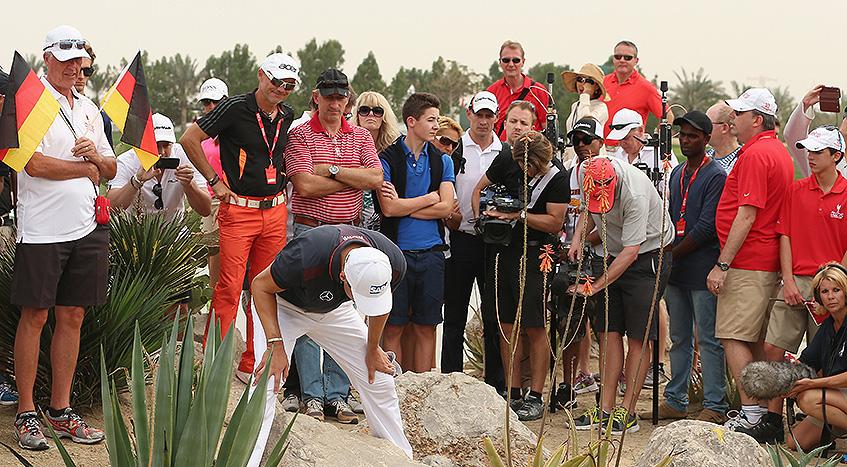 Don't worry about Kaymer, don't think for a second that he didn't learn something from this. He's too good to let this be an issue going forward.
Rory's Run
Rory made a comment on Twitter a few weeks ago that would lead you to believe he didn't touch a club for a few weeks around the holidays. He started grinding on the range to get prepped for Abu Dhabi just after the New Year holiday. For him to knock off the rust on his game that fast and to play as well as he did this week should scare the shit out of anyone expecting to beat him this year. Check out this nugget about the current state of his game:
That's insane. Tiger-like. He's not going anywhere now that he's ascended to number 1 and rid himself of a bad relationship. Sit back and enjoy it.