Holy Shit!
While I was in the midst of a drunken Saturday night stupor news broke that PGA Tour member Robert Allenby had been found in a ditch in Hawaii by an off-duty military man. Authorities that arrived first at the scene said Allenby was in shock and not quite sure how he got there. Its been reported that Robert was out on the town at a wine bar having missed the Sony Open cut on Friday afternoon. From there, no one is quite sure what happened to him or how he got left near the side of the road, but he ended up looking like this: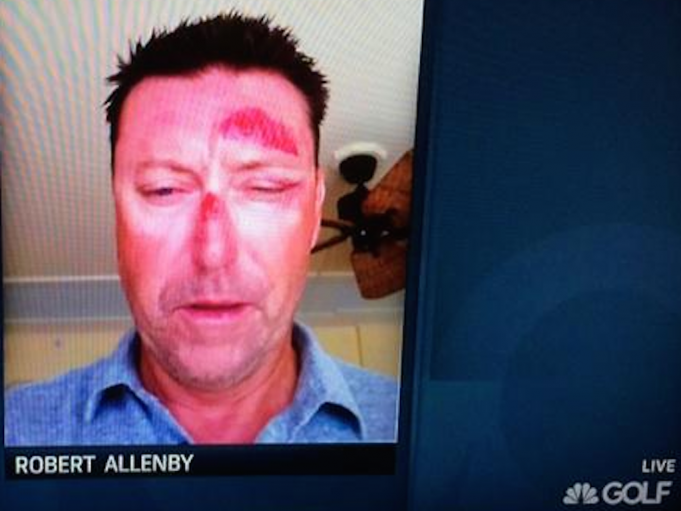 That's a serious case of road rash if you ask me. Robert is known to be a bit of an asshole. I wouldn't be shocked at all if he got lippy with some locals and they figured out who he was, what he was worth, and decided to get what they could out of him. The Golf Channel has a report out that indicates Allenby might have even been drugged.
The facts are as follows. RA was with his friends and caddie at the wine bar. He signed for the check at 10:48 pm but then they left without him. Surveillance footage from the bar shows him signing his tab, going to the men's room, and then minutes later he's in the parking lot and leaving with 5 or 6 people. He has no idea what happened between the bathroom and coming too at a roadside park. A homeless woman witnessed him being pulled from trunk of a car and left at the park nearly 6 miles from the wine bar.
Wow. He's lucky to be alive. He's lucky he was only robbed. And amazingly enough, he's still considering playing at the Humana this week in Palm Springs if he's allowed to leave the islands on time due to the ongoing investigation. Why did his caddie leave him behind? Was this a set up? I don't wish ill will on too many people, and certainly not people like Allenby that I've never met. But I think it'll be interesting to see if his personality or golf game are changed at all by this occurrence. If I were him I'd start the week by firing my caddie.