No Phun Phor Phoenix
The Twitterverse erupted yesterday afternoon when news from the Waste Management Open, or the Phoenix Open, began to go viral. The Tour made the announcement that they would not allow the players to throw swag into the stands at the wild 16th hole. Over the years it has become a tradition for most all players to throw personal items or swag from their sponsors to the fans as a sign of goodwill. If not, risk being booed out of the joint by the rowdy patrons. Apparently this is now too dangerous and the Tour felt the need to take action against the fun giveaways.  Here's the note: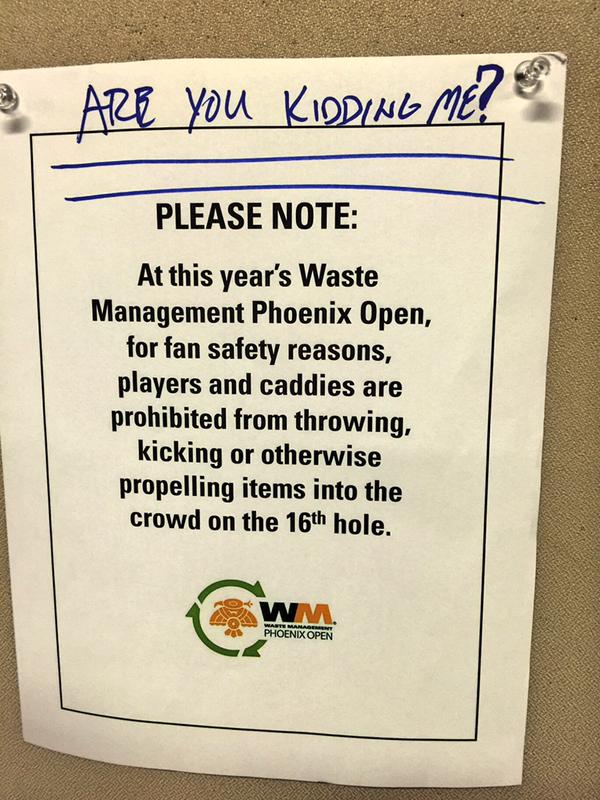 That's a horrible PR move on so many levels. Why not just have the players get their swag approved so tour officials can rest assured that no one will be harmed by this? But these are the same guys that banned caddie races over the last few years too (a one time tradition of the same stadium-like hole). They're the god damn no-fun-police and they suck. Golf fans are appalled and the players think it sucks too. That usually means they'll back off their stance and figure out a solution. What happens if they don't? Well…the memo doesn't say WAGs can't give away swag. Nor does it say you can't give shit away on a different hole. Someone will figure out a loophole.
This Is Your Golf Game, This Is Your Golf Game On Drugs
On Monday Chris Kirk blistered the Plantation course at Kapalua in 62 shots to jump up the Tournament of Champions leaderboard. On Tuesday he arrived at the Sony Open in Oahu and was notified he was due for a drug test. He took the news well according to his Twitter feed.
What makes this so laughable is that Kirk is quite slim and doughy looking. If he's on performance enhancing drugs, well….they're not working. But hey, these things are supposed to be random. If they find anything I'll bet it somehow helped his putting stroke (he did change his grip) as he made 16 of 16 putts inside of 15 feet on the way to his 62.
Abu Dhabi Dorks
Meanwhile in the Middle East the big boys are being paid handsomely to just show up and play in this week's Euro Tour event. But you can't just show up and play and escape embarrassment when you're getting a king's ransom to play golf. No, no, no….the men who pay these fees like for you to promote their event by making a fool of yourself in someway. At this weeks' HSBC event, Henrik Stenson, Rickie Fowler, Justin Rose, and Rory McIlroy have been asked to be involved in quite a few promotional events. Today the sat on a barge.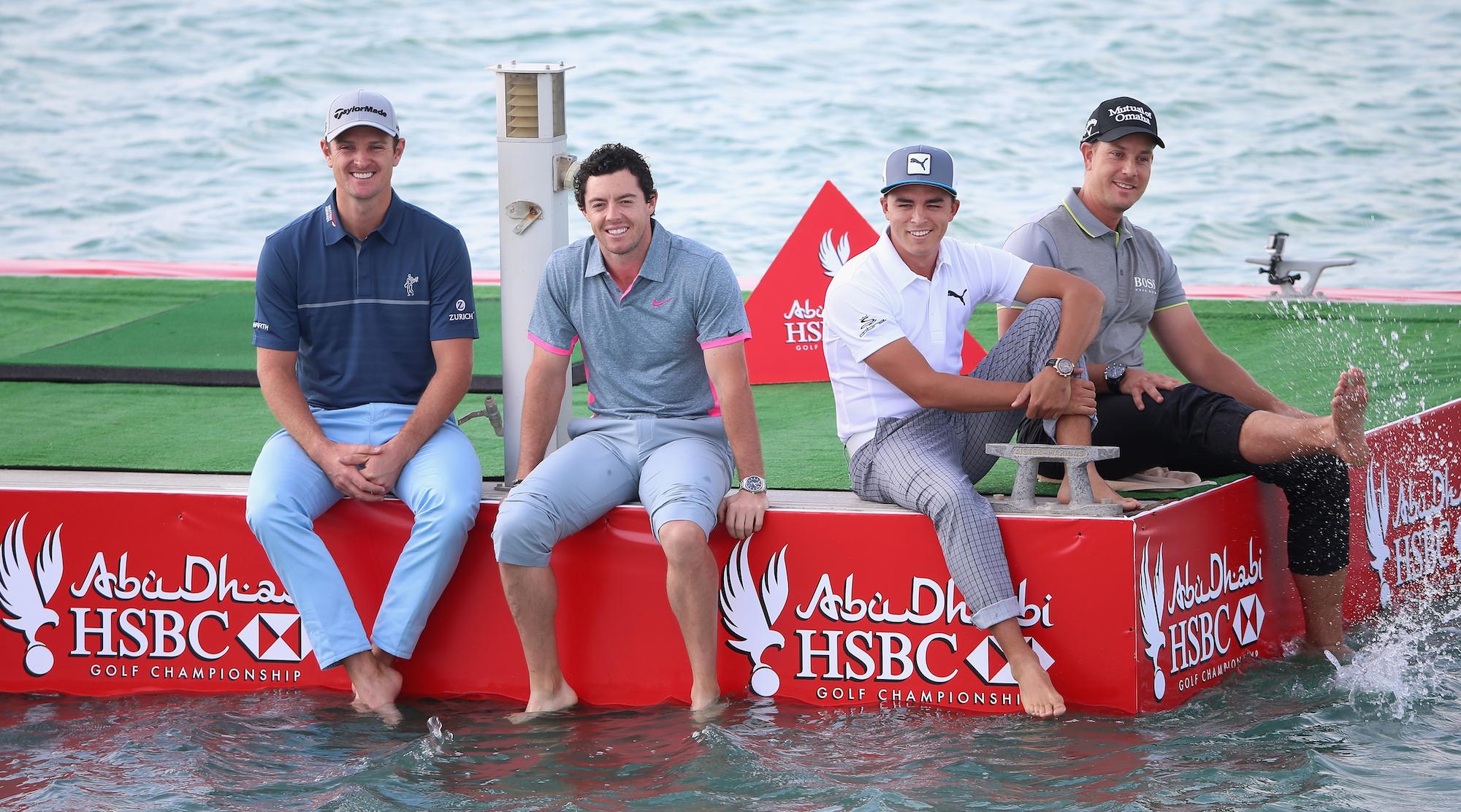 Yesterday that re-enacted Cocktail (Rosie must have been in the sun a lot to get that tan).
No, I'm kidding. They're just goofy pics. What they did do is shoot shots at their caddies from said barge in some weird team game that wasn't as well thought out as many of the other Euro Tour gags we've seen. The video is below, but if you skip it you won't miss anything.
And oh yeah, the Abu Dhabi event tees off late Wednesday night. You can see Fowler and McIlroy paired together if you can stay up until Golf Channel comes on at 12:30 am Eastern.
Pride And Joy
The FootJoy boys have been tweeting hints about their new shoe model being released this month over the last week to ten days. They've also been sending various parts of the new kick to certain accredited golf journos. I'm not one of these chosen few (likely because I'm not a registered journo) so I can't give you any inside information on the shoe.
What I can do is show you the model they gave to George Coetzee that he'll be wearing this week.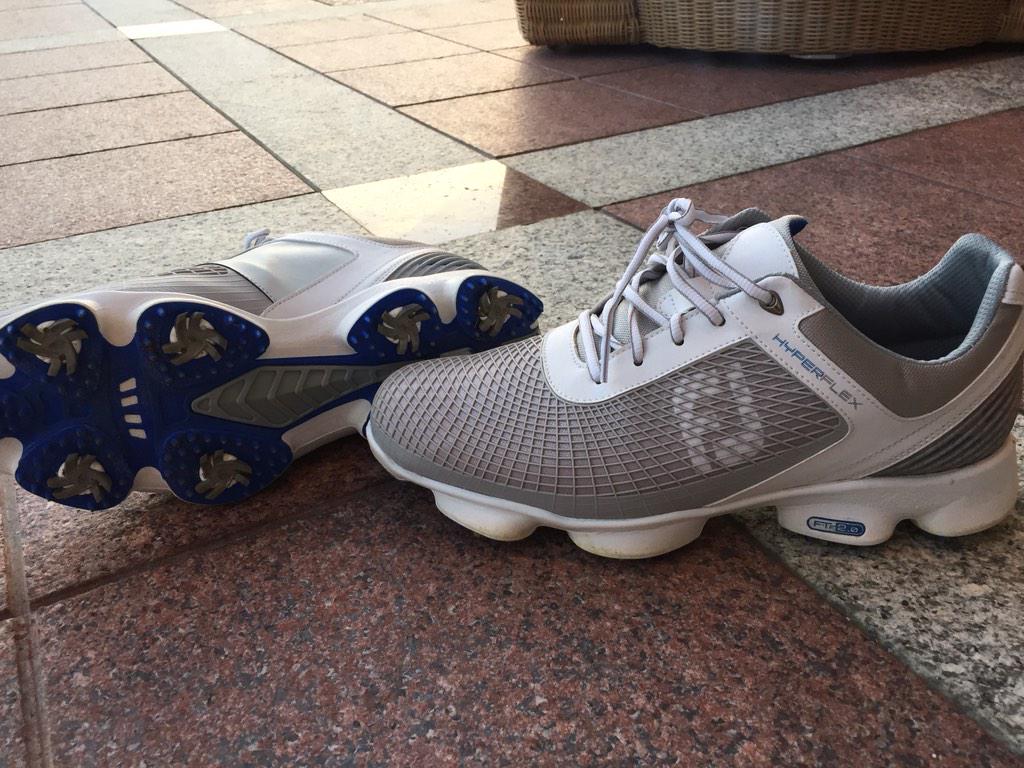 If that sole isn't too stiff/rigid, I'm in. Of course they're not classic looking in any capacity, but they look good for an athletic shoe and are probably comfy. Puma also has a new hot shoe hitting shelves in the near future that the entire golf journo world is raving about, but I haven't seen those yet either and they didn't send me a pair. Yes, I'm jealous of the fucking hacks that do get the free shit.
More Ass Than A Toilet Seat
Yup, you guessed it, I'm talking about Rory McIlroy again. I almost forgot that he was linked to another new (or old) chick last week. Who this time? None other than the PGA of America employee that saved his ass in Chicago when he overslept for his tee time. Her name is Erica Stoll. Yes, she's hot.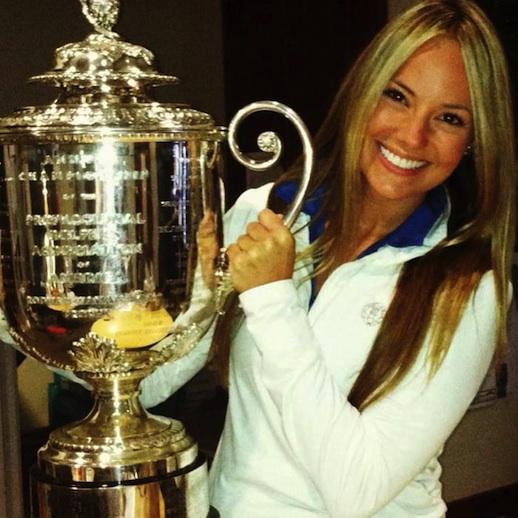 Rory is young, rich, and likely to be in no hurry to marry any more crazy chicks. Good for him. I hope he fucks 137 broads a month. I hope he writes a book about his conquests. And I hope the internet goes nuts over everyone of them. I love it. Now here's where I go 'tin foil hat' on you.
I don't think this is a new budding romance. Oh no, not at all. I think they met in Chicago in 2012. And I think the reason he was late in to his Sunday singles match at the Ryder Cup that year was because he lost track of time staying up late and banging her. She pulled her "I'm a PGA employee" trump card to fix the mistake and get him to the first tee on time. How else could she have 'helped' him in such a timely way (if she wasn't already with him)?  The rest is legend. They're together now because….well, why the fuck not? If she's not too crazy and he needs a piece, get some.