Erin Hills – Erin, WI (Architects: Michael Hurdzan, Dana Fry, & Ron Whitten)
Background
Bob Lang made millions selling greeting cards and then turned his passion to golf later in life. More specifically, he wanted to build a golf course that would host a major tournament in central Wisconsin. Lang sought out experts like Ron Whitten and executives at the USGA to get opinions on his dream. After showing his consultants the Kettle Moraine land he planed to build on, they were sold, and the USGA had a new project that could be the newest belle of the U.S. Open ball.
Construction on Lang's new love began in 2004 and the course officially opened in 2006 in Erin, Wisconsin. Erin is roughly 40 minutes west of downtown Milwaukee, but nowhere near a major highway. The course was originally built with quirks that were meant to mimic famous design characteristics of Scottish golf. It was immediately selected to host the 2008 USWAPL, the 2011 U.S. Amateur, and later scored the 2017 U.S. Open by beating out the redesigned Dubsdread Course at Cog Hill near Chicago. Being selected to host such tournaments was suprising because it made Erin Hills the first course to ever host USGA events and be owned by one person. Sadly, that person isn't the man who dreamed it all up. Lang put so much into Erin Hills that he was forced to sell the course to Andrew Ziegler in 2009.
My first trip to Erin Hills came in 2008 on a rainy summer day. It was cold, wet, and down right miserable for playing golf. That didn't matter. Erin held its own just fine. At one point my group decided that we were as close to the clubhouse as we were going to get. Why not dry off, get some food, and try it again in an hour? During our break Lang took the time to greet us, show us around, and talk about his dream. He made quite an impression on me. I was sad to hear he had to sell the course. I can only hope he still takes joy during that week in June of 2017 when his dream becomes reality.
Once Ziegler took over, he attempted to upgrade the conditioning of the golf course by banning motor carts and hiking up the greens fees to increase the maintenance budget. The lodge and pub built by Lang have been expanded on and the property now also includes a hotel and cottages.
Additionally, the quirks originally built into the course have been removed at the request of the USGA. The 2nd green was about the size of a 2 car garage slab, it is now 40% bigger, but still looks tiny from the fairway. The original 6th hole was named the Dell hole. The green sat in a natural fold of the land and was not in the golfer's vision from the tee. A white rock at the top of the fold was moved each day to align golfers to the hole location. This hole was completely removed. The 9th hole today was once known as the "Bye" hole. You played it in the middle of your round as a 150 yard par 3 that drops 70 feet from tee to green. With any wind in play, it is a tough shot. Your score on that hole was used to determine tiebreakers on bets once you finished your round. This hole is now number 9 and it replaced the old Dell hole.
The original 10th hole was a long par 5 that has been changed to a longish par 4 and the green was redesigned. Several other smaller changes were also made, but they don't impact the golf course nearly as much the ones I have described above.
Layout/Scenery
The cliche that 'beauty is in the eye of the beholder' rings especially true at Erin Hills. The golf course has very few trees on it and there will be less every year according to the caddie in the white had shown below. There's also no true water hazards unless the junk in front of the 14th green has been filled by a recent rain storm. There is natural grass/fescue for as far as the eye can see. The long stuff frames the holes while the rolling terrain gives the track all the character you can ask for. To me, the look of Erin Hills is quite natural and spectacular.
It is almost hard to believe that the rolling hills of this flat-ish area of Wisconsin is all the work of glaciers from thousands of years ago. And the fact that Hurdzan, Fry, and Whitten were forward thinking enough in their design to keep things this way and use the natural terrain is a credit to them, their vision, and their ability to construct a course. Well done. While I love the look of Erin Hills and how it plays, the layout itself is not without flaws. As you read above, the USGA felt the need to tweak some things, but I think there are still fixes needed to make this a true championship golf course.
First hole first, I'd blow it up. You start your round at Erin with a demanding tee shot and a goofy hole. It's awful. Hazard down the left, bunkers down the right, side hill lies. It doesn't fit the rest of the course. And this is all after they tried to flatten it out and make it more fair than the original design. I also don't like starting with a par 5 and ending with a par 5. Although, 18 will not be a gimmie birdie for any professional trying to make up a shot at the final hole of the U.S. Open. It's tough.
Outside of number 1, I have no complaints. I like the other changes they've made since Lang opened the course. I love how they used the land, and I love the open spaces that make the property feel so expansive. One of the first things you notice when you drive on to the grounds is how much more land is still unused. I think the USGA loves that too as they'll use it for parking, corporate tents, etc. Perhaps the 2017 US Open will net Erin Hills enough cash to build a 2nd course.
Score: 4.5
Conditioning
In my most recent course review I gave the Lawsonia Links course a break on any conditioning flaws thanks to Wisconsin's short golf season. They get a break because they don't have a high priced greens fee. Erin Hills is a championship course charging you top dollar and therefore you should expect tour quality conditioning for every round you play there from June to October. Expect to be disappointed.
I'm not guaranteeing that you'll get there and play unmowed fairways and slow greens, but that is what happened to us. After a week of perfect weather in the area I expected every blade of grass to be perfectly manicured and the course to be firm and fast. We played on a Sunday. The fairways appeared to have been recently top dressed and not mowed for close to 4 days. How do you not mow on a Sunday? The greens rolled at about a 9.5 or slower. That's unacceptable to a golfer that paid $200+ to play there. There was also plenty of turf damage that looked like it remained from the previous winter of Polar Vortex. What the fuck? We played in September. I love the venue, but it wasn't up to snuff for us and I don't think the staff here wants to put in the work to make it perfect until it is U.S. Open time.
Outside of that, I will say that the conditioning is fair in other parts of the course. The bunkers are good, the fescue grass is playable, and the primary rough is not going to break your wrists. I also liked that the course generally will play firm and fast, except for the greens.
Score: 3.5
Value
Playing Erin Hills is roughly 40% cheaper than playing its big brother, Whistling Straits, up the road in Kohler. For that reason alone golfers playing it should perceive some value in a day on the course. Where Erin loses points is the conditioning I described above. There are no discounts or twilight rates. You're paying $225 no matter what. The staff will also recommend getting a caddie that will cost you another $100. The loopers are pretty good here, but not worth the full $100.
Everything else at Erin Hills is reasonably priced. We had breakfast there and it was less than $15 per guy. It was pretty tasty too. The proshop items are also reasonably priced all things considered.
Score: 4.0
Service/Pace
As I noted above, when you play Erin Hills you have to walk. Whether that's carrying your own or having a caddie, this element adds time to your round. Then throw in the 10,000 yards you walk, time to find balls in the fescue, and a few stops for photo ops and you're going to play in 4 hours and 45 minutes or more. Things move pretty well because most groups have caddies to push things along, thank god.
The service from the staff is top notch too. There were a few cute Betty's in the pro shop and servers, starters, rangers, caddies, and other staff all over the grounds to help you with anything. One of the rangers even gave my hungover ass a ride from the 16th tee to the green after I actually found it in regulation.
Score: 4.5
Amenities
With Milwaukee only 40 some minutes away, you can find something to do with your time at Erin Hills besides golf if you want to. But why would you do that? The downtown scene can be fun and if the Brewers are in town it would be worth your time to see a game at Miller Park. However, if you can stay in Erin Hills' hotel you have a plush room and great food right on site to enjoy.
The golf amenities themselves are top notch. Nice putting green, great range, caddies, etc. What I think they should do is build a grass short course for patrons to use. Playing the course takes a lot out of you, but you'll likely finish with plenty of appetite left for golf. Going back out on the big course would be like eating another 5 course meal after you finished one, hence the need for another attraction.
If you're up for something unique, you can always go up the road to Holy Hill to find god. Perhaps he can help you with your short game. Holy Hill is the church tower you see in the distance in some pics above. It sort of haunts you throughout your round. Apparently this is a Catholic shrine to Mary that is a registered National Landmark.
Score: 4.5
Difficulty
If you don't lose a ball at Erin Hills, you'll likely finish your round without a penalty shot. And you'll have earned every fucking whack you took there because the course is god damn hard. It's long and it requires precision to play to the proper parts of the fairways and greens. Missing a green is no picnic, and hitting it in the fescue is a half shot penalty or more. The key from the fescue is to not get too greedy with your recovery shot and to simply take your medicine. 
There aren't any true forced carries at Erin Hills unless you go for the 14th green in two (its a par 5). This is doable from the middle tees, but not so much from the black box. What also makes the course hard are some of the elevated greens you must play to with longer clubs. That's a tough shot. And of course, if you're a true bomber, feel free to take a bite out of the 8000 yard tees that are available to you. I played this from 7600 yards the first time I saw it and felt like I played 10 par 5s because the course was wet. It is much more sensible from the 7176 markers.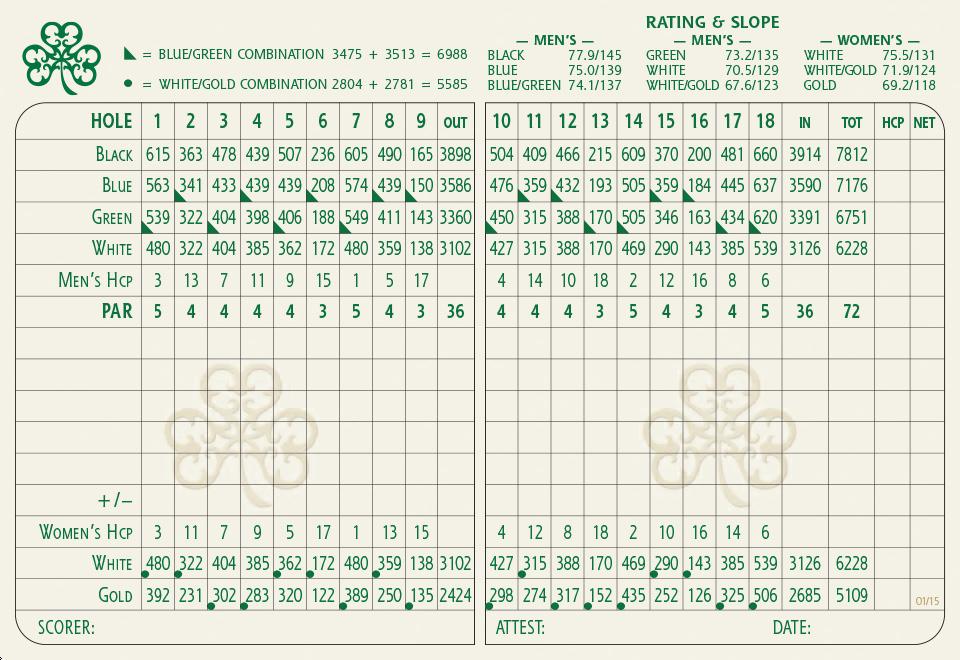 Per usual, this rating isn't based on a 5 being "way too hard". I'm rating a course a 5 when I'd say it's playable and enjoyable, but not easy, for players of all levels. Erin Hills is hard and can be a bit unfair thanks to your ball bouncing off its intended path in the fairways or on the green. While it won't penalize you with strokes from being in a hazard, it will penalize you almost everywhere else when you get off line. I don't think a player that has a handicap north of 18 will find much enjoyment at this course, and that hurts the rating for this category.
Score: 3.5
Composite
As I noted when I rated Lawsonia in my last review, much of the ratings I gave were based on expectations. Having played Erin Hills twice and watched much of the 2011 U.S. Am there I think my expectations were somewhat unrealistic when returning to the course in 2014. The composite score reflects this. The scores are low, but fair. I'm not going to tell you not to play it, it is a championship track and if you're with 100 miles of it and willing to pay the freight, go see it for yourself. However, if you never check this one off your bucket list, don't lose sleep over it. It is a special place but lacks grooming and history of the company is has been lumped in with.
Score: 4.08