Don't Bring a Knife To A Gun Fight
The Fox Golf Broadcast team made its debut at the Shark Shootout yesterday. I didn't get to see it because I was too busy playing with golf myself. I'm also without a DVR while moving this weekend. I was hoping to catch their broadcast on Sunday, but Fox made sure to wrap up this silly season event on Saturday as to not interfere with NFL games. The grades are out for Fox and they're generally not good. First off, they didn't have Tits McGee…..errrrr…. I mean, Holly Sonders, on the scene to give viewers the 'extra' they were looking for. I'm guessing there was some contract issue that means she can't be shown until 2015, but that's still a colossal failure right off the bat.
To start the broadcast Joe Buck attempted to lower our expectations by claiming Fox wasn't worthy of what they were doing and couldn't hold a candle to their CBS and NBC counterparts. They hoped someday they could. Huh????? Can you imagine Apple advertising their new iPhone as a product that didn't stack up to a Samsung phone, but hey……maybe someday it will once they figure it out? From what I'm reading on the interwebs, Fox commentators also erred by talking over each other time and time again while trying to act like they were having a great time and loving their new gig. It sounds forced. And Buck might be the biggest problem in all of this. He's got enough going on with football and baseball broadcasts, why bring him into golf to further saturate what he is? There are other guys available that would do a better job and who's voice would not wear on you. Go find one and use him instead.
Caption This!
On a positive note, most of the discussions on Fox's sad attempt at golf give them a big pat on the back for the way they handled Ian Poulter and Billy Horschel's standoff with a Fox cameraman on the 17th hole. The players both wanted the camera on a stand moved, and the cameraman tried his best to ignore Bill and Poults until his boss gave him better direction. Fox laid back and let viewers hear the entire discussion thanks to some well placed mics. At the same time, when Fox did finally weigh in, Norman called Poulter "Sunshine" and he tag-teamed with Buck to mock the entire incident. Well done.
Poulter and Horschel is an odd combo, but perhaps Billy took one for the team because no one wants to play with Poulter (just ask the Lake Nona membership). After some jubilation on the course, Billy high-fived Poulter and sent him to the ground. The following image ensued. Now we have to caption it.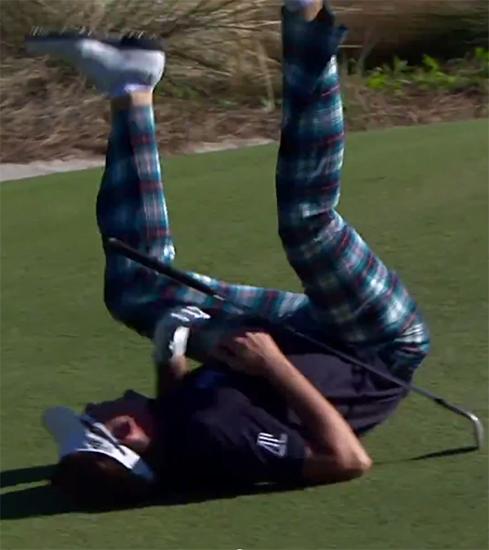 That is a well timed shot. You can see this in the video below at the 1:03 mark. You can also see highlights of the rest of the telecast as narrated by Amanda Balionis for PGATour.com. Oh, and by the way…congrats to Jason Day and Cameron Tringale for winning. Day playing this week in Naples makes his absence from recent Australia events even more bizarre, but that's a whole different discussion.
Hey Fox, why not hire Amanda to be part of your broadcast?
Make sure you leave your caption of Poulter laying on his back in the comments below.
EDIT:
I think I'll crown Billy as the winner, however, you guys all could have done better. Something about Lee Westwood sticking his unit in Ian's bum would have sufficed. Fuck Poulter, fucking prick.