Bridging The Gap To Hawaii
Shark Shootout next weekend, Tiger's tourney last weekend…..these events really don't mean shit. They are just a stop-gap until Kapalua. But they are entertaining, and when Jordan Spieth shows up jet lagged and ready to put on a show you sort of have to pay attention. Spieth of course cruised to a ten shot win….yeah, read that again…..a fucking 10 shot win, in the Hero World Challenge. It wouldn't have mattered if this were a 250 man field, or a 5 man field, no one could beat Jordan the way he played. He drove it well, he flagged irons, and he made seemingly everything he looked at on the greens. That's 66-67-63-66 if you're scoring at home.
This comes fresh off a big win in Oz last week where Jordan shot a final round 63 to lap the field in the final round of the Australian Open. He showed up at Isleworth on Tuesday having not seen the course since college (a mere 2 years ago), took one look at the place in the pro-am, then kicked ass for 72 holes. Merry Christmas to him. Walking away with two nice checks at two decent tournaments in back to back weeks has everyone curious what 2015 will result in for Spieth. I think it is safe to say he's turned the corner, got over the hump, whatever…..he's here to stay and challenge Rory McIlroy for the foreseeable future.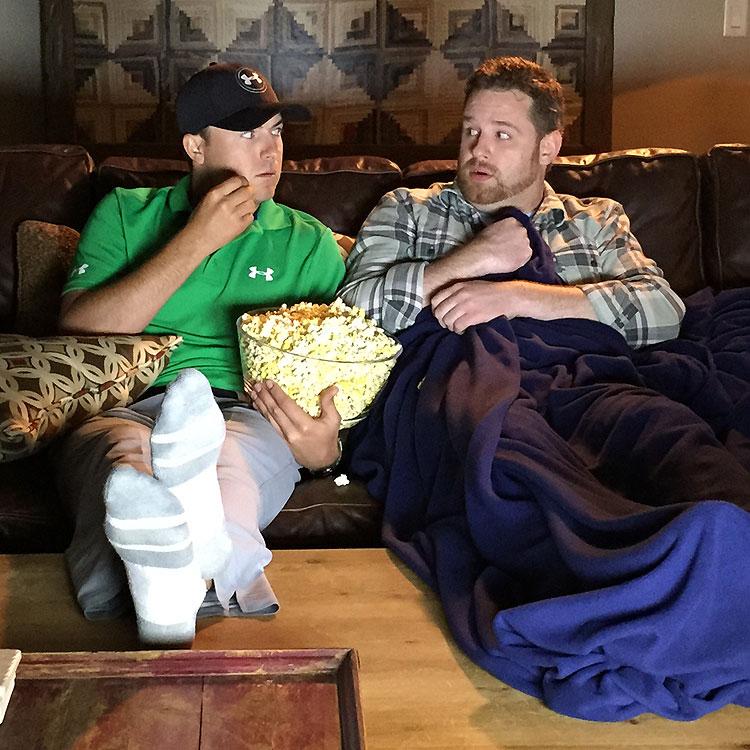 Not only does this set up Jordan for a big year, but all of professional golf is now set up for a huge 2015. Tiger looks healthy, Stenson and Keegan are playing at a high level. Patrick Reed will be in the mix. Bubba will play well where he plays well, and then you have guys like McIlroy and Fowler that will be player of the year candidates. And I haven't even mentioned Bitch Tits yet. Now we just have to wait a month for the calendar to turn and the season to resume. The run up to and through Augusta could be epic.
Catch Him By His Tail
The run down on Tiger's return to competitive golf is that he looked pretty good with full shots, and chipped like a toddler. A perfect example of this came Sunday on the par five 13th hole. TW hit a great drive that left him about a 4 iron in to the green for his 2nd shot. He missed it slightly short and right in a spot old Tiger would have made 4 from 8 of 10 times. New Tiger has a short game problem right now. I can't find the clip from Sunday, but it pretty much looked like this shot from Thursday:
Green high at the 13th in 2, TW chunked his 3rd, his 4th, bladed his 5th to the back of the green, and then three whacked for an 8 after having an iron to the green and taking no penalties. I was amazed. He hit roughly 10 shots exactly like these chunked flops/chips throughout the entire event. The good news is he finished the event, albeit dead fucking last. The better news is, he can fix his short game almost overnight. Tiger fans, you have more to feel good about right now than it appears. He's going to be fine. He's going to have a solid 2015.
Elsewhere In The World
My prior post already covered John Daly returning to the winners circle. If that wasn't shocking enough, Padraig Harrington also won an event overseas this weekend for his first trophy in four years. Paddy won the Indonesian Open. I have no clue what kind of field competed. All I know is he needed something to help him mentally, and this might do it. It will also help improve upon his 360 something spot in the world rankings.
In Daytona, Florida, Tiger's niece Cheyenne qualified for the LPGA Tour. She finished 11th in the qualifying tourney even though she nearly killed her chances with a 2nd round 79. Why do we care? First, her making it on the lady's circuit gives the tour a shot in the arm of star power. The LPGA needs every ounce of this they can get. It has come a long way, but now a player like Michelle Wie, Lydia Ko, or Woods needs to start dominating like Annika did. The more potential stars they have, the better. We also care because if gives you another chance to vote on how many beers you need before you get carnal with Ms. Woods.
Lastly in South Africa, Luke Donald's fine play couldn't hold up over the final round of the Nedbank in Sun City. That baboon must have shaken him up! Instead, fellow Brit Danny Willett closed strong with a 66 and beat the field by four. Willett is a former Walker Cupper who isn't a household name to anyone in North America, yet. He's only played in two majors to date. Still, he's someone to pay attention to as he could be a guy that challenges to make Europe's next Ryder Cup team. I'll be rooting for that, if only to see more of his wife Nicole.
Mr. Willett apparently knows how to score off the course too. Congrats on the win young man.