You Forgot Golf Was On, Didn't You? 
Go ahead, admit it. You were too busy wallowing over your team losing another (yawn) NFL game to remember that the big boys of the PGA Tour were playing on Sunday afternoon. That's ok. October and the wrap around golf season can do that do you. Besides, that's why you're hear reading my bull shit anyway. We'll get right to it then. This week the tour was in Georgia for the McGladrey Classic. Davis Love III played host and almost no player ranked in the top 50 in the world decided to show up. They were too busy watching football too, or playing in Australia, Europe, etc.
Sunday action opened looking like a horse race with the leaderboard running 8 ponies wide. Down the stretch the field narrowed to just three future tubes of glue with Brendon DeJonge, Robert Streb, and Will MacKenzie involved in a sudden death playoff. Streb finished early with a sizzling 63, but almost no one thought his 14 under total would hold up. Thanks to MacKenzie's nerves and DeJonge's 6 straight closing pars, -14 breezed right in to the playoff.
Streb was the best player on the course in the final round and he eventually notched his first win with the shot of his life on the 2nd playoff hole. As the Golf Channel noted, Streb never expected to be waiting around on Sunday for a playoff in the first place. He booked his flight home for the early evening Sunday hours and missed it while the tournament unfolded in front of him. Of course with the victory go all the spoils for Mr. Streb. On to the Masters, the PGA, the Players, and a host of other marquee events in the calendar year of 2015. Congrats on the victory, Robert.
Mrs. Streb 
If you watched you saw her run out and throw herself on her new millionaire hubby after his winning putt sunk. I was listening to this on the radio as I happened and hoped beyond hope that this description of a running wife meant a delicious new WAG to show to all you horn dogs. Instead…..well, you decide.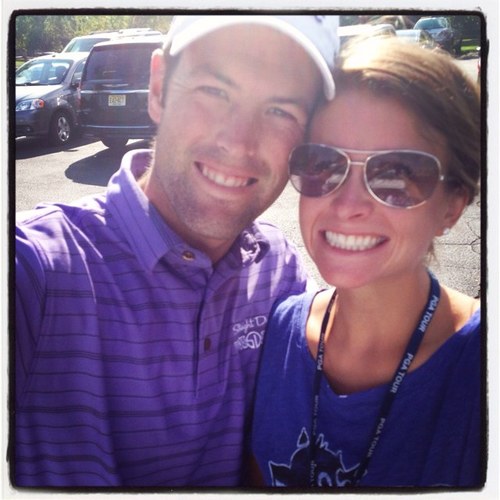 No, I'm not going to say a single mean thing about her. She's cute, she's just boring. There's no shots of her out there showing off her sweater meat. Her Pinterest profile is typical newlywed chick shit. She's boring. Why does this matter? It fucking matters because October is ending soon and I don't have many good candidates for WAG of the Month! I was hoping for a sure thing from the winner this week. I feel lost.
The Field
Brenden DeJonge's career is starting to be very similar to that of Tim Clark. They kind of swing the same too and they're from a similar part of the world. You might have forgotten this, but Tim Clark had about 10 runner up finishes or more before he got his first win. DeJonge doesn't have that kind of record (of failure) yet, but he's getting there. He's often leading or in the top 5 players on the tour each year in the statistic for 'Birdies Made', but he hasn't found the winner's circle? That's a strange combo. And if you make that many birides, and you're playing a course under somewhat benign conditions like you were today in Sea Island, shouldn't you make at least one down the stretch when the tourney is on the line? Yes you fucking should. BD will have his day, and he might have today, if not for Streb's heroics.
Formerly known as the guy who's wife got fucked by Dustin Johnson, Will MacKenzie was the third wheel in the McGladrey Classic Playoff. If you ask me, this should have been Will's tourney to lose. And that's exactly what he did. MacKenzie looked the most nervous of the 3 in the playoff over the last 9+ holes (including playoff). Through much of the round he was hitting almost every green and fairway with a balanced and efficient looking swing.
As he played the last 4 holes, MacKenzie started missing right and this lead to him making par at the easy par five 15th, as well as a bogey as 16. Will did right the ship with a gutsy birdie at the 17th and gritty par at the 18th to sneak into the playoff. Then he promptly made bogey on the first playoff hole, with the same leaky right miss on his two full swings. He looked like a guy that hadn't felt the heat of being in contention on a big stage in a few years. How he rebounds from this the next time he tees it up will tell us more of what he's made of. He's always had the talent, but the once can't miss kid is now 40 and still can't break through.
When I said earlier that the final round at the MacGladrey started like a horse race, I was eyeballing Russell Henley as the favorite to pull away and win. He was the only horse in the race with a (recent) strong track record. Ok, defending champ Chris Kirk was up there too, but he fell back early. Russ never got anything going, but he was sporting one of the weirdest beards I've ever seen on a professional athlete. Take a peak:
That's not from Sunday, you'll have to trust me when I say that it was much worse by the final round. It is funny looking on RH because he's got that Snedeker-esque baby face with the light blond hair. Growing a beard is an uphill battle for guys like that. But hey, Russ probably pulls mad pussy with it, so what the fuck do I know?
Shot Of The Day
This one is too obvious, but when the winner sticks one like Streb did on a playoff hole and that gets him a win, that's the shot of the day.
You got a big pair of balls on you young fella. Welcome to the select club of players that have actually won on the PGA Tour.