You Missed Me, But You Don't Have To Admit It
If you're scoring at home, you know I've been absentee for nearly a week now. No, the Ryder Cup didn't send me into a severe drinking binge, well….it did, sort of, but that didn't have much to do with the Ryder Cup. I've been away golfing, going to family weddings, etc. I'm back now and your regular scheduled posting will continue. Some equipment and course reviews are on the horizon, plus…..the 2014 Shutters (those are my year end awards in case you missed the 2013 show) are coming back soon.
On top of that, this week is the start of the 2014-2015 PGA Tour season. You almost forgot, didn't you? The boys are back in action at the Fry's in Napa Valley starting Thursday. If I had to take a week to be away, the week off between the Fry's and the Ryder Cup was the safest bet. Now, let's get after it.
Tom Watson Is A Sad Sack
If you are a Hall of Famer and once captained the U.S. Ryder Cup team to a victory in Europe, why taint your legacy by taking on the challenge again? You have nothing left to prove, but everything to lose, and simply taking the job tells the world you have a small dick and too big of an ego to let your legacy be good enough as is. That's my theory as to why Tom Watson accepted the Ryder Cup captain job for a 2nd time and I'm sticking to it. What followed was the shit show you saw two weekends ago at Gleneagles. I won't rehash it, you've all had enough of it by now.
In the days following the Watson-led disaster, rumors began to leak out of the U.S. team room about how the captain yelled as his players for their shitty efforts, berated them for the gift they gave him, as well as said several derogatory things about their European counterparts. I suppose this was Tom's old school thought of how to motivate his team to rally from their 10-6 day 2 deficit. What it tells us is how much he just doesn't get it. The rumors sparked a Watson apology released on Monday.
In response to all of the recent discussion about our Ryder Cup loss, I would like to make a few comments.
First, I take complete and full responsibility for my communication, and I regret that my words may have made the players feel that I didn't appreciate their commitment and dedication to winning the Ryder Cup. My intentions throughout my term as Captain were both to inspire and to be honest.
Secondly, the guys gave everything. They played their hearts out. I was proud to get to know each and every one of them. I know they are all going to win tournaments, be on future Ryder Cup teams and have wonderful careers.
Our team certainly showed guts when it took it to the other team early in Sunday's singles matches. We were indeed tied with them as the scoreboard turned wonderfully "red." Our players started fast as I had asked them to in my comments the night before. I asked them to really concentrate on holes 2-5, as the Europeans had won too many early battles on these particular holes. But in the end, the facts are that the other team played better. My hat's off and congratulations to them.
As for Phil's comments, I completely understand his reaction in the moment. Earlier this week I had an open and candid conversation with him and it ended with a better understanding of each other's perspectives. Phil's heart and intentions for our Team's success have always been in the right place. Phil is a great player, has great passion and I admire what he's done for golf.
The bottom line is this. I was their Captain. In hindsight whatever mistakes that were made were mine. And I take complete and full responsibility for them. I want to say again to the players, their families, the PGA and our country how proud and honored I was to captain this talented group of golfers, and how privileged I was to spend the past two years working this labor of my love for the Ryder Cup.
Watson's comments don't matter much after how the matches transpired. They matter even less knowing now what went on in the team room. His actions and decisions were terrible and will be 2nd guessed for years. He had no control of Tiger Woods being injured, when Billy Horschel got hot, or getting stuck with a choker like Jim Furyk on the team. But he did pick guys like Mahan and Webb Simpson that gave the U.S. practically nothing. He also picked Keegan so that he could pair him with Phil to form a team that was close to unbeatable….then sat them all day on Saturday. These decisions, as well as taking Simpson when he told the team he was going to select Bill Haas, were plain foolish. The way he treated the U.S. players is laughable.
Does this taint Watson's legacy? It probably does and it should, but only until (or if) he next does something in golf that's amazing and was previous thought to be impossible for a man of his age. Either that, or when he takes his farewell tour around St. Andrews next year and says goodbye to the British Open….that will change his narrative because perception changes quickly when memories fade.
One Billion Dollars Cannot Buy You A Sense Of Style
Tiger Woods resurfaced today at the site of his golf course reclamation project in Texas. Why is this news? It isn't, but what he was wearing became news. Tiger of course has a history of dressing like a full blown dork. He's been spotted in Walmart jeans too often to call this an isolated incident. Today's digs were an all time faux pas. Please look, but don't stare too long for fear of permanent damage to your retina.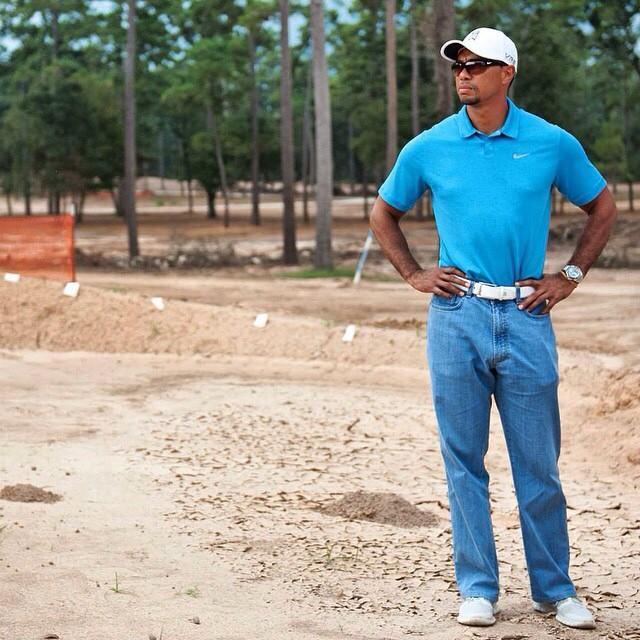 Grandpa ShutFace would wear that. Do the shoes have velcro? The belt? Bro, you can't wear a white belt with jeans. The jeans are bad enough, then you match their color with the shirt? That is a nightmare. How does Lindsey Vonn let him out in public dressed like this? How is it that Phil Knight doesn't send a stylist with him to do $woosh damage control on their brand and image? Ugh.
Next Up
As previously mentioned, the Shutters are coming. That's right. SFG's year end awards start now. Tweeter of the Year is first up and now's your chance to nominate someone. Post in the comments to give your idea. This category is wide open and no one is off limits.