Phil Loves How His Feet Taste
I thought the talking was done, I thought we were ready to focus on golf……then Phil Mickelson took the podium on Wednesday at Gleneagles. Phil was asked a simple question about team chemistry and how it compares to the Euro's. His quip response was epic, and it fired a shot across the bow of the opposition in a friendly, tongue-in-cheek, manor. Here's Phil being Phil:
Mickelson replied: "Well, not only are we able to play together, we also don't litigate against each other. And that's a real plus, I feel, heading into this week."
What he's alluding to is the fact that Rory McIlroy filed suit against his former management company, of which teammate Graeme McDowell is a part of. GMac has said often that he's not directly named in the suit. What he means by that is, "keep me out of it". I think this legal action has been over blown. The real reason Rors and GMac have had a falling out is their changes in lifestyle. Rory is world number 1, GMac just had a kid. They're not exactly at the same points in their lives these days.
As for what Phil said, it's great. He loves to needle everyone and no one is off limits. He also owed Rory one for the comments he had during the Fed Ex race about Phil being on his last holes of his career. I'm sure he expects a Euro to have a witty comeback about him being investigated for insider trading. He's a big boy, he can take it. Good for Bitch Tits for adding some flavor to these boring pressers in the first place.
Drink Until The American Team Looks Better
The boys of @NoLayingUp are going all in this week for the Ryder Cup. Would you expect anything else? If you're not following them, you need to get on the Tweeter and do so. There's so much activity from the handle that I've come to picture it being run by an outfit similar to the Keebler elves, sans the cookies. Today the boys released their Ryder Cup bingo cards for you to play along with during the telecasts this weekend.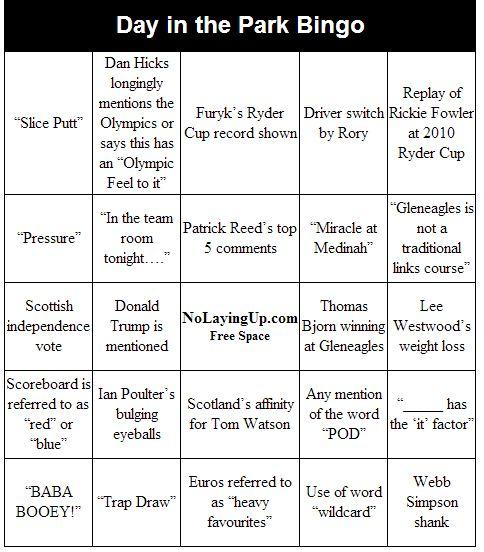 Bingo probably isn't your thing, and that's fine. It isn't mine either. What this is perfect for is the Ryder Cup drinking game. With the matches beginning in the middle of the night, playing this when you get home from the bar over the next 3 evenings seems like the perfect night cap. You won't remember what you watched, but you'll certainly enjoy it more. Play at your own risk.
The Tiger And Rory Virgin Club
Another juicy fable dropping out of the Ryder Cup week at Gleneagles is this nugget that was divulged during Rory McIlroy's documentary being produced by the BBC. Rors told producers that he thinks he'd still be a virgin if it wasn't for golf. Well, no shit. Unless he found some other way to make $250 million, who's fucking a freckle faced mick with that mop top? Maybe virgin is a little harsh. He could have fucked a fatty. Golf is simply the avenue that allowed him to become rich and famous. No one is fucking golfers because of what they do on the course. They're fucking them because of the size of the checks that are given out on Sunday.
Tiger would be in the same boat and probably more of a nerd than Rory was before he became rich and famous due to golf. His college teammates called him Urkel for crying out loud. We can't be surprised by what Rory said because it isn't far from the truth. We should appreciate his honesty and the fact that he is humble enough to realize how good he has it (swimming in constant hot poontang).
Dustin Johnson's Banner Year Continues
Paulina Gretzky is a fame whore. When she became a bit more recluse on her Instagram and Twitter accounts of late we should have known something was up. I sort of assumed she had realized that taking slutty pictures of yourself at various parties wasn't something her father approved of, that it wasn't helping Dustin's coke habit, and it had an impact on her pending nuptials. Instead, this morning she made it quite clear what she's been up to in her silence.
http://instagram.com/p/tUCnumMjzp/?modal=true
Of course. She's preggers! How did I not see that coming? For DJ this is basically an anchor baby. Not that he was going anywhere or doesn't have his own money, but now he and his kid have Gretzky money for good. Even if he and Paulina never get married, he's set. The pregnancy also puts a cap on his brilliant year. Engaged, drug suspension, wedding delayed, and now a bastard child. You are going places, Mr. Johnson.
Am I the only one that sees the irony of the timing of this announcement? DJ should be at Gleneagles right now headed to the Gala Dinner with his baby momma and their bump. This was intentional, but I haven't quite connected all the dots here yet. With DJ, it's probably simply a coincidence as he's too stupid to know what's going on in the world around him.