For $10 Million, I Wouldn't Care How Ugly My Pants Are Either
As I noted in my previous post, Billy Horschel faced off with Rory McIlroy in a winner-take-all weekend of golf at East Lake in Atlanta. Yes, Billy Horschel, the hottest player on the planet – he who is not a member of the United States Ryder Cup team – held off McIlroy over the final 36 holes of the Tour Championship to take home 13 million dollars for 3 weeks of work. And he did so all while knowing his wife very well could be popping out their first child back home in Jacksonville at any moment. For his efforts, Horschel has gained the respect of everyone associated with professional golf. For a guy who's always been known as high energy, emotional, and nervous, Bill showed the focus of a sniper while finishing off his Fed Ex Cup title with bounce back birdies and key par saves. A sincere ShutFaceGolf congratulations to Billy and the entire Horschel team and family for their tremendous accomplishment.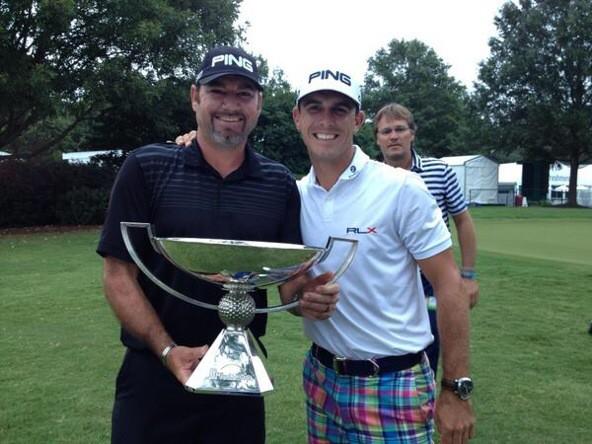 Those that know Horschel's game know that when he's hot he stays hot. I said that last week and noted that with Bill it usually comes down to his putter. This week in Atlanta his flat stick stayed hot. That, Billy's normal ball striking game, and only 30 players to beat resulted in Bill's 2nd victory in two weeks. He hasn't shot a round over par since he missed the cut in New Jersey nearly a month ago. In fact, he hasn't shot a round in the 70s in over 3 weeks. @NoLayingUp shows us Billy Golf by the numbers:
And to do all that with a baby on the way? You saw what happened to Patrick Reed when his child was close to being due. He went from a top 5 player (stop fucking laughing – no, okay, laugh your bag off) to a guy missing cuts at a John Daly-like pace. Impending fatherhood is rough on your game, trust me. I've been there. For William Horschel, this little distraction seems to have fueled him like a frat boy at a rave getting a bump of blow.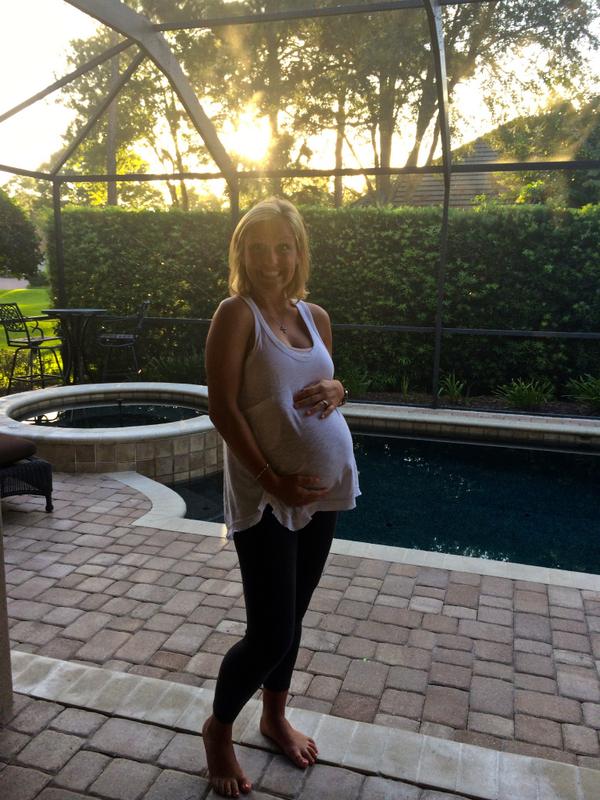 And that's what Bill is going home when he leaves the ATL with all his cash. I haven't always been a fan of Mrs. H., but she's got a cute prego thing going on right now. These two are about to experience the greatest day of their life, and that is pretty amazing considering they became 10 million dollars richer on Sunday afternoon.
Winners & Losers Of The Week
Winners: 
Billy Horschel – You know the drill, and there's no changing the tune on ShutFaceGolf just because of some hokey points system that is as contrived as a network reality show. Billy went all in and finished T2, 1, and 1 after missing the cut at the Barclays. The best player won.
BH has also handled the entire Ryder Cup gorilla in the room about as classy as one could ask. About the only thing he's done wrong is that stupid Gator Chomp in the heart of Bulldog territory. So stand up, slow clap, and get this mother fucker a cigar for his victory and for his baby girl.
Ryan Palmer – Another good week for Palmer and four rounds in the 60s will get you on the winner list too. RP didn't win a Fed Ex event and he didn't make the Ryder Cup team, but he did play as consistently as any other player in this cluster fuck of a format over four weeks (save Horschel, McIlroy, and Kirk). This surge could be a spring board for Palmer going forward but we won't know that for at least 6 months when the meat of the tour gets going again in 2015.
Baby Horschel – This kid isn't even born yet, but her life is set thanks to daddy's 3 week hot streak. Winner, winner…..breast milk dinner!
Of course, if dad never wins another tourney, she'll get all the blame for that too. Life is full of pressure, kid.
Geoff Ogilvy – If you've ever wondered what I look like, I'm pretty much Geoff Ogilvy's doppelganger with a smaller nose and no Aussie accent. Oh yeah, and I don't have that goofy neck hair, I know how to wear my hat, and……well, what the fuck ever….
Geoff makes the list today as a winner not because of his handsome resemblance to me, but because he shot 20 fucking over while playing 3 solo rounds at East Lake and still takes home about 200k for his efforts. He also gets into a few majors (was already in the Masters thanks to winning in August) for finishing in the top 30. Sometimes losers are winners too.
Chris Kirk – Kirk makes the list for almost every reason Palmer did above with the exception being that he won in Boston. He got the bump over some others that could have been considered because he's a dopey looking guy that bagged a hot ass wife.
WAGS are always in play with everything discussed on this site. Don't ever forget that.
Losers: 
Rory McIlroy – Ugh, Rors….what a shit filled day on Sunday at East Lake for the curly haired one. He started the day tied for the lead in the tour's big finish of the year. Then the world number 1 went 5 over in the middle six holes of the round and his chances were toast. If he hadn't birdied 3 of his last 4 holes it would have looked even worse.
I'm sure he's both disappointed and exhausted with all the high level golf he's played of late. Still, I don't see fatigue as an excuse for the shit shots he hit on the 6th, the 9th, and a few other holes in the middle of his round on Sunday. He's also been beat the last few weekends by Americans……Americans that aren't on the Ryder Cup team. Which leads us to….
PGA Of America – Rory himself said that he's glad Horschel, Palmer, and Kirk aren't on the U.S. team for Gleneagles. He's dealt with them throughout the Fed Ex Cup stretch and knows they're all playing well and would be tough outs as opponents.
Instead we're stuck with Webb Simpson and Hunter Mahan. Mahan is on the team because he got hot a week earlier than Billy. That's simply bad timing for BH and good timing for Hunter. You can't blame Tom Watson for this, so I hope you weren't looking for his name here.
Watson played the cards he was dealt with the information he had at the moment. Obviously everyone that has a say would want Horschel on the team at this point, but it isn't going to happen. Why were these decisions forced to be made so early? Likely because of logistics. The PGA has to plan the event, get names in programs, order wardrobes, put together bios, etc. In this day and age the PGA should be able to do that in the two weeks they have from the Tour Championship to the Ryder Cup, but they're old and fussy and set in their ways. This year's debacle might be the impetus for change. Let's hope so, and when Fred Couples makes his 6 captain's picks after the Tour Championship in 2016 we'll all remember why this process had to be changed.
Ralph Lauren – When is Ralph going to make Billy a decent pair of trousers? First the Octo-pants, then the camo, now these in plaid. Is he going yachting? Ahoy paloy.
Am I off base here or are these as awful as they appear? I'm a big fan of Polo in general and always have been, but sometimes less is more. With Billy's pants, I think this should be RL's mantra.
Johnny Miller – Asking if Johnny Miller a dipshit is like asking if bears shit in the woods. We all know he's a fucktard, but we're also forced to listen to him some 20 weekends a year when he's calling professional tournament golf that we want to watch. In many ways, I do like what Miller has to say thanks to his honesty and overall knowledge of the game. When Miller starts harping on the same shit throughout the broadcast, well…..that's when you want to throw your empty beer bottle at the TV so shut him up. Save your flat screen and put the bottle down. It isn't worth it, not that I've done this before.
On Sunday at East Lake, Miller's head was stuck on Rory's swing flaws, the weather, and his odd mental hang up of seemingly wanting Horschel to choke. I don't think I'm the only one that heard him working on his Mormon voodoo while Hicks was talking. He did compliment Horschel quite a bit over the 18 holes, but I felt Miller wanted to keep Horschel down because he'd be winning 4 times what Johnny earned for his entire career in one week of work. That has to make Miller cringe. After all, he once shot 63 at Oakmont to win the U.S. Open, Billy never did that.
Jim Furyk – Big Jim played great today, didn't he? Well, at least through 16 holes he did. That must be because he didn't have to sleep on the 54 hole lead. Don't forget that Furyk was safely on the 16th green while Horschel had yet to putt out for birdie on 15 and the two were tied for the lead. And just when things could have actually gotten interesting, Furyk choked out….errrr…bogied out to give Billy a much easier path to victory. That's way too typical of Jim over the last 3 years. Today was his 100,147th 2nd place finish since his last win. If he had posted -10 and given Bill something to look at on 18 I might have left Jim alone today, but that didn't happen. The call out is deserved.