Bill Battles Back From Boston
The weeks before Billy Horschel won the Zurich Classic last year in New Orleans  he finished T9 at Harbor Town, T3 in San Antonio, and T2 in Houston. If you were aware of that then you also likely knew that Billy's flame out in Boston on Monday was simply one bad shot and that he'd be back to contend this week in metro Denver. If BH is anything, he's apparently very persistent. He also stays hot for a while when he's playing well.
Horschel's third round 63 sent him surging up the leaderboard on Saturday and made him the overnight leader. After 11 holes on Sunday he and Ryan Palmer sat tied a top the BMW Championship at 14 under par. Bill simply made 11 pars to close his round as his challengers shit themselves all over the golf course. Horschel is a ball striking machine. He hit a few stray shots coming home, but never compounded his mistakes the way Garcia and Palmer did (e.g. the shank Palmer hit on 13).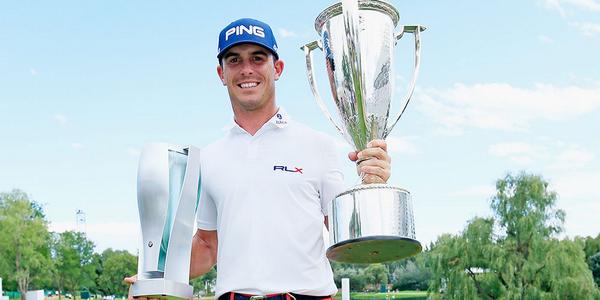 I pointed out last week how much better BH hit the ball in comparison to Kirk coming down the stretch at Boston, save his last shot. Kirk got the breaks and out-putted Bill. That's usually the story when Billy plays well, playing well = putting well. Today was the most obvious example of what keys his success. I don't think he missed a putt under 12 feet. Keep it in play and make putts and you'll win more than you lose (sounds like something stupid Johnny Miller would say).
With a two shot lead and his ball safe on the 18th green, all the excitement should have been long gone from the BMW. That is until Horschel decided he had to drain his main vein and find a shitter. He flipped the club to his looper and then sprinted off the course to the left of the hole in search of a toilet. There's no report on whether or not Bill had the trots or just had to pee.
Are you thinking that this is right about where I'd usually comment on the winner's wife? Yup….but think again. Mrs. H is at home and 8 months pregnant. She's getting a pass today. Are you also thinking that Billy would look damn good on the U.S. Ryder Cup team right about now? I'd agree, but the funny thing with that is that I don't think Bill could have or would have played. For all the right reasons, it is probably best for Bill that he won this week instead of any time in the prior month. If he had won earlier, I think he's a guy Captain Watson would have looked at for a pick. The issue is that Bill's wife is due to give birth to their first child within days of the matches. I think he would have opted out, but it would be very hard to turn down a Ryder Cup selection when you've never been on the team before.
The Field
What else can you say about Morgan Hoffman at this point. The fucking kid was left for dead at the Wyndham and eeked his way to spot 124 to barely make the Fed Ex playoffs. Then a home game in New Jersey (he's from the Garden State) and a top 10, a made cut in Boston, and and 62-63 weekend in Colorado after being over par half way through…..that's a god damn miracle in getting to Atlanta.
His eagle at the 17th hole today showed how big his onions are. I love seeing young bucks going for it when something is on the line. That's why we all watch. His reward for his play is more than just making the Tour Championship and the truck full of cash that comes with it. By making the TC, Hoffman is now exempt into 3 majors in 2015 with the Masters being one of them.
For much of the day it looked like Dustin Johnson and his coke habit would be the impediment keeping Hoffman from booking his flight to Atlanta. You see, without even playing a playoff event, Johnson held the 30th position in the Fed Ex standings. Hoffman's eagle allowed him to jump Johnson, which also stopped me from going on a nasty Tim Finchem rant. Still, Dustin ended up 30th which means there will be only 29 players in the field next week, and someone will have to play alone each day. It also means Johnson will get $175k for not hitting one fucking shot in the playoffs. #completelyflawed
And just when you though Sergio Garcia had choked away a golf tournament in every conceivable way he writes a new chapter in his "How To Be A Loser" book. Down 2 on the 17th hole, 252 yards from the hole, ball in the fairway…..you're a tour pro….there's only one shot to hit. I don't give a fuck if there's water up there. You hit whatever club it takes to give yourself a chance at eagle. The little pussy layed up. He layed up!!!!!!
As you can only imagine, the boys at No Laying Up at something to say about it:
Well stated. And if you watched the BMW, you know he got what he deserved after hitting that chicken shit shot. His 83 yard wedge flew the green. He skulled the chip back across the putting surface into the water and eventually made a triple-bogey 8. Ha ha ha ha ha ha! Fuck you, prick.
Shot Of The Day
Rory had an interesting weekend in Colorado. First he gave us the Shit Shot(s) of the Day on Saturday with his fun four putt from 4 feet:
He and Sergio must have been banging the same chick on Friday night eaten the same breakfast. Both putted like epileptic midgets when playing together on Saturday. Then both pitched in from 50 some yards at the 7th hole after hitting driver 350 yards down the right side on Sunday.
That tends to make up for yipping short putts, that is of course until you do it again!!!!
Same hole, one day later. Four more putts. Two four putts from the number one player in the world two days in a row? You have to be fucking kidding me. I don't know if Tiger has ever four putted in his career. How are these two Euros going to putt when the pressure hits them at the Ryder Cup? And of course Rors finished 6 shots behind Horschel, which means if he one putted the 12th green both times he played it on the weekend he would have been in a playoff.
Cherry Picking
I really like the fact that the BMW and the Barclays Fed Ex events rotate courses with in their general geographic regions. I wish the Tour Championship and Boston events would do the same. Because the BMW moves around we were treated to seeing Cherry Hills all week and I thought it came out looking like a superstar. The score to par was higher than expected thanks to Friday morning rain. Other than that it was a brilliant set up and design for a championship event.
Interesting par 3s, drive-able par 4s, and risk reward par 5s amid a classic and timeless design is all you can ask for in a golf course. The altitude and extra distance aside, this place was built to host big events. With the success of the BMW this week you'd have to think that a PGA, WGC event, or a regular spot in the BMW rotation would be the reward for Cherry Hills. Time will tell, but seeing this track every 4 years would be fine by me as a fan and as a player.