Get Your Tickets To the Gunn Show
On paper the US. Amateur final looked like San Diego State's Gunn Yang v. Kent State's Correy Conners. In reality it was David v. Goliath as well as South Korea v. Canada. Yang was ranked as the 776th amateur in the world. As NBC showed viewers, no other finalist in this event had been ranked much lower than 150th. Conners ranked somewhere around 35. Conners had also been in the semi-finals of the Am before (2013) and had himself quite a collegiate career. To date, Yang has only played in 4 NCAA events. Yang is also only a year removed from back surgery and had his college coach threatening to take him off scholarship this year. Of course that is about to change.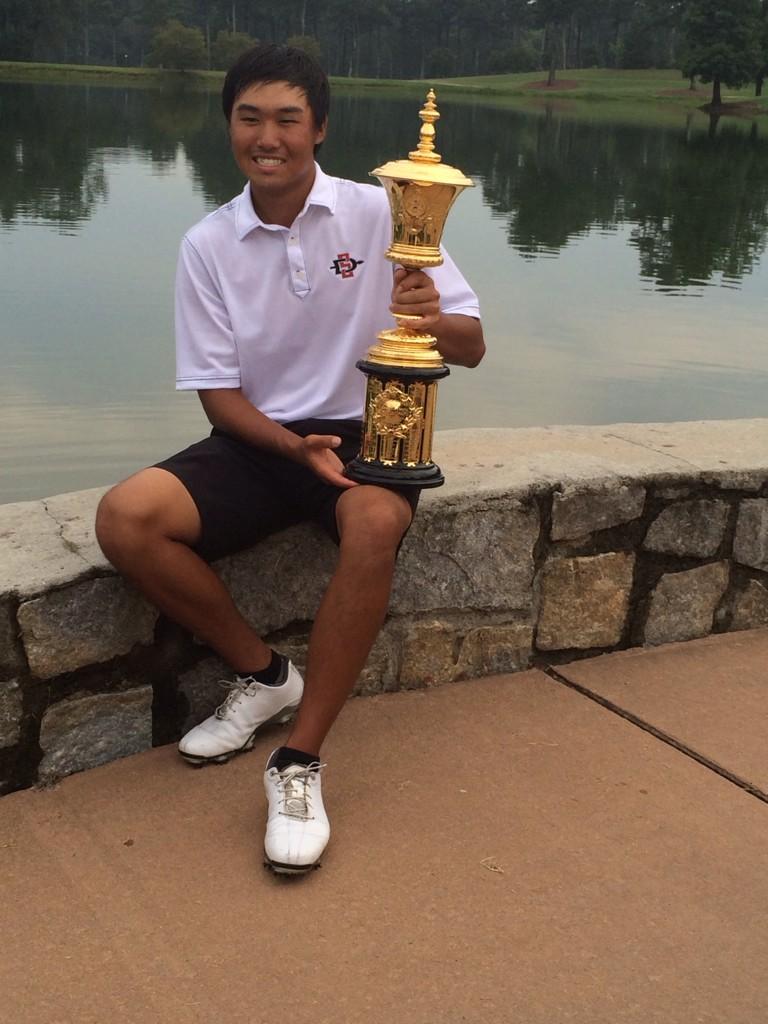 Yang defeated Conners 2 &1 in the 36 hole championship match on Sunday. For those of you that saw the Wyndham end early, I hope you got the chance to click over and check out the last 5 or 6 holes of the final USGA event on NBC airwaves. From what I saw, the match was cleanly played save one shot by Yang that he got away with. Yang took an early lead but was never up by more than 2 holes. Conners tied him a few times and also took a brief one hole lead in the morning round. The match was halted by severe weather with 6 holes to play.
After the delay Yang came out fully intent on building a lead and putting the championship away. On the 30th hole he hit a 235 yard 3 iron to 10 feet, but missed the eagle putt and Conners matched with birdie. Both halved the 13th hole with pars, then Yang made a 20 foot birdie on the 14th to extend his lead. That should have been the death blow, except for the fact that Yang shanked his 2 iron on the next tee playing the 260 yard par three 15th. Yeah, the hole where David Toms made an ace in the PGA eons ago.
Yang caught a break when his tee shot bounced off a tree limb and stayed out of the hazard. Conners hit the middle of the green and made par while Yang made the save of his life by getting up and down from the wrong side of the water. His lead stayed at 2 up with 3 to play and Conners was in trouble. The matched ended with the players matching great shots and stock pars on the next two holes.
Caddie Controversy 
That's USGA President Tom O'Toole that got jilted by Yang on the congratulatory handshake. I swear he's not the kid from A Christmas Story all grown up.
It seems as though there were several instances in which O'Toole had to ask Yang's caddie not to stand behind him while he hit his shots and putts. That's not allowed as you probably know. The penalty for this in match play is loss of hole. What I don't get is why there was never any action taken by O'Toole when Yang's caddie did this?
NBC should have made viewers and the USGA more aware of this situation. What NBC did tell us was that Yang's caddie was strictly a volunteer. I have no clue how he got paired up with Gunn, but he made an arrangement with him early in the week to loop for free, so long as Yang took him to Augusta if he made it to the final. You can bet that promise is getting cashed in.
There's no truth to the rumor that Yang's promised him total consciousness. Perhaps he's also got that going for him. Which is nice.
Don't feel too bad for Conners. He's going to play professionally and make money doing so. But before that happens he'll be holding on to his amateur status at least through the U.S. Open at Chambers Bay next June. As my tweet above notes, by simply making it to the finals you're exempt into the U.S. Open and likely invited to the Masters too. That has to be the best non-monetary 2nd place prize in all of golf.