Well That Was Boring
There was a little bit of everything for everyone on Sunday at Valhalla. Mostly, there was epic golf played by the brightest stars in the game. Rory McIlroy started the day with a one stroke lead over Bernd Wiesberger of Austria, with Rickie Fowler 2 shots behind and Phil Mickelson 3. Then all hell broke loose. Rory struggled out of the gate while Mickelson and Fowler went on birdie binges. As I predicted yesterday, Wiesberger wasn't shown again after the middle of the front nine. This became a four horse race with Fowler, Stenson, Mickelson and McIlroy jockeying for position once they hit the quarter pole.
To make things more chaotic, a 90 minute weather delay put the completion of the final round in jeopardy thanks to the PGA of America sticking with originally planned late afternoon tee times. Playing a soaking wet golf course, every pin was a green light special and the birdie fest was on for the entire field. Just as it looked like it wasn't going to be Rory's day, he 'necked' a 3 wood into the 10th green to 8 feet and made the eagle putt. Game on. Phil and Rickie felt it coming. I trust that Stenson did too as his game suddenly went to shit over the last 4 holes.
The clincher for Rors came at the 17th hole. His drive found the fairway bunker but settled into a perfect lie and stance. He lofted a short iron into the air, dropped it about 14 feet from the hole, and raked in the simple right to left putt to make birdie and give himself a 2 shot margin. He walked to the 18th tee, the 72nd hole of a major in which he's winning, with darkness looming. Having Phil and Rickie just leaving the tee he asked to play up with them. Chaos ensued.
After Phil was tracked down and told what was about to happen, Rory's group hit over them and then walked up behind them as Phil and Rickie hit 2nd shots to the final hole. Both players knew they really needed eagles to have any chance to tie McIlroy. Neither could convert. Once McIlroy's tee shot was (barely) dry a 2nd PGA Championship was his. Unlike his past major victories, Rory actually had to grind this one out down to the last hole under some fairly bizarre circumstances. He's clearly the best player in the game right now. The way he bullied his group up the 18th fairway behind Mickelson and Fowler was fittingly similar to the way he's bullying his competition right now. His 4th major at the age of 25 puts him in rare company with Tiger and Jack. Earlier this week Nicklaus himself said 15 to 20 majors wasn't out of the question for McIlroy. Time will tell.
The Field
Oh FIGJAM, what a day, and what a cruel world. His 2nd place finish today means he's now finished 2nd in every major. Is that some type of career slam? He has to feel snake bitten again because yet another once-in-a-generation-player is taking trophies off his mantle. He played his guts out today and in the end felt pissed off about how the whole "playing up" thing worked out. Still, Mickelsauce didn't let on that he was wronged in anyway. He said the chaos didn't impact the outcome. Rory also credited Phil for the sportsmanship he showed in allowing the final group to play up even if it was against his will.
Phil's not going to sleep well tonight. He can't. He lost by one shot and he left a par putt on the 16th hole short right in the middle of the jar. If you're Phil-fucking-Mickelson you can't do that. This was still a great week for Phil and his great play on Sunday did help him leap up the U.S. Ryder Cup standings and into an automatic pick.
Rickie Fowler had this thing by the balls at one point on Sunday. He recovered from a bad tee shot on the 2nd hole to birdie 4 of the next 5 holes. He was electric. His tee shots were bombed past Phil all day. After he made a long putt for birdie at the 10th I was starting to think this was Rickie's moment. But Rick didn't have the horse power to hang with Rory. His nerves caught up to him a bit with wayward shots on 14 and 16. He admitted his poor swings came from not being able to commit to the shots.
Fowler has nothing to be ashamed of. He didn't win today, he and Phil both just got beat by a better player. And for Rick, his T3 finish means that he finished T5, 2, T2, and T3 in the four majors this year. That's only been done a few times by guys named Nicklaus and Woods. Although, Rickie's 2014 resume is the only one with that high of finishes that doesn't include a win.
And then there's Henrik Stenson. Henrik was right there with Fowler, Mickelson, and Rory for the entire day. To me it seemed as though once he saw his name on top of the leaderboard he let the moment get to him. He had an inexplicable 3 jack at the 14th and followed that up with a shank on a later hole. Then he hit 3 wood off the tee at the 18th hole which is a reachable par 5? I don't get it.
He's been here before. He has the most top 10s in majors since 2008 without a win besides Lee Westwood. Like Lee, his putter seems to get a little flaky when things get heated down the stretch of a major.
Winners & Losers Of The Week
Winners: 
Rory McIlroy – As always, the winner is the biggest winner. So how could Rors possibly do more than win his 3rd straight tourney and 2nd straight major? He could save President of the PGA of America, Ted Bishop's ass, by catching the top of the Wanamaker trophy before it clanged to the ground.
He also saved Ted's ass by getting his round in and having the championship completed on Sunday. If there's any chance of weather delaying a final round, tee times should be moved up so that players aren't challenging darkness. Plain and simple. Why risk having to play in to Monday? Thanks to Rory and his pushiness to tee it up on 18 we didn't have to see things play out that way.
Rickie Fowler – Rick's finishes in the majors this year that were noted above are why he makes the winner list. That and I don't feel as though he 'lost' on Sunday at Valhalla. Unfortunately for Rick, his clothing sponsor won't be making the winner list this week.
Yeah, you all saw it too. Was it really that hot out there? Isn't the Puma gear made of dry fit material? And if his ass was that saturated, I'd imagine that yardage book he was looking at was pretty nasty too.
CBS –  Bear with me here. Take Nantz, Faldo, and McCord out of this equation and I thought CBS was great all weekend. The use of ProTracer, Trackman info, hole graphics, etc., that was all spot on. We probably could have seen a bit more of the tech on the broadcasts, but I'll take what I got. I thought David Feherty was phenomenal. From his assist in Jason Day's par on Saturday to his calls from the thick of the Sunday action he did it all.
Kostis was pretty good too and deserves mention. Everybody else…. fuck it, I didn't notice, but I did see Faldo and McCord getting killed on Twitter. Nantz' closing tag line did almost make me puke. The real reason the network makes the the winner list is because I think they're going to see that the Rory era has started when the ratings come out in the next day or so. This thing was an all-timer and they'll reap the benefits of it.
Valhalla – There's no bones about it, on paper this place isn't made for a major championship. But golf isn't played on paper. A thrilling Ryder Cup, 3 epic PGA Championships, what else do you want from the Kentucky course? So what that you get a replay if your ball hits a power line? Who cares that there are a few waterfalls in play? The fans show up in huge numbers and the venue allows for fun, legendary golf to be played. Bravo.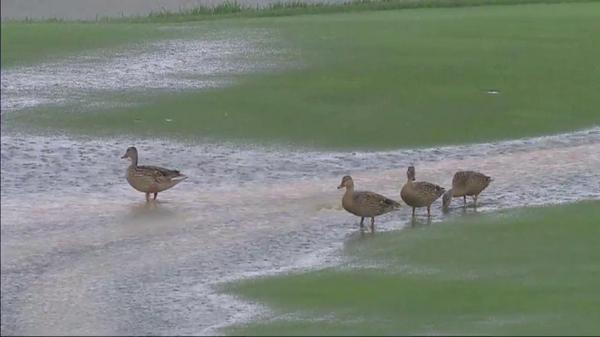 Even more kudos for Valhalla, the track was built to drain. In 2011 the PGA put in sub-air drainage systems. Without that system this championship would never have finished on Sunday, no fucking chance. That image above was taken about 90 minutes before the leaders teed off. Great golf and good drainage makes Valhalla a winner today.
Tom Watson – As recently as Thursday Tom Watson was probably having severe anxiety about how he could assemble a winning team for next month's Ryder Cup. I think he'll sleep a little better today after seeing what Phil and Rickie can do, Plus, Jimmy Walker carded a 65 to rise up the leaderboard.
Now Tom has a team that includes Bubba, Jimmy, Phil, Furyk, Zach Johnson, Patrick Reed, Jordan Spieth, Matt Kuchar, and Fowler. Who he picks with his 3 choices is anybody's guess. Dufner, Ryan Moore, and Brendon Todd are next on the list. I think Duf is in if he's healthy. After that, Keegan is a lock, and Snedeker, Mahan, and even Ryan Moore are on the bubble. Either way, I think that team came a long way in the last 3 days even though they'll still be an underdog across the pond.
Losers
Tiger – Six years and counting with no major wins. I'm likely to write that after every major until (if) he wins another one because 19 majors is his only goal in life. His injuries have thoroughly derailed this chase for now and I think they're the biggest reason he's on the 'loser list' again after another major. What happens next is what matters most. Can he get healthy? Who knows. I think all the non-Tiger-haters have reason to hope for the best for next year.
Time is ticking. His career is on the clock. 2015 is a big, big year for the Big Cat.
Jason Dufner – I have a hard time ever calling Jason Dufner a loser simply for the fact that he out kicked his coverage by a good 50 yards in the wife department.
http://instagram.com/p/qDHDP3Lhoy/?modal=true
But facts are facts. He was the defending champ and he couldn't make it to the weekend. Yes, I know he was injured, but who's fault is that? My guess is that if Duf took better care of himself and found his way to the gym once a week he might not have a bulging disk in his neck in the first place.
Thorbjorn Olesen – His name means Thunder Bear, which makes it pretty hard to put him on the Loser List. The translation makes me think of this every time I hear it:
So why is he on the loser list? Because he hit the most unlucky shot I've seen in golf, ever.
Ouch. I've done something similar. When I was 16 I flew a 7 iron in the cup on a par 3. It wrecked the jar and ended up about 15 feet from the hole. I of course missed the birdie putt.
Billy Horshel – You saw those pants, right? I think he called them camo frog pants. Seriously? Ralph Lauren makes those? And how does he figure they work with a purple shirt?
The sad thing is that these actually make the octopus pants from Merion look decent. Maybe Bill signed a deal with Loudmouth that we're not aware of. Whatever the case, he should discard them quickly because he was one of few players to hack up Valhalla on Sunday. His final round 76 dropped him 36 places on the leaderboard.
Golf Fans– The PGA Championship is over and we're all worse off for it. As writer Jason Sobel points out, we're now 242 days away from round 1 at Augusta. That's way too long to go without major championship golf.
But hey, at least we have those Fed Ex events to look forward……errrrr…….well, does anyone really look forward to those? They're fun, but I'm still not all in.
Golf fans are also losers this week for having to put up with this non-stop fucking commercial all week.
You can breaks rocks……huh? Notice how quick Rors was to find his time piece and put it on before the trophy ceremony? This would have been fine if it ran once per 30 minutes each day. Instead we say it 466 times during the weekend coverage. There needs to be backlash from this.