Tiger Turns Up At Valhalla
That loud "whew" you heard on Wednesday afternoon coming out of Louisville was shared by CBS executives, Phil Knight of Nike, Joe La Cava, all the locals that bought tickets to the 2014 PGA Championship, and anyone else with an investment in Tiger Woods. And the "oh fuck" was probably from Tom Watson, because now the pressure will be back on him to decide what to do with a 'healthy' Tiger when it comes to the Ryder Cup.
Of course, only Jimmy Nantz and Sir Nick Faldo ever really thought Tiger was done for the year, and they're both drama queens. La Cava told golf journos that he was hopeful TW would play as of yesterday, and that should have been the hint that nothing was wrong with his back and all things were a go. Caddies know everything. My only question is, why hold off on the news? Why miss the presser? TW likely saw a doctor on Monday and knew everything was fine at that point. He probably needed to rest, but why not hold your scheduled presser?
Once on the grounds Woods teed it up with Steve Stricker, Harris English, and Davis Love. The Golf Channel took it all in and then puked it all back up on viewers for a few hours on Live From. Notah Begay followed every shot and said Tiger was hitting it at about a 7 out of 10. Davis Love sat down with TGC and expressed a similar sentiment. He thought TW looked ready to compete and sighted his years of watching Fred Couples play with a crooked back as to why he's an expert on the subject matter. There's no truth to the rumor that he also slept at a Holiday Inn Express last night. I don't think Tiger is out of the woods yet, pun intended. He'll show up on the 1st tee on Thursday, in spite of the prayers of the 1st alternate, and he'll give it a go. Will he finish? That's a wide open question. I would say Vegas is paying even money that he finishes 72 holes.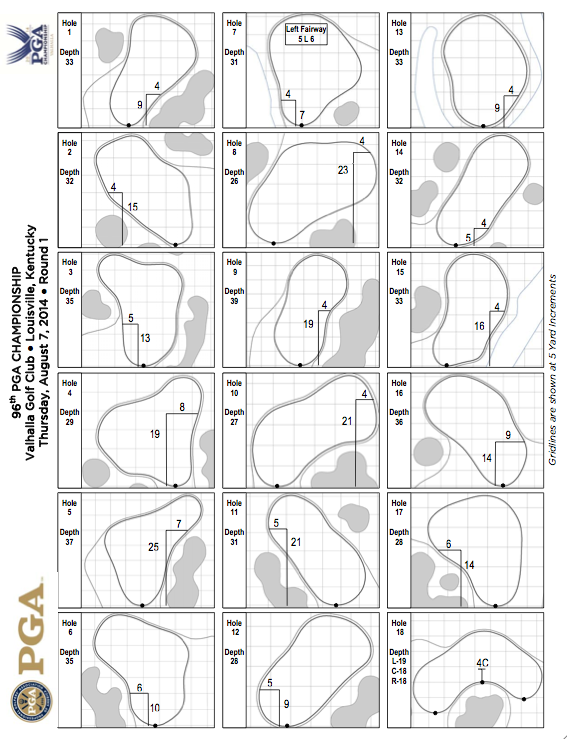 When he does peg it tomorrow morning, these are the hole locations he'll be facing. They were tweeted by the PGA and Golf Channel late on Wednesday. Not one of those looks easy. Better hit some fairways, TW.
Dustin Cokies Caddies For Paulina
In Dustin news, Tim Rosaforte reported that DJ is spending his time off playing golf and caddying for Paulina in some member-guest she's playing in. First, does she have him on a leash? Second, why the fuck do we care?
That is Janet and Paulina playing paintball from a few days ago. There was a rumor that DJ was with them but it was never confirmed. Doesn't matter, we're simply not going down that road from here on out on this site. I don't want 6 months of updates on this giant dip shit and what he's doing outside of golf everyday. And unless Paulina's tits are hanging out I'm not going to waste your time and show her here either.
From One Butt Rub To Another
We all remember the Dufner ass-pat after he won the PGA last year. How could you forget (especially since I reminded you of it on Monday)? The Dufner's had a sense of humor about it then and obviously still do a year later. For his champion's dinner Duf served Butt-Rubbed filet mignon along several other southern delicacies.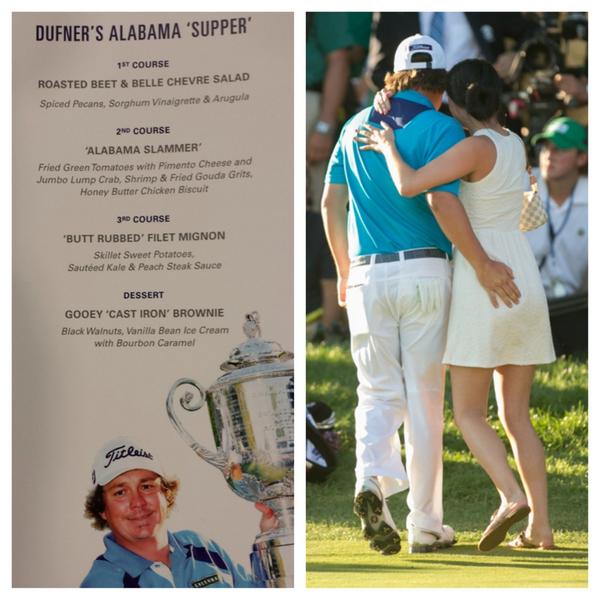 Oh my. I wonder how that would have gone over if this dinner had been in April at Augusta instead of the PGA. Billy Payne might have had a seizure.
In some sort of excursion that went along with dinner, 17 former PGA Champs went over to Churchill Downs to promote the PGA and pose for pictures.
17? Really? That's all you can get? Even the former champs think the PGA is barely a major.
One Ryder Cup Mystery Solved
In other news, Tom Watson named Steve Stricker as a vice-captain for his Ryder Cup squad. Just a month or so ago, plenty of people in the know thought that Strick was still in the running for a captain's pick to make the team. This was likely based on the fact that Tiger likes to play with Steve and no one else likes to play with Tiger.
I think Watson got this right. You can't pick a guy that plays as little as Steve does these years. If he earns it and qualifies, fine. That means he's playing well too. The fact is, Steve's game isn't at its best and Steve had no business being on a team this year. He'll be invaluable as a vice-captain and is probably being groomed to be a captain at Whistling Straights in 2020. The cheeseheads will be rabid for that one and for Captain Steve. Watson's move today sets the stage for that to happen. Smart move.