And We Thought Monday Was Boring…
If tee times are already out and we still don't know what Tiger Woods is going to do, what else is there left to talk about? Ahhh…..the long drive contest of course. Louis Oosthuizen won the thing with a 340 yard wallop. Jason Day and Johan Kok took 2nd and 3rd respectively. The rest of the top ten were Woodland, Fowler, Keegan, Danny Willett, Adam Scott, Sergio, and Scott Piercy. That seems about right considering you have to hit the fairway. John Daly was on the board for a while but could only muster a 314 yard poke. How can a squirt like Rickie Fowler blow it 14 yards past big John?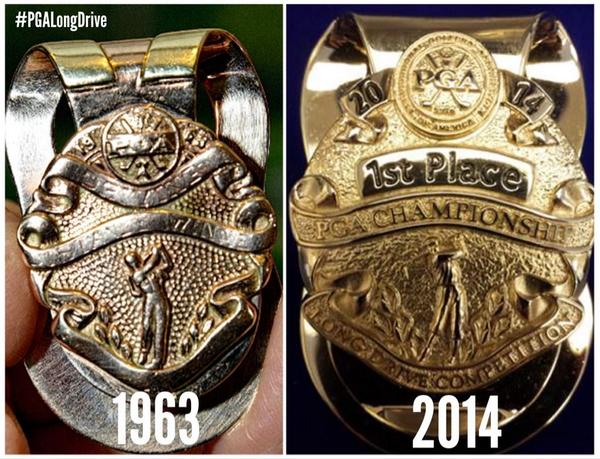 Louis took home the 1st place money clip shown above for his troubles, while Day and Kok's charities got nice checks (so did Louis'). I wish someone would have shown this on TV. Having to read about it after the fact sucks. What we do have video of was Padraig Harrington's attempt. Paddy lead the charge when the Euro's made a promotional video in which they made attempts at hitting balls like Happy Gilmore, so Happy….errrrr…..Paddy, took another crack at this method again today.
Nice. That's what this is supposed to be about. Fun. So why can't Bubba see it this way too and participate? And what is it about this Happy Gilmore shit happening at Valhalla. Recall that Boo Weekley did the bull dance off the first tee at the 2008 Ryder Cup.
Snort'n Coke And Wreck'n Homes
When Dustin Johnson announced his leave of absence from the tour and word leaked out it was actually a suspension for testing positive for blow, other rumors and speculation also started to trickle out from dark corners of the interwebs. Most of these rumors involved talk of DJ sleeping with fellow tour player's wives and nannies. One rumor was addressed specifically at the source by friend of ShutFaceGolf, Busted Coverage.com.
That's Alli MacKenzie, wife of tour player Will MacKenzie. The lingering rumor was that DJ and Alli hooked up and that's what let to the MacKenzie separation. This was all pre-Paulina, of course. BC took to the text machine to nip this in the bud directly with Alli. Check out the screen grabs of that conversation here. Great investigative work by Joe. Now, how the hell are we going to figure out who the nanny is? Or the 2nd tour wife is one exists?