A Prophecy Fulfilled
Being declared Europe's great hope at about 14 years of age is a lot for any kid to take on. Having your father bet a few hundred pounds on you at 16 to win the Open Championship in the next decade only adds to that pressure. But none of that has ever appeared to bother Rory McIlroy as he's gone about his business on the golf course. In fact, the only thing that ever did seem to bother him was that pesky wedding thing he had hanging over him about two months ago. Problem solved. No more wedding, no more stress, no more girl you don't want to marry. Back on the path to major championship victories.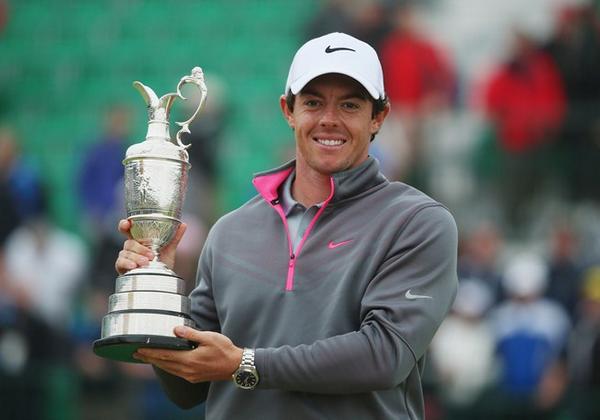 Rory's Open Championship coronation at Hoylake was only briefly halted on Sunday when Sergio made an eagle on the 10th hole and cut into the lead. But once Sergio left his bunker shot on the 15th hole in the trap this thing was pretty much over. It didn't help that Sergio also left birdie and eagle putts short while trying to chase down McIlroy on the closing holes. After that the engraver was put to work so that Rory's name could be on the trophy before he putted out on his 72nd hole.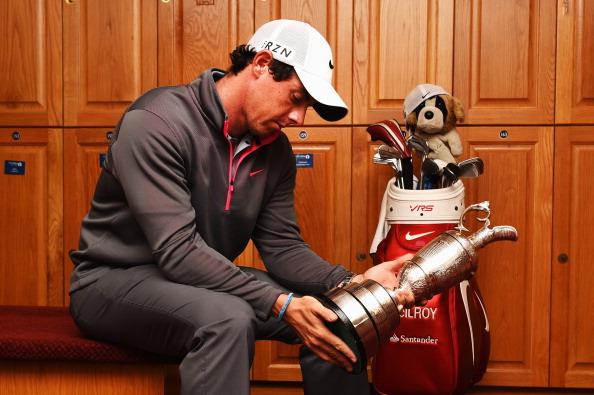 McIlroy was so confident going into the day that he had a list in his pocket of people he should thank while giving his speech and accepting the Claret Jug from the R&A.  Why shouldn't he have been? Today was his day and no challenger was going to catch him. Now he's 3/4 of the way to a career grand slam. If he can win the Masters next spring he'll be the 2nd youngest player ever to have the slam (Tiger was a year younger). Of course the events of today have lead to people saying Rory is more likely to break Jack's major record than Tiger is.
Give me a break. Rory can be completely dominant when he's on, but how easily do we forget his lack of consistency? He is a great player. He'll be in the hall of fame someday, but all too often we just hand the recent winner a few extra majors before he's earned them. It isn't that easy.
Winners & Losers Of The Week
Winners
Rory McIlroy – The winner of the major I'm discussing is always the biggest winner on my list for these things. There's no exception this time around with Rory. How could there be? He played splendidly all week and he's now the Champion Golfer of the Year.
He's also reportedly nailing Irish model Nadia Forde (above) after dumping the horse faced tennis pro he was engaged to. Nailing Forde alone makes him a winner, throw in the Claret Jug and, well….who's topping that?
Rickie Fowler – Rickie played about as well as he could, but he doesn't have the firepower to keep up with Rory when his game is firing on all cylinders. Still, Dick Fowler's finishes in majors this year are T5, T2, and T2. That's nothing to sneeze at. He's been phenomenal. Rory said in his acceptance speech that Fowler's time will come. That would seem to be true, but we all thought Jason Day would have a major by now too.
Sergio Garcia – Probably half of you thought I'd put Sergio on the Loser side of this list because of that heavy bunker shot he hit on the 15th hole today. If he would have lost by one, I sure fucking would have done just that. Aside from that shot he was pretty good and did enough in the final round to put at least a bit of a scare into Rory today. Final round 65s are impressive and even more so when you know you need a low number to catch the leader. The downside for Garcia is if he can play this well and still not snake a major, when will he? I don't agree with what Rory said about Sergio's time coming for a major. Its not coming. It is slipping away. But hey, at least he didn't show up dressed like Tweety Bird today.
Rory McIlroy's Dad – Mr. Mac and friends bet 400 pounds over 10 years ago that Rory would win the Open before age 26. The odds they were given were 500 to 1. That's a pretty nice rate on return for dad and his pals. They'll get 200,000 pounds and that comes out to a pay day of about $85,000 American per person.
I doubt his father needs the dough, but I'm sure his pals that were also in on the bet are happy to be cashing in that ticket. Word on the street is that the debt has already been paid. So who's buying dinner tonight, Rors or Pops?
Darren Clarke – Darren Clarke has played like absolute shit since he won the 2011 Open Championship. Fuck, he's probably still hungover from it. However, as a former Open champ Darren was in the field this week at Hoylake and played a practice round with Rors. At his presser he told golf journos that he didn't see how anyone could win outside of McIlroy this week because of how well the curly haired kid was playing.
If DC is telling the media that, you have to assume he also made a pretty decent sized bet with Ladbrokes for Rory to win. Winner, winner!
Losers
Caroline Wozniacki – Do you think I'm piling on? Fuck it. I don't care. Caroline actually won her first tennis tourney of the year today. Wicked ironic, isn't it? Still, Rors dumps her and then wins Wentworth and now the Open Championship. There's no irony in that. There was something about her that didn't mesh with his golf game. Now she's damaged goods, unless of course you think some schlub will marry her just to spend her big paychecks.
I almost feel bad for her, but if she's not a bitter bitch she probably sent Rors a text to say congrats after she found out he won. If not, then I'm tickled to have her on this list.
Tiger – The good news for Tiger is that he played four rounds at a major and isn't injured (that we know of). That's progress. However, he did say he was in it to win it this week and nearly finished dead fucking last and a whopping 23 shots behind Rory. 64 year old Tom Watson beat him soundly. Watson also has more Fed Ex points to date. That is embarrassing and as I wrote yesterday, it should disqualify him from being one of Watson's Ryder Cup picks for Team USA. Oh, and let us not forget. TW is now 0 for 25 in his majors since winning the U.S. Open at Torrey Pines. Rory has 3 major in that time frame by comparison. Ouch.
Nike Golf Hats – While Nike Golf sure seems like a winner this week with all the coverage McIlroy received and exposure he provided, those fucking beanie style hats he was wearing were god damn awful. They're only missing the helicopter blade on the top to complete the look.
$woosh also had a flat billed cap on Rors earlier in the week when he was playing practice rounds and taking care of media obligations. Clearly they're using Rory to target a demo that isn't in my wheel house. I probably sound like the cranky old man telling kids to get off his lawn regarding this, but I'm also not buying any $woosh swag anytime soon. They missed their mark.
Dustin Johnson – He was in the middle of the 16th fairway hitting an 8 iron for his 2nd shot on the par 5 with a chance to easily get to 14 under par or perhaps better to finish in the top 3. He whiffed that shot, bogied 17, and then hit his tee ball on the 18th way the fuck out of bounds. That's spending cash faster than fiance Paulina can.
His shitty finish also bounced him out of the top ten and cost him valuable Ryder Cup points. DJ did this in 2011 as well when he was chasing Darren Clarke. He was in contention and wiped a drive out of bounds on a par 5 to gift wrap the championship for Clarke. Sloppy golf isn't winning golf.
Royal Liverpool – Usually when major championship venues produces champions that are the stars of the game they're immediately looked at as iconic and classic. Hoylake has don that by having Rory and Tiger win there twice. And the leaderboard was certainly up to snuff, but are winning scores of 17 under really the kind of golf we want at future Open Championships? Tiger also went low at this site in 2006.
The par 5s are a little chumpy if you ask me. Also, Royal Portrush has been identified as a future Open site. Does that mean a course like Hoylake could fall out of the rotation? I wouldn't expect that to happen, but I do think players hitting 8 irons into 570 yard par 5s will make some of the R&A folks call for a few tweaks to the course before we see it host another Open.