Kaymer KOs Field And Pinehurst For 2nd Major
When you win the U.S. Open by 8 shots one month after winning the Players Championship, what else is there to say? Martin Kaymer is a force to be reckoned with in the golf world right now and there's no signs of him slowing down anytime soon. He's just won two of the most grueling golf tournaments in the world by leading wire-to-wire. That's nearly un-human. Can we test him for some sort of performance enhancing drugs or at least a pulse? And remember, 6 months ago this guy and his game were nearly left for dead. And 20 months ago the former world number 1 was the guy Euro Ryder Cup Captain Jose Maria Olazabal had to hide in his lineup at Medinah. That is until Kaymer played in singles matches and made the clinching putt to beat the Americans.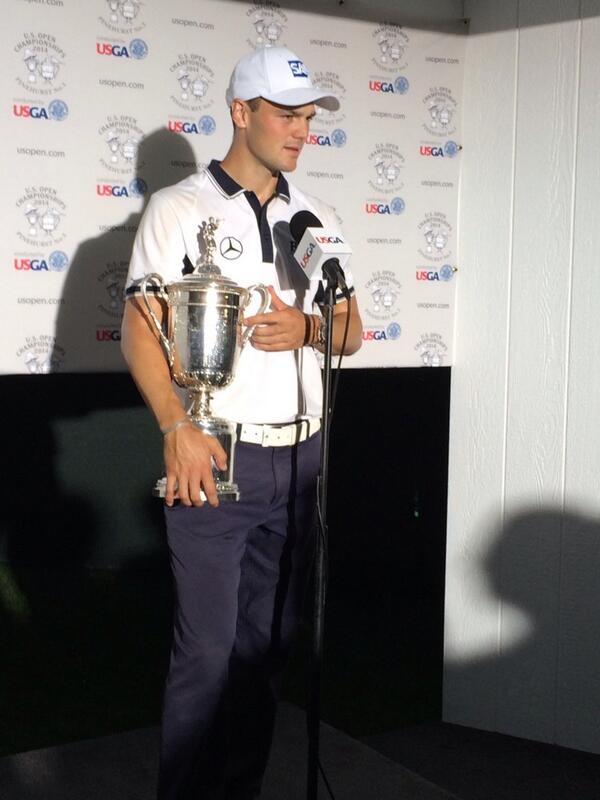 Is that putt the one that started Kaymer back on this road to glory? That is debatable. What we do know is that Kaymer abandoned his fade swing after reaching number one in the world so he could hit a draw and contend at Augusta. That experiment failed and now that MK has returned to hitting it left to right he's back on top of the game in a big way.
There aren't enough bullshit superlatives to describe how Martin played this week or how badly he beat down the field at Pinehurst, so I'm done trying. Instead, lets just try to put it in perspective. Kaymer basically had a 6 shot lead or more from mid-day Friday until his final putt dropped on Sunday. In between those two points in time did he ever give fans or the field a reason to think he wasn't going to win. If he hit a ball offline, he recovered. If he made a bogey, he came back with a birdie. And the biggest key of all, his putter. Yes, he made tons of putts of all lengths on the fabled Ross greens, but its what he did off the greens with his flat stick that mattered.
How many times did NBC show a player blade or chunk a pitch or chip shot around the greens and then eventually make a double bogey (or worse)? Too many to count. How many times did we see Martin make this type of error? Not fucking once. As the folks at the Peacock made sure to mention, Kaymer didn't want to chip the ball from those areas. He used his putter from all the closely mowed or shaved areas to get up and down nearly each and every time. And when he didn't get it up and down, he at least took the big number out of play by using his putter. The strategy was smart and the execution of it was flawless.
While your friends around the office or your buddies on the golf course might be complaining this week about how boring the U.S. Open was on Sunday….well, what did they expect? Kaymer started with a 5 shot lead and its not like the USGA would set the course up for a 64 to be shot, not on their watch.
The Field
Welp….what else can you say about a group of guys that just got beat by 8 shots? Did they play poorly? Not necessarily. Kaymer was simply that good. Fowler, Compton, and Koepka held their own and shot scores that allowed them to hold their positions. All three of them finishing in the top 4 means they'll get an invite to the Masters next year. For Compton and Koepka, that's a really big fucking deal. You could tell what it meant to Erik when the NBC guy told him the good news.
Keegan Bradley and Jason Day had decent final with rounds of 67 and 68 respectively, which means they both back-doored a top ten finish in a major. This is Day's 4th top 5 finish in a major in the last 3 years. He needs to stop knocking at the door and just kick it in. I thought Henrik Stenson's Sunday 73 was a bit disappointing. He still finished T4 but he's ranked 2nd in the world and seemed poised to be one of the few that could have made a run at Kaymer over the weekend. That being said, Stenson seems like a pretty solid pick for next month's British Open at Hoylake. Perhaps his time is coming.
Winners & Losers Of The Week
Winners: 
Martin Kaymer– Per usual, the winner is always the biggest winner, and winning by 8 at our national championship….I suppose that's worth double points. Now the question is, will Kaymer continue this run he is on? Will he over take Scott/Stenson in the world rankings by the end of the year?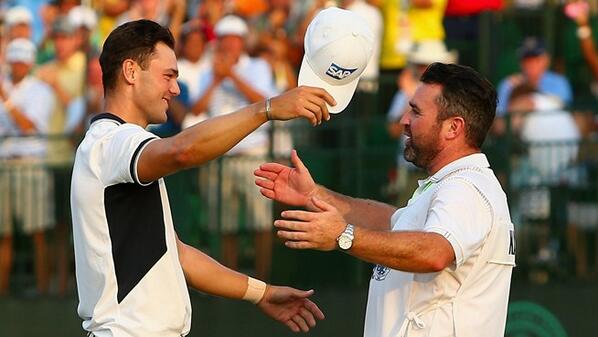 Who knows? What we do know is that Kaymer has come a long way from being the guy hidden in the Euro Ryder Cup line up. Something tells me he'll be one of Captain McGinley's stalwarts at Glen Eagles in 3 months.
Erik Compton – The heart of a champion, even though he didn't win, just being there was a huge victory for the double heart transplant recipient. And if you saw the early coverage today you also saw Compton's wife.
Homie is way out over his skis in that relationship. Now he's America's golf sweetheart who will be playing in his first Masters next April. As he noted to NBC after his round, this is the type of showing that can change his career. No shit. Something like this will probably not only get him into the Masters, but WGC events and other profitable 'no cut' tournaments that make it much easier for a struggling pro to keep his tour card.
Rickie Fowler –  The knickers tribute to Payne, the T2, and just about everything else he did this week was pretty darn special. Too bad he didn't win. Something tells me Rick is beginning to figure it out, and this tweet from Ryan Ballangee puts Fowler's year-to-date in perspective.
The fly in the ointment for Fowler is that, as Johnny Miller pointed out, he completely reverted to many of his old swing habits as his stress levels went up late in today's round. These flaws are easy to spot as soon as he takes the club away and his misses tend to go left due to how shut his club face is. It wasn't a death blow to his tournament today, but it is something to watch in the future.
Kenny Perry– The oldest player in the field not only made the cut, but had the shot of the day on Saturday, and perhaps the shot of the week. The GIF provided by Adam Sarson shows the shot below.
If only Kenny could have contended so we'd have had the chance to ogle his daughter some more. Nice shot KP.
The LPGA and Women's U.S. Open
Whether this was the intended result or not, the USGA's experiment to have the mens and womens U.S. Opens in back to back weeks on the same course is going to result in increased interest into the ladies event this coming week. NBC went ape shit in showing us the broads watching their male counterparts on Sunday.
And those NBC guys, well….they're not stupid. They missed no opportunity to show Natalie Gulbis sticking out her tits while hitting balls on the driving range. That glimpse alone probably will bring 15,000 horn balls over to see if she's playing nude next weekend.
Losers
Bitch Tits – "I hate to keep picking on Phil" is what I wrote a year ago in this very place when he lost at Merion to Justin Rose.  He didn't contend, he didn't play well, and he putted like an amateur instead of a Hall of Famer so he again earned his place here. The putting thing? How is that possible? You can't go from standard, to claw, to standard in an 8 day span of golf and expect to putt well. That's idiotic and Phil should know better, but that shows just how desperate he was.
After heartbreak at Merion in 2013 he won the British Open which set the stage for all things Pinehurst, all the time for Phil. He was pursing the career grand slam on a course he loves. With his history here and the whole Payne Stewart angle, this was a Hollywood set up and he again couldn't deliver. That all sounds harsh, but 2014 has been pure dog shit for Phil and this was his chance to clean the slate and show that he was still relevant. Instead after making the cut he became Mr. Irrelevant.
The good news for FIGJAM is that he'll avoid time in the pokey as the SEC and FBI have indicated he's clear of any wrongdoing in the trading scandal that was under investigation.
Tiger – Like Phil, Tiger too was in this spot last year. How can you be a loser when you didn't even play? Well, when you're only goal in life is to win 19 majors and you miss one (actually 2 and counting) due to injury, that's a pile of bird shit on your freshly washed car. Better still, we have no clue when the Big Cat will be back. He might play at Hoylake, perhaps the PGA at Valhalla, but he won't contend at those either, so why rush it?
The Guy Driving Roger Matlbie's Cart – The man's name is Tom Lineburry, and he was arrested on the grounds of Pinehurst after Kaymer hit his tee shot at the 11th hole on Saturday. Seems as though Lineburry ran over an state trooper's foot while leaving the teeing area with said cart. The trooper ran the cart down, jumped on, and put Lineburry in some sort of hold while he cuffed him.
That's some McGruber shit right there from the trooper. Some sites have reported that Maltbie's driver was intoxicated while driving the cart and that's why he was arrested. Reputable sites are merely saying he was detained for not stopping when told to by the trooper. Whatever the case, this guy is on the list of losers for the week.
Mathew Fitzpatrick – How does the young Brit make the 'loser list' after being low amateur at the U.S. friggin Open? I'll tell you. He makes this list because the split second he walked off the course on Sunday he turned professional. Mathew certainly has the game to turn pro and leaving school early to focus on golf and play for money is pretty much a no brainer of a decision.
So why is he on the list? Because he's throwing away one more exemption he earned from his U.S. Amateur victory last year that would allow him to play at the British Open. Yes, he's already played in an Open Championship, but why not get the experience of another? And why not try to defend you U.S. Am title and grab a place in history as a multiple winner? I'm sure there's something to be said for needing to capitalize on his status while he has it, but I'm not usually in favor of anyone turning pro before they're 20. There are way more Ty Tryons out there than there are Jordan Spieths.
Bubba Watson – Bubs missed the cut, and when you're the current Masters champ and you're playing a U.S. Open venue with no rough, you should have a better showing than that big fat MC. This isn't anything new for Watson, when he says something about a course doesn't fit his eye, that's it, mark up the MC. He doesn't adjust well and he sorta takes his ball and goes home. Home in this case is apparently his place at the Greenbrier.
Hey man, good for you. You saw a fucking bear while Martin Kaymer kicked ass and took names at Pinehurst. Say goodbye to the #Bubbaslam.
Shot Of The Day
I still think Kenny Perry's hybrid from the junk was the Shot of the Tourney. I'm sticking with that from Saturday. However, Zach Johnson's ace on Sunday at the 9th was fairly sporty in its own right and it gets the Shot of the Day.
I'm not a huge fan of ZJ, so his reaction to the shot on the tee seems a little queer to me. But the little Iowan did go around the gallery slapping hands on the way to the green. You have to get some credit for that. The final round of the open is too much of a grind and Zachie livened things up for the gallery and the home viewers. Nice shot.
TV Time
NBC at the U.S. Open, 1995 to 2014: R.I.P. For all the lamenting about Fox getting the next big television contract for USGA events I'm sitting here wondering tonight….how can they be worse than the steaming pile NBC has given us lately? Perhaps they mailed it in this year knowing they're losing broadcast rights, but I doubt that given the level of professionalism they usually show. The hole graphics were fine, but I thought they were late with yardages and club selections way too often. What NBC was finally good at was knowing when to shut up so we could hear caddies and players chatting when such audio is available. Golf journos have only been clamoring for this for roughly five years.
NBC was stuck in a pretty shitty situation once the weekend began too. We knew Kaymer would win, and they did too, but they had to try to keep selling us on the fact that their 17 hours of coverage still mattered. Throw in the fact that they had to do so without Tiger and that makes it even tougher. That doesn't give them an excuse for treating us like assholes. They all too often would latch on to one fact or angle and hammer it until it was dead, like Kaymer using putter from off the green, or the native areas that were there instead of the rough from the last two opens. The list of talking points goes on and on, and they're tiresome.
On that note I find it easy to say goodbye to NBC covering the USGA events, and perhaps good riddance (depending on how Fox does). At the end of the broadcast Dan Hicks and Johnny had a little moment. Hicks tried to call Johnny Fucking Miller the best golf broadcaster of all time. Ummmm……no. Most blunt, sure. Best? Bold statement, Danno. Hicks didn't really sound like he believed it when he said it either. Now the highlights they showed ranging from their first Open at Shinnecock in 1995 to this year at Pinehurst, that was Emmy worthy. Sadly, if you missed it, I can't help you because said video doesn't doesn't appear to be available anywhere on the interweb.
On To Chambers Bay
Next year they U.S. Open moves to the Seattle, Washington area to a new host site in Chambers Bay G.C. Chambers Bay hosted the 2010 U.S. Am and played firm and fast for that championship similarly to what we saw at Pinehurst this year.
It should be fun to watch how a new venue is accepted by the pros and to see how the course is set up for scoring, difficulty, etc. The views will essentially be golf porn as you can tell by the shot above. Fox jumping in to take NBC's place will be the big buzz leading up to it. My only hope is that they leave the robots that are featured in NFL broadcasts home for the summer. The early favorite? I'll take Jason Day simply because he's due.