Gaymer…..Errrrr……I Mean, Kaymer……Leads By Three
We should have known not to count out the Big Gay German, not at a major where you can hardly tell where the waste areas end and the bunkers begin. Remember, he won at Whistling Straights (ironic name) beating Bubba Watson in a playoff that didn't include Dustin Johnson thanks to DJ grounding his club in a 'bunker'. Kaymer is flaming….I mean….. on fire right now fresh off his win at the Players in May. Getting to five under in a U.S. Open after one round, that's golfing your ball.
Martin is a golf robot when his game is on. He's not going anywhere for the weekend with the way he's hitting it right now. I ruled him out because I didn't think his short game would be up to the Pinehurst challenge, but when you hit 11 greens (11 at PH is like 16 elsewhere so I'm told) and putt from just off several others, perhaps you don't need your short game. Kaymer also hit 13 of 14 fairways en route to making 6 birdies. MK did all this while playing in the afternoon wave which faced tougher/firmer course conditions. Sehr beeindruckend.
A Big Noooooo For Na
When I walked out of my morning meeting today to find that Kevin Na finished his round two shots under par and was winning the open I about defecated in my hand, right there at my desk, and threw it across the office. What the fuck? This dick isn't ruining this Open for me. Please nooooo!
I think we all know that Kevin is a huge fucking head case and his fine play from Thursday isn't going to hold up through 72 holes. It never does. And his fragile psyche isn't going to hold up under the stress of a U.S. Open. You can bet the ranch on that. It also dawned on me today that Na is a dead ringer for the transvestite that fucks Stu in his ass in Hangover 2. (link NSFW) Take a look!
"I don't get it, is this a magic show?"
Dick Fowler, P.I., In Plus Fours
Young Mr. Fowler pegged it early in round 1 playing in the morning wave and showed up wearing Puma knickers in a tribute to one of his idols, Payne Stewart. We all know the story behind Stewart's tragic death after winning his last tournament at Pinehurst in the 1999 U.S. Open. Because of Payne's legacy, I'm a bit surprised we didn't see similar tributes from other golfers.
Fowler would have been 10 years old at the time of Payne's death, but he knows his (recent) golf history. This is the same kid that dressed up like Fred Couples for Halloween instead of Batman or some other super hero. To Fowler, Stewart was a super hero, and Rickie won the internet with his morning fashion statement. Nicely done. My only criticism is that Fowler should have gone for the full Payne look, including donning Stewart's stylish cap.
Duf Lost His Locks
Rumors from Pinehurst surfaced last weekend that Duf-daddy had cut his trademark locks in favor of a cleaner look. I didn't buy it, but when Duf showed up on ESPN today he was barely recognizable. That Southern boy hair we've all grown to know him by wasn't sticking out from under his ball cap any more.
Truthfully, it was probably time for a change. Trademark hair or not, he looked ridiculous and his hair was becoming cartoon-ish. He's done worse. His frosted tip phase is probably my favorite of his documented looks.
On Thursday Jason was paired with good pal Keegan Bradley. The twosome fed off each early in the day with Dufner getting to 2 under and Bradley to 3. Bradley finished with a respectable 69 and is tied for 6th. JD made 4 bogies on his way back to the barn and finished with a 72. He trails Kaymer by 7 shots. Is it too early to blame the hair cut?
Wetter Weather
As I type this the #twitternerds of the golf world are freaking out about the deluge hitting Pinehurst tonight. Yes, it's raining, and it is raining hard. That's good for anyone with a morning tee time. Martin Kaymer is probably sleeping very well knowing he can extend his lead under soft conditions Friday. Meanwhile, players that had the morning/afternoon draw like Phil Mickelson will get the short end of the stick….or will they?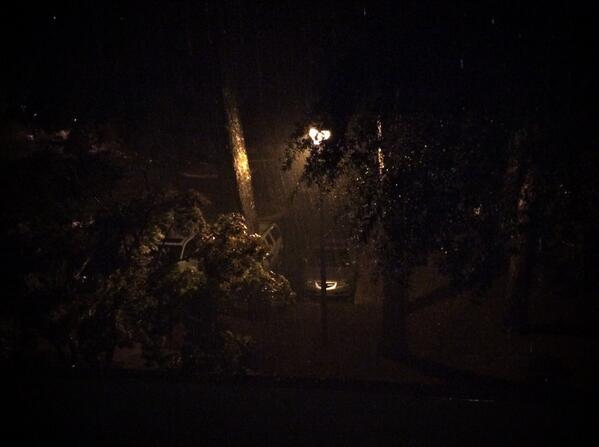 If there has truly been enough rain to change the course conditions then it won't matter what time of the day you play on Friday. In fact, I'd argue that the a.m./p.m. draw got softer conditions Thursday and will face a much more friendly track on Friday afternoon than if the rain hadn't come through.
Bitch Tits Cleared
Speaking of Bitch Tits, he looked great today off the tee with his driver. He told ESPN that he didn't miss a fairway when he used driver. Can someone fact check that? He got it to two under at one point but gave a few away as he finished his round on the front nine. Phil noted that he didn't miss any short putts with the claw grip today, but he said his round could have been special had he made some of the mid range putts he faced. I'm pretty sure he didn't make a putt over 7 feet today.
Phil found out after his round when ESPN talked to him that he'd been cleared of any wrong doing in the insider trading scandal he'd been linked to. No matter what he shot today, that news alone made today a good day. Phil denies any wrong doing and didn't comment further on the news because of the implications his comments could have on the investigation. He also says because he did nothing wrong the investigation didn't cause him any stress. I doubt that. But if he was stressed, might this news free him up to go low tomorrow? We'll see.
Payne's Daughter
As I tweeted last night, I finally got to sit down and watch the Golf Channel's "Payne", which documented Payne Stewart's life and its tragic end. I loved it. It was entertaining and gave you such an inside look at what made Payne who he was, what his childhood was like, his family, how his wife made him a better player, etc. Even better, the program briefly discussed Payne being a religious man, but it wasn't something Payne preached to the world about. Take a note Bubba, Webb, and Ben Crane. I also have to give his wife a ton of credit for partaking in the interviews. You could see how much she loved her husband and still misses him, that part was heartbreaking.
That's Chelsea Stewart, Payne's daughter and the breakout star of the show. The pictures don't do much for her, but if you saw the program there's no hiding the fact that she's an attractive young lady.
She also presented her self as intelligent and articulate. So what the fuck Golf Channel? What are you waiting for? Hire this girl immediately. I'd listen to her talk golf all day everyday instead of the raspy man voice Kelly Tilghman provides.