PHIGJAM In The House!
After flying out of Memphis on Sunday to go home to San Diego for 24 hours of family time and rest, Philly Mick made his way to Pinehurst, NC on Tuesday in time to get in a practice round with Justin Thomas, Jordan Spieth, and Rickie Fowler. We were told Phil and Rickie lost to their younger opponents. Bitch Tits then sat with the media for his afternoon presser and talked about what winning this week would mean to him.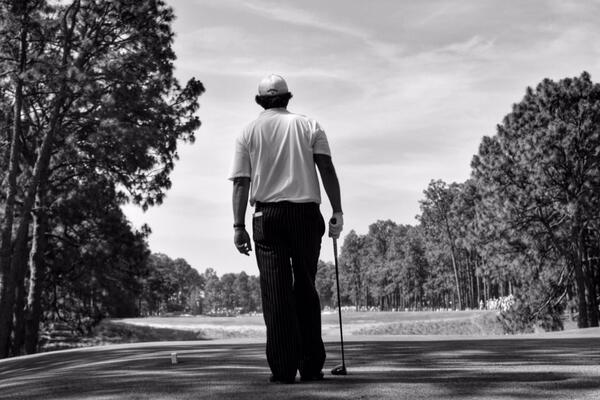 The short of it is, he knows this is his time, his best chance to snag an open, and he knows the symmetry involved with the host site of this year's championship (due to his duel with Payne Stewart in 1999). He's enjoying the moment and taking it all in, but confirmed that the increased stakes could cause him to press when the bullets fly.
Butch Harmon told anyone that would listen that Phil is hitting his driver the best he has in his career (hyperbole, anyone?) and that hitting driver will be a key for Mickelson this week because it will allow him to play lofted scoring clubs into the difficult Ross greens on No. 2. Phil thinks his best chance is if the course gets the rain that appears to be in the forecast for the next 5 days or so. I can't disagree with that. No rough, a bit of moisture on the greens, well….that's a set up that he and Tiger would run away from the field with if both were in their prime.
That picture is from a while back when Phil made the switch from a conventional putting grip to the claw grip being used in the image. On Sunday in Memphis, FIGJAM seemingly switched to this grip in the middle of his round. Now for the U.S. Open it appears to be a 'permanent' thing. Phil cited that the claw grip allows him to give the ball a softer hit on the quick greens yet still release the putter head with his stroke. He and his putting coach think that approach is perfect for Pinehurst. Ummm…….whatever.
He's grasping at straws and looking for confidence. I picked him to win this week and I already regret it. The switch to the claw grip simply cements the bad pick even further in my mind. Plus, seeing him in the rain walking up 18 on Sunday with victory certain, images of Payne Stewart being shown……..well, nobody would buy that ending. It's too cheesy even for Hollywood.
Sneds' New Sword
Brandt Snedeker has millions of reasons to not ditch the putter he's used for nine years and made trucks full of cash with. Yet here he is, 48 hours before a major, putting this new Bridgestone model in his bag. The PGA Tour tweeted a question regarding the use of a new wrench to which Brandt simply replied "yes" (as in I am using a new putter). Don't you love social media?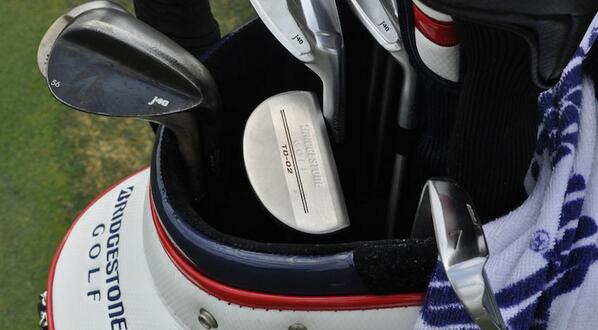 Sneds told the Golf Channel that his old reliable Odyssey model is on site and ready to go if he feels the need to go back to it. If BS misses the cut this week, we all know the first stat that will be looked at by the equipment dorks (me). The big winner in this switch is Bridgestone who is his main club and ball sponsor. They just added more gear to one of their stars bags and bumped a competitor's club.
Rors In The 'Slaw
A new Rory McIlroy video produced by the ESPN Sports Science guys is making the rounds on the interwebs this week. It is mildly entertaining if you have 3 minutes to kill. The bit features the young Irishman making an attempt hit a 70 yard punch shot through a door, hitting a bunker shot from a pile of coleslaw, and then rolling a 50 foot putt on a glass green.
I'm still not exactly sure what the fucking point of it was, but it does show off how much god given talent McIlroy has. I think we'd have all been a bit better served by getting a science lesson on the physics of the punch shot. Getting that on one take truly is amazing.
Double Time For Fluff
Legendary looper Mike "Fluff" Cowan noted today to a few golf scribes that were helping him pick food out of his mustache that he'd be working both the men's and women's Opens at Pinehurst this year. This week he's on the bag for his regular man, Jim Furyk, but then will move right over to Lydia Ko's the following week while Furyk is off.
That's a brilliant move by Ko and I'm not exactly sure how she pulled it off. To have veteran caddie that got a sneak peak at the course in competition just days prior to when she'll play it is a huge advantage. For Fluff, working with Ko might be reminiscent of his loops for Tiger 15 plus years ago, but I question what the fuck a 66 year old is thinking by grinding his way to his golden years. Caddying is obviously a laborious occupation. I'm not sure I could loop 12 straight days around Pinehurst No. 2 and I'm half Cowan's age. I hope he's got a tub of Gold Bond at his disposal. Ass chafe is a real thing when it's 90 degrees and you're walking the golf course.
Fashionably Late
Another major, another week me withholding sex from the wife….oh……and another week of scripted outfits from the big guns on tour. I can only hope that Tim Herron again finds the time to tweet the details of his garb for the week as he did for the Masters. If not we'll have to settle for what we have here. Let's take a look:
Bubba Watson
Looks like a typical 'Bubba' week. I find it interesting that they've included an outer layer for each day. Yes, that helps to sell more Oakley gear. Great. Did they forget the temps will reach 90 every day?
Justin Rose
According to Ashworth, the defending champion will not be wearing pants at all during competition. That won't be pretty.
Rickie Fowler
Really, what is there to script anymore? I swear he wears the same shit every week.
Sergio Garcia
Is he only allowed to wear solid colors? And how does Taylormade decide which of their guys will wear Ashworth and which will wear Adidas?
Bill Haas
William might be the best dressed guy on tour. I know the big cheese at Peter Millar follows me on Twitter, so Todd, if you're reading this….can you hook me up with some of your fine apparel? Thanks in advance.
Billy Horschel
Billy went all Octo-pant on us last year at Merion but the Ralph Lauren folks have thrown us nothing but disappointment this year with their selections. I suppose the puke-green pants are a bit of a reach, but this is all so tame compared to last year's abomination.