From Dusk Until Dawn
Golf's Longest Day as it is now known is the Monday after the Memorial in which 10 Sectional U.S. Open Qualifiers are contested over 36 holes all over the United States. Qualifiers from the ten sites playing today will join players already exempt as well as qualifiers from the Japan and England sites in the field at Pinehurst for the 114th U.S. Open starting a week from Thursday. The day is brutal thanks to stress of 36 holes knowing that one mistake can ruin your chances of making it to our national championship. Tour pros tee it up wearing shorts playing against average Joe club pros, top amateurs, and cubicle jockeys like you or me.
And the stories, the stories…..they seem to get better every year too. There's usually a heart breaker or two with a sprinkle of redemption and a long shot that all come in to play from the different sites. Some of the highlights from 2014's Longest Day follow.
Straight Outta Compton
If you're reading this site you're likely already familiar with the story of Erik Compton and his many heart ailments. If not, hit the link about 7 words back and go to Compton's personal site to read about it. Compton's journey to find his game, be healthy, and make a decent living playing golf professionally has had more ups and downs than Al Roker's weight in the last decade.
Now seemingly healthy, Compton has patched together enough good golf to become somewhat of a regular the PGA Tour although he's still yet to win. Coming off a missed cut at the Memorial, Compton played in the USGA's sectional qualifier held in Columbus, Ohio on Monday.
It's a miracle Compton can even walk 36 holes at this stage of his life with all he has been through. After 140 shots and 9 hours of hell, Compton found himself tied for 14th in the sectional qualifier that allows the top 16 to move on. This mean he'd be in a playoff with 4 others for 3 spots in the Open. After 3 holes, Erik made a 5 foot par putt to lock up his spot. Now he'll be one of the many feel good stories the media salivates over next week in North Carolina.
Do You Remember David Gossett? 
Back around the year 2000 David Gossett was everybody's next "Can't Miss Kid". He won the 1999 U.S. Amateur, played on the Walker Cup team, and eventually made his way to the PGA Tour where he won the John Deere Classic in his first start. For Gossett, golf has been all down hill since. He hasn't played in a tour event since St. Jude 4 years ago and hasn't been exempt on tour in 10 years. He plays various other tours, but mostly stays home in Austin, Texas with the 3 kids he and his wife now have together. I
Today Gossett awoke in Memphis, Tennessee where he grew up and shot 8 under par for 36 holes to tie for 3rd place in this sectional. Gossett didn't have to wait around and stress about whether he'd be in the Open or not because the top 13 from that site will go on to play at Pinehurst. Gossett's redemption story is another that will be discussed in great detail over the next ten days.
Congratulations, You Qualified For The U.S. Open, But Then You Didn't
It's looking like a bad week to be a Mickelson, or Michelson, if you will. Twenty-two year old Landon Michelson just completed his collegiate eligibility at Rice University. He showed up at the Vero Beach Sectional in Florida as the 1st alternate and got a tee time when tour pro Freddie Jacobson no-showed. Michelson then fired a 71-71=142 total to end up in a tie for 4th at a site where the top 4 advance to Pinehurst. The problem? He signed for a 71-70 total of 141. No one knew about his error save him and his caddie.
After lengthy discussions with said caddie, Michelson eventually decided he had to give up his secret and be disqualified from the qualifier. Michelson cited a paper he wrote in a sports ethics class at Rice in which he cited a similar situation involving professional Blayne Barber at Q-school in 2012. The mistake wasn't intentional. Michelson simply lost track of his shots by playing in the moment. Shit happens.
I give him a ton of credit for coming clean, but I wish this stupid fucking rule didn't exist. If you can fix the situation without impacting the results or compromising the tournament, why should the competitor get disqualified? When interviewed Michelson took it all in stride. He was visibly sick from his decision according to those at the Vero Beach site, but he'll (eventually) sleep better knowing he did the right thing.
Oh Danny Boy
The 2008 U.S. Amateur was played at Pinehurst No. 2 and the champ that year, Danny Lee, could be found Monday morning at the Columbus Sectional trying to earn his way back to Pinehurst. Lee was 6 under par through 23 holes at a site in which 2 under par would have assured him a spot in a playoff. Then the knob on the pressure cooker broke off as the temperature was being turned up.
Lee finished 6 over on his last 6 holes and missed a spot in the playoff by 2 shots. There are another 10 to 20 stories just like Lee's that I could tell you from all over the country, but Lee gets the headline because his road back to Pinehurst had a nice back story to begin with. The fact is, Lee has had a very disappointing career as a professional. His blow up today is another chapter in the sad story that his golf game has turned into.
And The Golf Channel Is Asleep At The Wheel
As reader Dan pointed out in his response to yesterday's post, the Golf Channel promoted the fuck out of and covered last year's U.S. Open Sectional Qualifiers like white on rice. This year? Not one mention of it that I've seen. Instead regular Monday programming and Tin Cup have been on. Losing next year's Open to Fox must have pissed off the NBC brass enough to pull the plug on what should be an obvious decision for them. They went all in on the NCAAs last week and didn't give half that effort to today's sectionals? That's smells of a rat. They could have had video of Compton's clinching putt, Ken Duke stiffing a shot in his playoff to earn his way in, the story of Michelson, and the implosion of Danny Lee.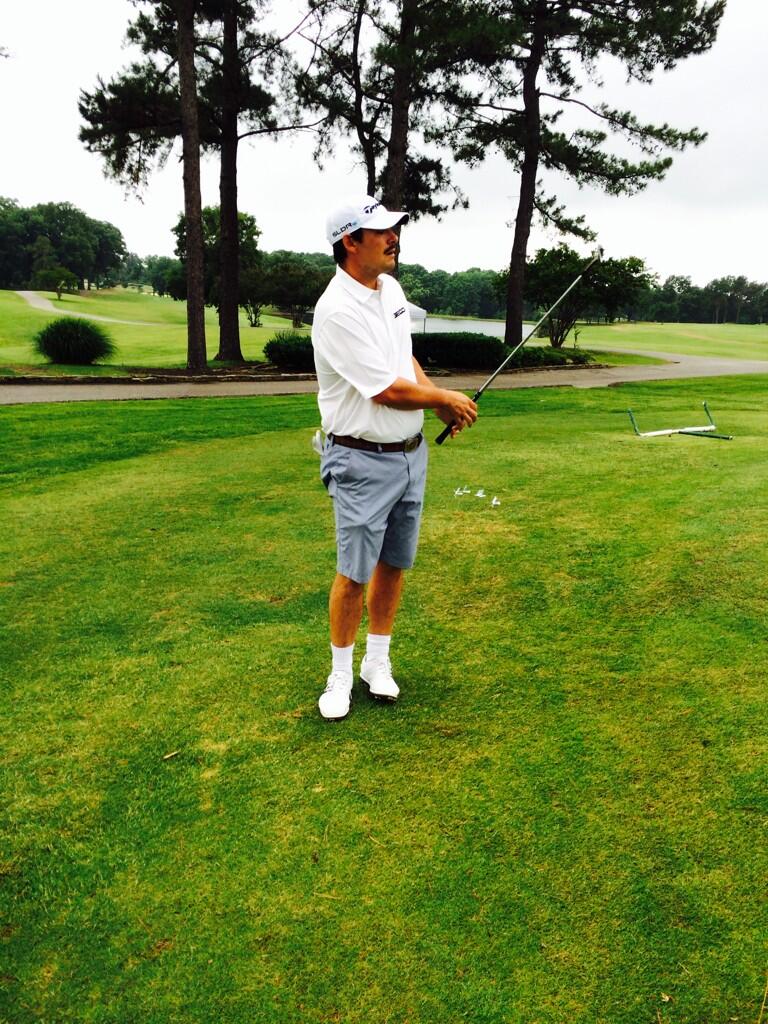 And just think of all the images of tour pros in shorts they could have aired? That's Johnson Wagner above in case you couldn't tell. Wagner couldn't resist the urge to grow back his 'stache and put on tube socks to complete his child molester ensemble while attempting to qualify for our national championship. He ended up 4 shots off the number in Memphis, BTW. I'll still never forget seeing Tim Herron change to shorts in the parking lot of a sectional a few years ago in between 18s. Lumpy in shorts….(shivers) well…..it wasn't pretty.