Most Interesting Pic 
The Most Interesting Man In Golf (MIMIG) won the least interesting event I can think of for anyone outside of Spain. The title of this post says it all. Despite playing his last 10 holes in 3 shots over par, Miguel Jimenez hung on to win the Open de Espana over the weekend by beating Richard Greene of Australia in a playoff. Why should you care? Well, the MIMIG (A.K.A the "Mechanic" or the "Rapist") is now the ripe old age of 50 and has had himself a pretty good month. He finished in the top 5 at Augusta. He got married to a woman that appears nearly half his age. And now he's won his home country's open. To the victor goes the cigar.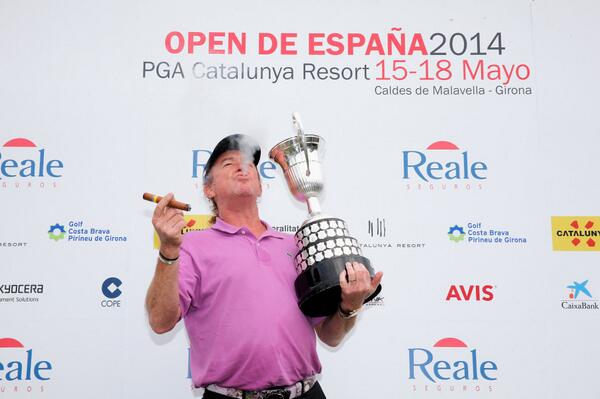 That's really all there is to the story. He's old, he's playing great, and well….. I guess there is just one more thing.
Caption Contest!!!!!
While the pic above is about as good as it gets, if you follow me or anyone who talks about golf on Twitter you've also seen the next pic. It's so mother fucking good that the least I could do today was share it and offer up a caption contest.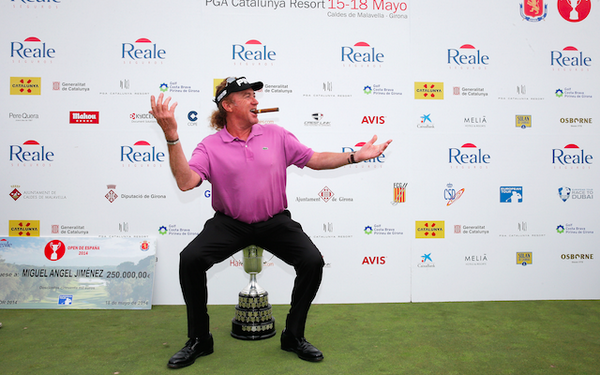 So have at it. I assure that this isn't photo shopped. I'm working on a prize for the winner, but remember, I have no sponsors and I do this for free. Let'r rip!