Bob's Latest Wrenches
Last November I provided readers with a thorough holiday shopping guide/review of nine of the most popular wedges available to Joe Public Golfer. If you missed it and you're currently in the market for wedges, I highly recommend a click on the link above. As noted in that post, I needed to get some new toys for this season as my old wedges no longer conformed with the 2009 USGA groove rule starting January 1, 2014. I've since ordered Titleist SM5 Vokey wedges and have had them in the bag for nearly a month.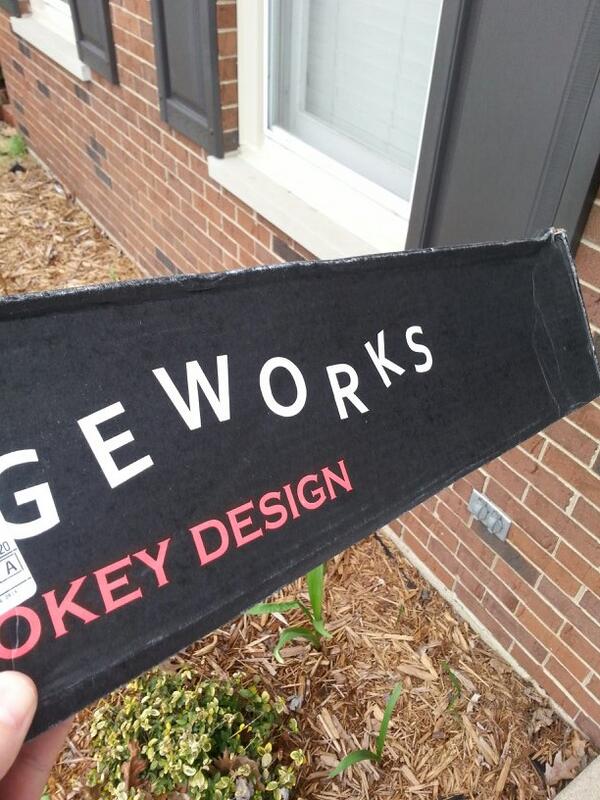 First off, there is nothing better than coming home from the office to see this box on your doorstop. Yeah, you know what is in there, but finally seeing your new friends at their new home is exciting (except for the part where you have to use Goo-gone to remove the sticky tags).  As you can see below, mine were ordered in the raw black finish and I had some custom stamping put on them in green. I purposely didn't show you the 2nd wedge because it has part of my name on it. I don't need all those crazy golf blogger groupies stalking me more than they already do.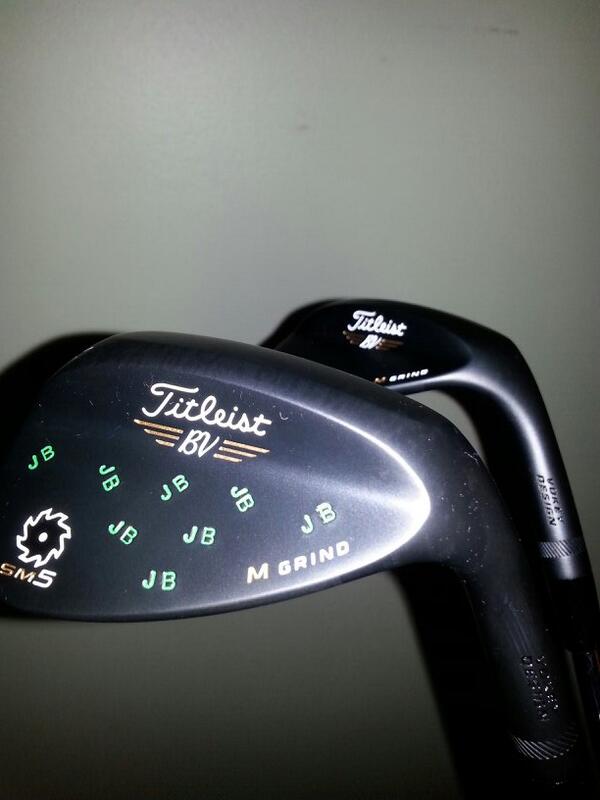 I've now played 5 or 6 rounds with my SM5s and I can honestly say that I can't imagine a better wedge on the market. I previously played and older model of Vokey Spin Mill wedges that felt like shit compared to these. What sets the SM5s apart from past versions or even wedges made by other manufacturers is the grind options Titleist makes available to the public. You don't need access to a tour van to find the exact combination of loft/bounce/grind that you desire.
As you can see by the chart above, there are 6 types of grinds available (with certain loft/bounce combos) for various swing types and conditions. Hit up the Vokey site for more descriptions and information regarding their grinds. According to Bob's site, the SM5 wedges provide a distinct performance advantage through new, deeper TX3 grooves, tour-driven shapes and the industry's most extensive range of bounce options. As with the SM4 wedges, finish options ­of Tour Chrome, Gold Nickel and Raw Black are back again in the SM5 models.
I ordered a 54.10 and a 60.08 both with the M grind. I've been told by some in the know that Vokey named the M grind for 'motherfucker'. That's a dead serious comment. The M grind is the most versatile of the 6 options. Having that grind on the 60 degree wedge with that bounce combo allows me to open up the face and hit the shot with confidence out of almost any lie, whether in the sand, fairway, or rough. At the same time, if I square the wedge up and play it back in my stance I can make clean contact playing a pitch or chip from anywhere.
If there's any knock on the SM5, it is simply that they don't spin as much a the non-conforming wedges I just took out of the bag. Technically, they shouldn't, especially when comparing both models right out of the box. You may recall that most company's pre-2010 wedges took chunks out of your Pro V1s for about a week or so when they were brand new. Shots hit from such wedges also stopped on a dime. The SM5s respond just fine when you hit a shot and expect a bit of check or spin, but I can say with certainty that they spin a bit less than their now illegal predecessors. That's not always a bad thing.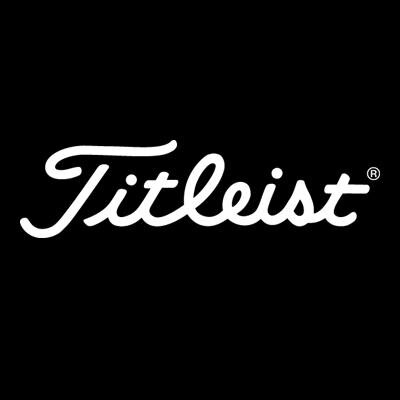 Before you run out and buy these based on my review, just remember that the Vokey designs aren't for everyone.  Since 2004, Vokey wedges have been the #1 wedge on the PGA Tour and the most played wedge at every level of competitive golf, but their compact look and smaller head probably won't appeal to a high handicapper or player looking for game improvement equipment. Please also be aware that while I'm a bit of a Titleist whore, I'm not paid in any way to endorse the company's products nor am I provided free equipment (although I'm willing to accept any such products you'd like to send to me).