Johnny Wad Doesn't Fuck Around
When JB Holmes is hitting his driver in play, you give him four par 5s and two driveable par 4s, well……forget it. He should win the golf tournament. Quail Hollow with this set up certainly favors a player who can bomb it and Holmes fits that profile perfectly. While he has no fear hitting driver anywhere and everywhere, the club in his bag that of course actually lead to his victory was his putter.
That's a very key stat when also leading the field in driving distance. He also one-putted more than half the greens for the week. This isn't anything new as far as a formula for winning PGA Tour events. Tiger did it for years, Dustin Johnson wins this way, Bubba just won the Masters in a similar fashion, and now JB Holmes has won 3 times by bombing drives and making the putts you should make.
How many times did he hit it in the pine straw and have no issue with the recovery shot? I lost count, honestly. Yet every time he needed a window or alley there was one for him. Holmes thanked his lord and savior for being with him over the weekend. After seeing all those openings in the trees, you have to wonder. Better still, check out the break John got on number 7. He pushed his 2nd shot and it landed within inches of being wet in the hazard. Instead, as if some divine assistance was provided, Holmes' ball hit the top of the bricks that build up the green above the hazard and bounced on to the putting surface. Unreal.
Holmes played great for 3 rounds, then gutted out a final round in which he wasn't at his best. Still, he dominated the golf course and when no one other than Furyk could make a charge at him he held on for victory. CBS filled in all the details of what Holmes has over come (injury and surgeries) in recent years to get back to this level of play. My hope is that fellow 2008 Ryder Cupper Anthony Kim was somewhere watching and taking notes. This mother fucker had brain surgery and a piece of his skull removed. Now he's again a winner on tour. Meanwhile AK hurt a calf/ankle and a thumb and he can't even play two years later. That doesn't add up.
Big Jim And The Twins
I think most golf fans felt a low round would be shot by someone a bit off the lead to make a charge. With Rory, Phil, and Justin Rose in the top ten I wouldn't have been surprised by any of them shooting something 7, 8, or even 9 under to grab a share of the lead or win outright. Instead it was Jim Furyk going low 90 minutes in front of the final groups by posting a final round 65 and a club house lead of 13 under.
How Furyk is able to compete with guys that hit it 50 yards past him is nothing short of a miracle. It tells you how good he is in every facet of the game besides hitting it long. That's why the cliche' exists that Jim is an over-achiever. You've seen his wife, right? He over-achieved there too. Jim told the golf media that he tweaked something in his setup and posture that gave him the confidence to go low on Sunday. With that round and a T2 finish, he'll be a favorite next week at the Players because of his form, TPC Sawgrass is his home course, and the layout doesn't give big hitters any advantage.
The Field
Phil Mickelson entertained and delighted the crowds of Charlotte this week with his scores of 67 and 63 in rounds 1 and 3. But an ugly 75 and 76 in rounds 2 and 4 show how in consistent FIGJAM is. The 63 has everyone looking to Pinehurst with the thought that the U.S. Open is the only tourney that really even matters for Bitch Tits this year. However, the two zip codes he shot kept him out of the top ten in a tournament yet again this year. This is the first time since 1992 that Phil hasn't carded a top 10 finish this late in the year.
Phil's up and down days at the Wells Fargo were practically mirrored by young Rory McIlroy. Rors barely made the cut after a dreadful Friday round in which he missed putt after putt from 5 feet or less. Out early on Saturday he jumped into the top ten with a 65 of his own. He needed a Sunday charge like the 62 he fired in 2010 to win to have any shot at JB Holmes. Playing the final round on his birthday, McIlroy got off to a slow start and turned to the back nine at level par for the day. Done.
With Phil's goose cooked and Rory stuck in neutral, viewers that kept watching for drama only had hope that JB would fuck up and come back to Furyk or that Martin Flores or Jason Bohn would find some magical birdies coming home. Bohn played great, except for the shot he rinsed at 17 that ended his run.
For Flores a win this week wasn't meant to be. His 3rd place finish is his best ever on tour (topping his 4th place finish at the 2013 John Deere). That's a big chunk of change for a guy that doesn't know if he'll have a card next year. Flores also played in the final group for the last 36 holes of the championship. That's a shit-ton of experience gained under pressure and gobs of exposure from CBS and the Golf Channel. Somehow that will pay dividends down the road, perhaps with a shampoo endorsement?
Also of note was Brendon de Jonge's wild ride. Playing on his home course (he's a member at QH) BDJ came out Thursday and absolutely shit the bed with an 80. While many tour players would be little bitches and WD after being DFL, de Jonge came back Friday and posted a course record tying 10 under 62. Yeah, 80-62. Not bad. His 68-69 weekend resulted in a T6 finish, 5 spots higher than Phil Mickelson whom he trailed by 13 shots after Thursday.
Last but not least I'll mention that Chesson Hadley was in the field this week. He missed the cut but did have an interesting first round. As you can see by the pic below, his caddie face planted walking from the tee to the fairway and went crashing to the ground. It seems as though the way the bag hit the ground bent the fuck out of Hadley's putter.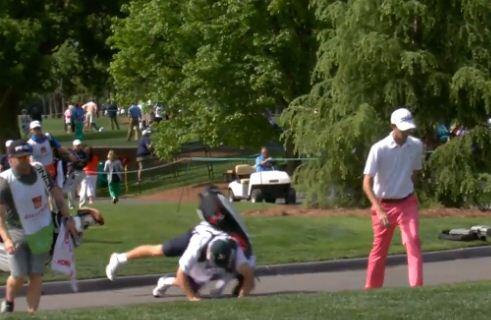 Because the putter wasn't damage intentionally or in anger Hadley was allowed to use it and he did so as he knocked in his birdie putt later on that very same hole. These guys are that good.
Tits McGee
Normally in these Sunday wrap-up posts I like to show the winner's wife, ogle her, and make snarky comments about her physical features/appearance. JB Holmes wife simply isn't that fun to look at and it would be down right mean for me to pick on her (this is also known as the Angie Watson fly-by).
Instead I'll simply remind you that Meghan Hardin (of Big Break and big boob fame) is still attempting to play professional golf all while posting fantastic selfies like this one to Instagram.
http://instagram.com/p/neoKEnKB3-/
Can we just put the golf thing to bed for Meghan? Unless she gets a boob reduction she'll never make serious money playing the game, just ask Ben Wright. She has two options: one, get some training from some media outlet, likely the Golf Channel and become some kind of host or reporter; two, quit being a cock tease and just pose for Playboy already. On a serious note, I am glad bikini season has finally arrived.
Shot Of The Day
Jason Bohn's hole out from the fairway for eagle at the 10th today? Nope. Furyk's eagle chip-in at the 15th to put him right in the thick of the tournament? Nope. Then what you say? Sorry tour boys, but this one is mine for the taking. As site editor, creator, and author I'm taking creative liberties this week.
I'd call the shot 60% skill, 40% luck. I hit it ok, the wind held a draw up and the thing got a nice bounce after it cleared a bunker fronting the green. I couldn't even see the bottom of the flag stick from my vantage point so I had no idea it went in. When the cart pulled around the back of the green (view shown in tweet) and I saw no ball I was pissed. I even grabbed a wedge and putter like I'd have to chip thinking the ball went through the green. Sweet relief. It was in the jar. I've played for 25 years thinking this was never going to happen. To those of you that haven't had one, keep on trucking, your time will come.