First Things First
We'll just get right to it so you don't have to scroll….Paulina Gretzky released a new Insty today. There's no context to it, no reason for it, and it's not even a money shot.
http://instagram.com/p/nOvMbKsjyv
Yet somehow it is simply perfect. Apparently the tweet that broadcast the photo was directed to the clothing company that she's wearing in the pic. Yeah, like anybody gives a shit about what she's wearing. Can we just get this over with and see her naked already?
Marvelous Martin
Meanwhile at the Zurich Classic of New Orleans, youngster Ben Martin is on fire and setting all kinds of records at the TPC of Louisiana. Martin is fresh off his T3 finish at the RBC Heritage last week in Hilton Head. A month ago he shot an 80 in San Antonio. In round 1 on Thursday he fired a course record 62. The PGA Tour and the course must have had an engraver on hand as they updated the plaque on site making the record known to all passers by.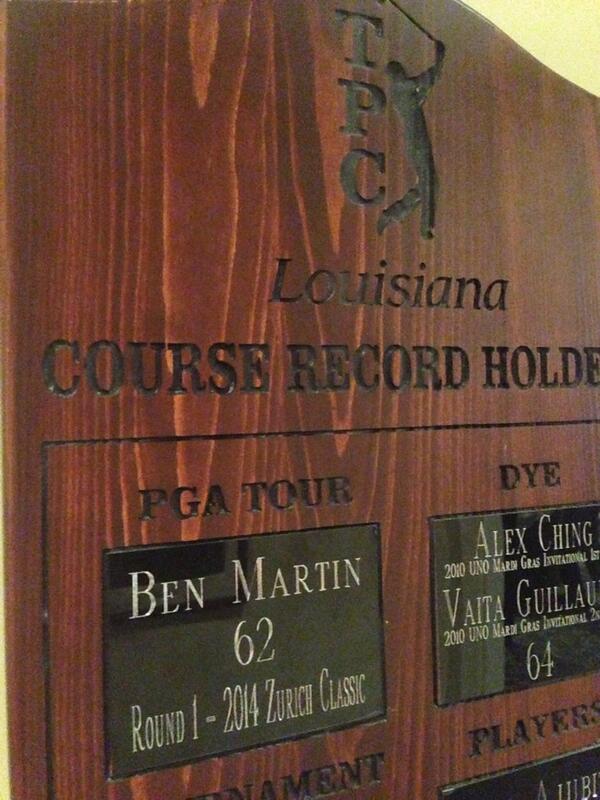 But Martin wasn't satisfied with his stellar first round. He woke up early on Friday and began round 2 with a birdie and an eagle to extend his lead. Only his 8th and 9th holes of the day could slow him down, he played those 3 over. Ben steadied himself and got 4 shots back on his 2nd nine to shoot 67 and take a 3 shot lead into the weekend. His 129 total is a Zurich record through 36 holes.
There aren't a ton of big names lurking to chase him down. Keegan Bradley is 6 shots back, and David Duval….yeah, you read that right……David FUCKING Duval is tied for 12th but is 8 shots behind Martin. I think Duval is more likely to be eaten by an alligator during round 3 than he is to win the tournament, but hey I'd watch either outcome.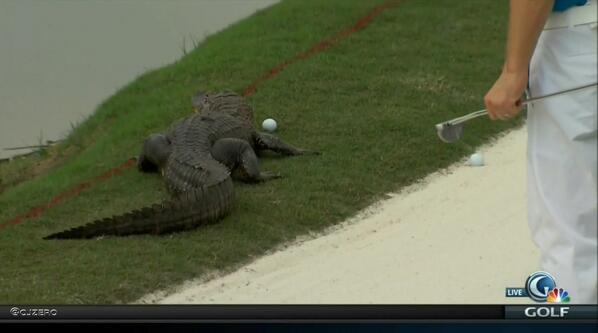 That pic is for real. These fuckers are all over the TPC layout. So where are all the big names this week? No, they haven't been victims of gator attacks. Many of them, including defending champion Billy Horschel, have missed the cut.
Flighty Fowler
Dick Fowler P.I. showed up in New Orleans this week and was a popular fantasy pick. I know because I took him and so did half my pool. Richard played like shit and didn't ever truly threaten to make the weekend. What he did do, with the help of sponsor Red Bull, was release a fun video of him flying about in a stunt plane.
Now don't go blaming the flight for Rick's poor play. You can tell by his hair length that this was shot some time ago. How fun does that look? I'd love to try it but I fear that I'd make a serious mess in the cockpit shortly after takeoff. If I didn't vomit all over the place, the flat spin or sending the plane end over end would make me shit my pants.
LPGA Marry/Fuck/Kill
A few readers have asked me or commented about the lack of attention I gave Michelle Wie for winning the Lotte Championship last week in Hawaii. First off, I don't usually acknowledge LPGA events unless they're majors or someone hot wins. That's just how this site works. Call me a pig if you want, I'm fine with it. Second, perhaps you've missed the half dozen times I've referred to Wie as a cunt. I don't think she's a good person and she's a phony. Good for her that her fellatio performing putting stance won a tournament on her home course. She should win hitting it 40 yards past most of the field. Who fucking cares?
What's more important, now that Lexi Thompson is legal, is playing a little game of Marry/Fuck/Kill with 3 of the top players in the ladies game today. You know the game, and if you don't, go back to this post where we played the same way with PGA Tour Celeb WAGS. Here are your options:
Lexi Thompson
I'm not normally a fan, but that's the best I've ever seen her look. Some of her bikini pics will make you feel like you were just in the same plane as Rickie Fowler (above). Awkward.
Stacey Lewis
Again, I did the best I could with Lewis like I did with Thompson. Let's be honest, if you're truly a hot chick you don't have to be as good as these broads at golf to make a living. That's how the world works. Stacey seemed like a cool chick until she got all sensitive about Paulina Gretzky making the recent Golf Digest cover. Now I have to rethink my M-F-K strategy a bit.
Michele Wie
You knew this one was coming. Why else would I bring her up off the bat. I've said my piece on her. No more beating around her bush.
Here's how this goes down for me. As much as I despise Wie, she's my fuck. In the same way that I drill Nancy Pelosi (with hoards of spite), I'd drill Wie. I'd marry Lexi Thompson. She's probably fun to golf with, minus her putting with a glove on, and she's going to make a ton of cash over the next few years. She wouldn't be a bitch and remind you that she (somehow) graduated from Stanford constantly. By default that means I'd kill Lewis. That's really no fault of hers, but somebody has to die, that's how the game works. Sorry Stacey.
Now its your turn. Fill up the comments and drop a line on how your version of this Marry-Fuck-Kill game goes down. Don't hold back. It's not like your mother is reading this, or your father-in-law (oh wait, mine probably is!).