Watson's Wardrobe Grows With 2nd Green Jacket
The guy that played the best won. I don't think there is any doubt about the preceding statement. At times on Sunday Bubba appeared to dwarf Augusta National unlike almost anyone we've seen in modern times save Tiger Woods (or Nicklaus if you're old enough to have seen him in his prime). Early in the round Jordan Spieth looked like he was ready for a prize fight as he birdied the 4th hole from the bunker to match Bubba's eventual birdie on the same hole. Watson returned the favor on the 6th after Spieth had knocked his tee shot close. After Spieth's birdie at 7 and Bubba's subsequent bogey the 2014 Masters appeared as though it was Jordan's to lose.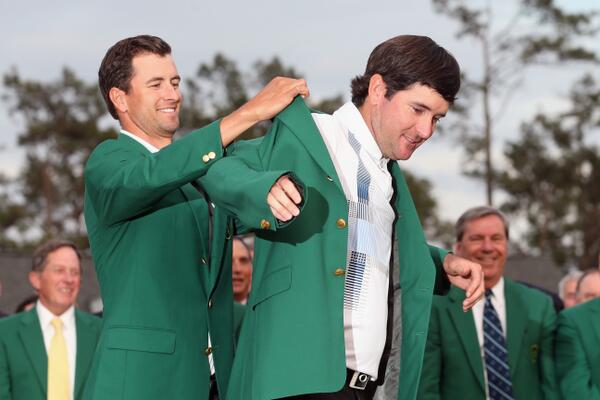 That's when things started to go awry for Jordan. He bogied the 8th from about 60 yards out in two and had a horrid 3 putt. At the 9th he missed a short par putt. At the 12th he rinsed one in Rae's Creek. Momentum had left Spieth and was now the 15th club in Watson's bag. Bubba's gargantuan length came into play at the 8th as he was one of few players in the field to get home in two on Sunday. From over the green he chipped to near gimmie range for his birdie. Then a sliding birdie putt at the 9th went down for him too.
Watson had Spieth on the ropes in Amen Corner when he blasted a 366 yard slinging slice around the bend at the 13th to leave a gap wedge into the green. His two putt birdie all but slammed Jordan Spieth's window of opportunity shut. From there Watson would cruise to victory. His challengers were impotent.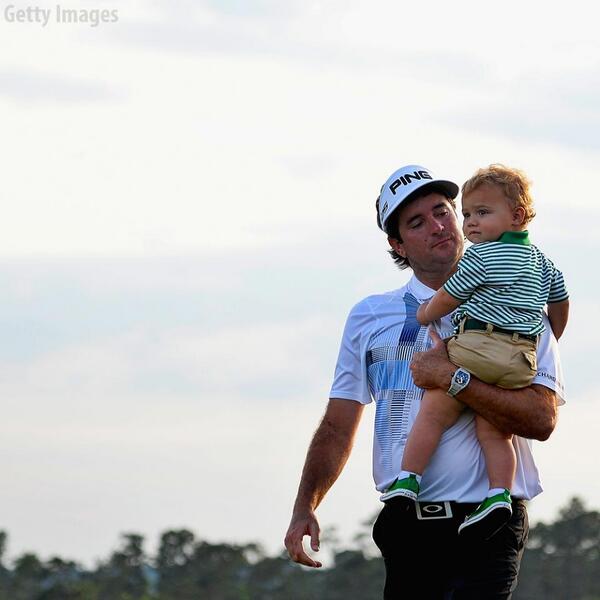 Normally when Bubba Watson is in contention he looks like my dog when she's about to take a shit. Both fidget to the point where they look like they just can't quite find the right spot to do their business. When Watson won at Riviera earlier this year he looked calm and at peace with his opportunity to succeed. This was a stark contrast to his normal nervous behavior that had been on display two weeks early when Bubba came up short in Scottsdale.
Today was more of the same calm version of Bubba I'm just not used to. Let's face it, when you already have a green jacket and are a Masters champion you're playing with house money every time you tee it up on Sunday at Augusta going forward.
Experience was the other key to Watson's success and 2nd green jacket. He knows the golf course better than Spieth and I'd estimate that based on what he said in his presser on Sunday night he's very comfortable with 14 of the tee shots at ANGC. Watson didn't panic when Spieth got the jump on him after 7 holes. He knew he still had 3 par fives left and only 1 tee shot that didn't fit his eye. He knew he could chase down Jordan if he had to. He'd been there and done it. Remember, he survived Louis Oosthuizen's albatross in 2012 and still came out a champion on the other end of it.
What's next for Watson is anybody's guess. A major win in a Ryder Cup year virtually assures you of being on the team, and U.S. Captain Tom Watson already tweeted something about seeing Watson at the matches. Bubba also mentioned the Ryder Cup as a tournament that will get his focus as he feels he should be on a winning team for a change.
Several pundits (read Golf Channel lackeys) are proclaiming that Watson could be the top ranked player in the world by the end of the year and could win another major this year. Get the fuck out of here. Bubs is a phenomenal talent, but he's a horse on a course at Augusta. Sure, he can win elsewhere, but let's pull back the reigns on this bullshit talk of him winning at Pinehurst, Hoylake, etc. Enjoy what Watson just did and get real about expectations after you've sobered up from being drunk on #BubbaGolf.
Standing Ovation For Mr. Spieth
There's something inherently wrong about me calling a 20 year old kid "mister" anything on this website, but Spieth played well enough to earn as much respect as I can give any professional golfer. Therefore, it doesn't feel too shameful. Spieth lead the field in greens in regulation and went toe to toe with a recent Masters champion down the stretch at Augusta. In the end his inexperience and raw emotion of being a 20 year old caught up with him. These factors didn't allow him to execute shots on 8 and 9 that cost him dearly and likely lead to him rinsing his tee shot at the 12th hole too.
That being said, I don't think he blew it or choked, he just got beat. I don't feel bad for him in any capacity. He'll have 20 some more chances to contend at Augusta and win. There are no guarantees in life, but Jordan Spieth winning a green jacket is pretty close to one. He finished tied for 2nd without ever having played the tournament before. Now he's had a taste and I expect that to only push him harder.
Kooch Screwed The Pooch
Matt Kuchar is playing in the prime of his career. He's not getting 20 more opportunities to win a green jacket like Spieth. He might have 5 good years left, but how many of those can he play his way into contention on the weekend at Augusta? How many other majors will he be a factor in period? I'm not calling him old, or past his prime, I'm merely saying that he blew a golden opportunity today.
Kooch started the final round 1 shot out of the lead and at some point on the front nine he'd drawn even with Spieth and ahead of Bubba. Then Matty went all golly-0-shucks on us and shit the bed. Just like in prior weeks in Texas, Kooch got the lefts when he got tight. He's had a lead or been tied for the lead for 3 consecutive Sundays on tour and not won. Finishing T5 at a major is never a bad week unless your name is Eldrick Woods, but Matt has to be doing some soul searching this evening wondering if he'll ever get it done in a major championship.
Winners & Losers Of The Week
Winners: 
Gerald Watson– Keeping with ShutFaceGolf tradition, the tournament winner (I only do these for majors) gets the top billing as the big winner of the week, for obvious reasons. Bubba has only won six times on tour and two of those are at Augusta. I'd take that batting average. It might just get him in the hall of fame someday. As he indicated in his Sunday evening presser, I think this one will end up meaning a little more to him due to his wife and son being just off the 18th green as he knocked in his final putt.
Jonas Blixt and Rickie Fowler – These flamboyant PUMA/Cobra boys put on a good show finishing T2 and T5 respectively. For Blixt this is the highest finish for any male from Sweden in a major, ever. Jonas has a legit short game but he'll need to learn to keep the ball in play if he wants to get over the hump and start winning on tour. This is also the 2nd major in a row that he has finished in the top 5.
Fowler's result indicates that his move to work with swing guru Butch Harmon is paying off, big time. We knew this to an extent when we saw his fine play at the WGC Match Play 8 or 9 weeks ago. Rickie finally showing up in a major validates his hard work with Harmon even more so.
Ted Scott –  Having to put up with Bubba blaming you for every missed shot or gust of wind must be maddening. But getting the customary caddie dividend of $1.6M from Bubba's winning check seems worth it.
That alone makes Ted a winner this week. Being Bubba's guidance counselor, shrink, and day laborer is all worth it when you can take home bank like that.
Jordan Spieth –  Jordy did everything but win this week. After his hole out from the bunker at the 4th hole Twitter nearly exploded with most of the country calling him the Great American Hero. Holy hyperbole Batman.
What I like most about Jordan is the way he handles himself off the course. He's all class, and if you watched one second of the Golf Channel this week, I'm sure you heard some jack-off on there tell you the same thing. What I like least about this boy wonder is the way he handles himself on the course when things aren't going his way. Still, it's easy to over look those antics with everything else that is great about him. He nearly became a legend this today, that gets you on the winner list.
Under Armor and Oakley – I'm curious about how many non-golfers tuned into the Masters in 2014 without Tiger or Phil being involved at all. I'm also curious if any of these non-golfers even knew that Under Armor and Oakley made golf apparel. That information seems 2nd nature to golf nuts like us. But having Spieth and Watson show their sponsor's goods off so prominently on the biggest day of the year in golf was a big win for both companies. It surely provided a ton of exposure they wouldn't normally get.
Also of note that I saw on the Tweeter today…. Under Armor signed Jordan Spieth to an endorsement deal on the same day Nike inked Rory to his mega bucks deal in Abu Dhabi in 2013. I'm guessing Spieth's deal was worth about 1/25 of what $woosh inked Rors for. What a bargain.
Losers
Bitch Tits – Another year, another lack luster Masters from Phillip. He made news early in the week by telling us all how he didn't need all fourteen clubs this week. Cockiness will send you home 36 holes early, FIGJAM.
Tiger – Not even teeing it up in the tourney shouldn't put you on the loser list. But when your life goal is to win 19 majors and you missed the opportunity to even play in one, well….that's an issue. And he did it to himself. He's admitted to having a back problem going back to last year. Why didn't he get it fixed earlier? Why was he playing so recklessly on it earlier this year? Like I said last year this spot, Elin has Swedish voodoo spells cast on him and they're very effective.
Bode Miller – Olympic glory's favorite train wreck made his way to the Masters this week and took in the action mostly from Berckman's Place. Why he's a loser is because he tried to take his dang quesadilla on to the property shared by the commoners and that is a no-no. Miller reportedly didn't like being told what to do by the men in green coats and was nearly escorted off the property. What a douche.
Ian Poulter – Poults is an easy target, so I try to lay off him as much as possible and only give him what for when it is deserved. After he completed his final round at Augusta he jumped on Twitter to tell the world how he played well but this, if that….only 10 shots behind Bubba……blah blah blah. That's loser talk, mate. You didn't play well. I couldn't bite my tongue.
Shockingly, IJP didn't respond.
CBS – No Tiger, no Phil. Execs at CBS were probably pissing blood from their ulcers all week. That is until they saw that they'd get Bubba and Jordan in the final pairing for Sunday. I bet that got them into a Viagra popping frenzy that ended in blue balls once the final group cleared Amen Corner. Watson and Spieth gave us everything we could want on the front nine today, but we should have known the Masters peaked too early.
The exciting back nine that we've come to expect never happened. The roars of the patrons were hushed. And once Bubba's brilliantly mad/crazy 2nd shot at 15 cleared the H2o, any drama that remained was gone and the air was let out of the balloon. Televisions across the country were turned off or walked away from en mass.
361 Days And Couting
The 2010, 2011, 2012, and 2013 iterations of the Masters were all epic. Most are. Which is why the flatness of what we watched today is such an outlier that I'll remember as if Zach Johnson (2007) or Trevor Immelman (2008) won. Every year around mid-January I start thinking of the Masters and how we're less than 100 days until it begins. And every year after winner puts on his new green threads I get all mopey knowing that I have to wait another year for this great week to come around again.
But all good things must indeed end, that's why that stupid fucking cliche exists. Thoughts of the Players Championship won't get me through the malaise of the coming weeks, but Tiger making a comeback in June and pegging it at Pinehurst? Now you're cooking with gas.