Player's Parable Pertaining To Palmer's Poop
You absolutely read that right. Today before the Par 3 Contest began the Black Knight himself stopped by the Golf Channel's 'Live From' set to chat with Steve Sands. Before anyone could blink or hit the dump button Gary went off on some tangent about playing in Japan years ago with Palmer when the King took a shit on the green. What. The. Fuck?
In some capacity Palmer owns part of the Golf Channel, so the fact that Sands or anyone else from the network didn't follow up with more questions about Player's story is not a surprise. However, somebody from another media outlet has to get to the bottom of this.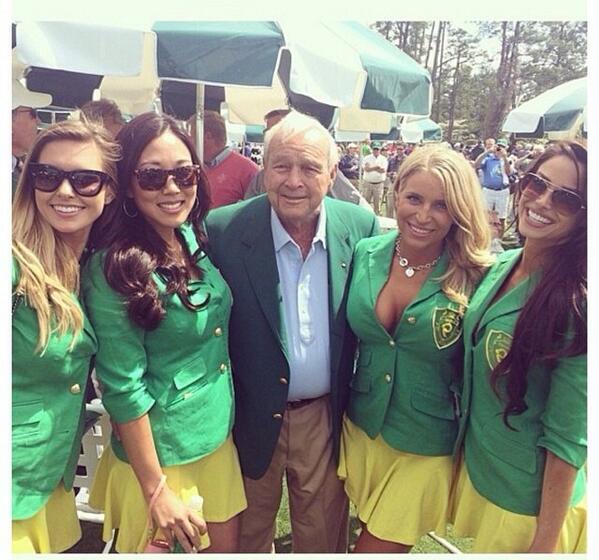 (Yes, that is the Big Break's Meghan Hardin's right tit you're starring at.)
I still can't believe what I heard. Either Player is losing it or Arnie has some sort of irritable bowel syndrome that his army has been protected from for a quarter of a century or longer. Player is becoming fairly active on Twitter. I'm guessing he retracts what he said or tries to explain it to a degree in the coming days.
Short Course In Short

As I wrote last year, the Masters Par 3 Tournament is great for me for about 20 minutes. Then all the schmaltzy bull shit kicks in and I'm done. Cute kids aside, watching Palmer, Player, and Jack limp around the short course is painful after a hole or two. Nicklaus did put a charge into the place for a brief moment when he had a mini birdie barrage.
In the end it was Ryan Moore taking home the crystal with a 6 under score of 21. That's one off the course record. As most of you know, no player has ever won the Par 3 Contest and the Masters in the same year. This is the Par 3 Jinx. Moore told the media he doesn't believe in the jinx and therefore had no fear when he knocked in his birdie putt on the final hole that would surely clinch a win. Many of his fellow competitors in the same spot would have let their kid putt out or intentionally hit their tee shot in the water. I believe in the jinx. Ryan is fucked.
The Drop Revisited
If you're an avid reader of this site you've probably read my (multiple) knocks on SI Golf Group's Alan Shipnuck over the last 15 months. I typically disagree with Alan and his liberal elitists opinions. I even nominated him for my year end Shutter Award for the 2013 Whiny Bitch of the Year. For all my shots at him, I'll put my animosity aside to give credit where credit is due. Alan posted a piece today that revisits #dropgate from the 2013 Masters.
As I'm sure you all recall, #dropgate refers to the illegal drop Tiger Woods ended up taking on the 15th hole in round 2 of last year's tournament. Tiger was assessed a penalty 15 hours after his round was complete and after he signed for a lower score. Instead of being disqualified, the Men of the Masters allowed him to play into the weekend but with a two shot penalty added to his total.
A year later Shipnuck revisits the ordeal in his own words with a look behind the scenes, the politics, the grudges, and all the drama. Alan left nothing out and if you love inside info about Augusta, how it operates, or Tiger Woods, I highly recommend reading the entire piece. Nice work Mr. Shipnuck. The article is linked below:
Tiger Woods and the Drop: An inside look at golf's most controversial pardon
Caroline's Hair

Almost as bizarre as a story involving Arnold Palmer shitting on a green in Japan, Rory McIlroy's fiance showed up today to caddie for her guy in the Par 3 Contest……with pink hair. Ms. Wozniacki is far from attractive, IMO, even without making herself look like some kind of emo raver. Did she really feel the need to draw extra attention to herself the day before Rors tees it up as the favorite at a major he so dearly wants to win?
Look at Rory's face. He seems a little put out by her new style. I don't blame him. I dumped a girl in college because she got a bad (short pixie style) haircut. Rory should do the same, but I doubt he's got the stones to break off the engagement.
No Shoes No Service
U.S. Amateur champion Matt Fitzpatrick is in the field this week at the Masters thanks to his win last summer at Brookline. However, his usual caddie won't be on the bag. Lorne Duncan is the caddie's name and Golf Digest broke the story this afternoon about his absence. Duncan came across the pond with intentions of looping for Fitzpatrick, but he has a foot injury that won't allow him to wear actual shoes while doing his job. Duncan has been wearing sandals on most courses to be able to walk in comfort. At Augusta National, that's a big no-no. When given the bad news Duncan went ape shit on Twitter with the following rant:
He's since apologized for the rant. I'm just guessing here, but it seems highly likely the Masters Tournament Director won't be sending Duncan a Christmas card this year, or vice versa.
Site News, Countdown Gone
The widget in the upper right hand corner, when not being taken over by some bull shit advertisement, started out in 2013 as the Bitch Tits Tax-O-Meter that tallied Phil Mickelson's tax obligation for the previous calendar year. In January it became the Masters Countdown Clock. Now that the eve of the Masters is upon us it is time for another change. Going forward I'll be featuring a WAG (wives And girlfriends of tour players) of the Month.
The March WAG of the month would be featured in the widget for the month of April until she is unseated by a new WAG in the following month, and so on. Because I'm starting the honor this month, I won't backdate a winner for months already gone by. In early May I'll crown a winner for April. For now, a place holder will be used and for those purposes the place holder will be Mrs. Jason Dufner. Amanda Dufner won the Shutter for WAG of the year in 2013. Her being the inaugural WAG of the month seems only fair and fitting.
Rise And Shine
As the countdown clock shows, we're only a few hours away now, and I'm like a 5 year old kid on Christmas morning. Meaning, I too will likely wet the bed tonight. Arnold, Jack, and Gary will put their balls in the air as honorary starters at 7:40 am on Thursday morning. Online and television coverage is as follows:
LIVE COVERAGE ON MASTERS.COM
10:45 AM – 6:00 PM
Amen Corner live video coverage
11:00 AM – 1:00 PM
Masters – On The Range live video coverage
11:45 AM – 7:00 PM
Hole Nos. 15 and 16 live video coverage
12:00 PM – 7:30 PM
Featured Group 1 live video coverage
Featured Group 2 live video coverage
3:00 PM – 7:30 PM
Masters In-Depth live video coverage highlights
ESPN Coverage for TV comes on at 3 pm Eastern Time, with supplemental coverage mirroring what is available online on DirecTV available at the same time. Too bad you'll have to until Saturday for your Jimmy Nantz fix.
"Hello friends."