Rain Out Equals Refund
As many of you know, getting a ticket to the Masters can be a fairly difficult task. Some people pay through the nose for theirs while others hope and pray they win the ticket lottery that Augusta National executes each year. I have been one of those people fortunate enough to obtain tickets through lottery. If you do win tickets, the club lets you know about 6 months in advance so you can start planning your voyage to golf mecca.
So imagine last summer you get the email or envelope telling you that you just garnered 4 tickets to Monday's practice round. You wait for the big day, you fly to Georgia, you get through the gates, and 3 hours into what could be the greatest day of your life Mother Nature lets all hell break loose and your dream day is cancelled before it could even get started. Total fucking bummer.
That's exactly what happened to patrons today that were on the grounds of Augusta National. I can't imagine what thoughts were going through the heads of first time attendees. They must have felt that their dream had just been smashed right in front of them, but fear not, the Men of the Masters can fix anything. It seems as though the green jackets decided to refund all tickets and promise Monday ticket holders that they'll have a crack at next years Monday round too.
No body else does that. No where, no way. I suppose I can recall an early round of a major getting rained out and tickets being honored for a later day in the week (was that at Merion last year?), but this is the Masters. They only allow a specific amount of patrons on the grounds each day. They can't just break the rules and have double the body count on hand for Tuesday or Wednesday. Their solution is perfect and I'm sure each disappointed patron left the grounds on Monday quite pleased knowing they'll have the chance to come back in 365 days.
To Script Or Not To Script
In recent years the Masters has become a bit of a fashion show for apparel companies to whore out their new duds on their staff players. To help market gear for the week, companies script specific outfits and show them before the tourney starts via tweets and press releases to draw attention to the brand. I find them to be fascinating, if not eternally stupid, but some of them are the talk of a slow Monday in Augusta and they need to be discussed. Let us take a look.
Rickie Fowler 
Why he has five I have no idea. Of course his standard orange peel will be on display if he plays on Sunday. I'm not a fan of PUMA, but those 3rd and 4th outfits (going from left to right) aren't bad.
Bubba Watson
If Oakley had the only clothes available to play golf in, I'd either quit or play naked. I think Bubba had a better look when he wore Travis Mathews apparel.
Rory McIlroy
Those all look so similar to me. Does his big paycheck from $woosh have a clause that makes him wear sleeves that are different colors than the rest of the shirt. The grey on black outfit for Friday is pretty good, but he should wear his Thursday shoes with it instead of the ones with red on the bottom for no apparent reason.
Tim Herron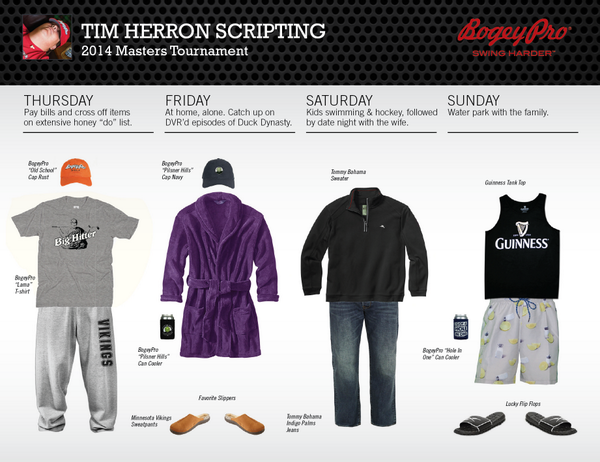 Perhaps you're just noticing that Tim Herron isn't actually in the field this week at the Masters. Yes, that's the joke, and since he's not playing he tweeted out the preceding wardrobe script. I fucking love it. From the beer coozy to the comfy slippers, Lumpy's got the week covered. Well done.
More Gear If You're Up For It
If these scripted outfits are your cup of tea, I recommend checking out Golf-Threads.com throughout the week for additional updates. On top of that, the site currently has a post on Freddie's special Masters shoes from Ecco.
I bet they sell well, but I don't think they're being marketed to my demographic. For Fred's sake, I hope they have orthopedic inserts that can help mend his back.