If The Boot Fits
Australian Steven Bowditch battled clinical depression and self doubt from the moment he earned his tour card nearly five years ago until recently claiming a small victory over his illness. After being bumped back to mini tours while struggling with his demons, he's now made his way back to the big show. Steven's journey came full circle on Sunday afternoon in San Antonio when he finally made good on his talents by winning the Valero Texas Open. Bowditch outclassed the rest of the field through 3 rounds and started the last 18 holes with a three shot lead over the likes of Matt Kuchar and fellow 'no name' Andrew Loupe. What happened over the next 5 hours was anything but made-for-television.
Bowditch bogied the pedestrian par five second hole and then made double on the 4th. His lead was gone and all Kuchar had to do to catch him was make four pars. Bowditch's start is what I refer to as puking on ones shoes. I'm sure he was nervous, how could he not be? It's not every week (or ever) that he finds himself  in the last group with a chance to change his life by playing one good round. We see this all the time. Journeyman plays well for 54 holes, blows up early on Sunday, network stops showing his round, more seasoned player wins a few groups again…..repeat a few weeks later. That's usually how these things go down, right? Not for Bowditch.
He wiped the puke of his shoes and fought back, or as I'd do in college, he puked and rallied. Steven birdied the 5th hole to settle the nerves and regain the lead. Then at the 14th he made another birdie that gave him just enough of a lead to not have to sweat his 3 putt at the final hole.
Bowditch appears to be well liked by his fellow professionals and by overcoming his bouts with depression his victory has a bit of a feel good story to it. Bowditch also has a young bride that I think you all should be aware of. Her name is Amanda Yarussi Bowditch. I can't tell if she's hot or not just by seeing pictures available via the interwebs, but I'll let you judge for yourself.
(Middle, above)
I can't fucking tell. I need some bikini shots or something. If she's hiding some big sweater monkeys under there we need to know. That would certainly help her cause. Please drop a line in the comments to give your opinion on Mrs. B. I think a nice set of bolt-ons would do the trick.
The Field
Almost every player on the first page of the leaderboard that could have put a scare into Bowditch played about as shitty as he did. Kuchar shot 75. Kevin Na shot 76, Pat Perez….77, and so on. In fact, according to the Twittersphere, Bowditch's four over final round is the highest by a winner of a non-major in over 30 years.
Conditions weren't that tough. There really isn't an excuse for all the bad golf that NBC showed today. The worst puke of the day might have come from Ryan Palmer. Palmer needed a top 3 finish to earn enough world ranking points to sneak his way into Augusta (the cut off for ranking invitations is this week). Palmer played well in his last event and typically plays well during the Texas swing. He was also my fantasy pick for the week so I gave him the kiss of death. Palmer went out in 42 shots on his front 9 and plummeted down the leaderboard. His back nine of 40 left him with an 82. For those of you scoring at home, that's two weeks in a row my fantasy pick has carded an 80. Thanks Ryan and Bubba!
No, that sign isn't for Kevin Na, but Na's struggle with pace of play have brought the issue to the forefront of the golf media in recent weeks. In Texas on Sunday, the final group of Kuchar, Loupe, and Bowditch was put on the clock several times. And they fucking should have been after playing their first 9 holes in 3 hours! How is that possible?!? There are old men, I mean really fucking old, that go out every morning and walk 18 holes in 2 hours and 40 minutes. Tour players grouped in threesomes should be disqualified for a 9 hole time like that. The good news is that they were put on the clock so people are made more aware of the problem. Peer pressure and public humiliation never hurt.  The bad news is no one is getting stroked for their sins. That needs to change.
Houston Has A Problem
We all know that Phil Mickelson cares only about majors these days. He's done everything else. What else should he care about? When he added the Texas Open to his schedule for the first time in 22 years it was done so in an effort to get more reps to prep for Augusta. Phil's 2nd round was delayed by darkness which meant he had to come back early on Saturday to finish it. He hit his 2nd shot in the water at 18 but got up and down for birdie from the H20 to make the cut. He was grinding to get in the weekend reps.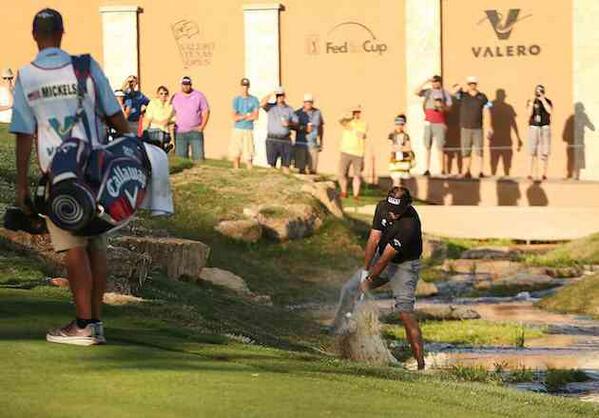 That didn't end up happening. Phil tweaked an oblique and left the course on a cart with his daughter early in his 3rd round. Hopefully for fans he decided to take no chances with the injury and this was a precautionary move due to the Masters on the horizon. Phil is a staple at next week's Shell Houston Open. Unless his doctors are miracle workers I highly doubt he'll play there. He has to get healthy for Augusta, but that weak off and extra rust likely also means he won't contend because Phil needs to play often to be sharp. He's also putted horrid all year and has yet to fix that part of his game.
Parity Or Poor Form?
Does it seems like every week a guy who's name you barely know, a guy you couldn't identify in a line up, is winning the most recent tour event? Ok, good, it's not just me then. Bowditch is the latest in the string of nobodies to sneak into the winners circle for the first time in their career. Have you heard journos and Golf Channel pundits talking about how big the Masters field is going to be in two weeks? This is part of the reason why. With so many recent winners not already exempt, the field size grows every week. I can only assume that next week another first timer will win to again grow the field at the first major of the year.
In many ways, it's good for the growth of the game to have some new blood get a taste of winning on tour. In many more ways, it kills the popularity of the professional game. Admit it, you saw the leaderboard at some point in the midst of your weekend and decided you probably weren't going to pay much attention to golf on Sunday. Even with a big name like Matt Kuchar playing in the final group there just wasn't any pizzazz for the goings on in San Antonio this week.
This is because the stars of the tour simply aren't having very good years. As Johnny Miller pointed out, the Fed Ex season is 20 events in and only 4 of the top 20 players in the world rankings have won events (Johnson, Johnson, Day, and Watson). No offense to Jimmy Walker and Patrick Reed, but when those two guys are the dominant players of the season to date, the season is a tad weak. Can this trend continue, well, probably not. Most of the guys in the field at the Masters are there because they are champions of some sort and the cream usually rises to the top once you make your way down Magnolia Lane. But what do I know? As soon as I type that, a guy like Roberto Castro (yes he is in the field) will probably win the green jacket. Please hit the reset button on 2014 if that happens.