Adam's Broom Stick Putter Appears To Be Choking Him
I'm dead serious when I say that. That thing is right up in his throat when he swings it, and it appears to be literally choking him. Figuratively, it is making him choke. As brilliant as he was with his long wand in round 1 he was equally awful with it on Sunday when the championship was on the line. How that can happen in a 72 hour span to the man who is currently the best player in the game is a mystery. It's something we'll be pondering for the next two weeks and anxiously waiting to judge and discuss when we next see Adam at the Masters.
As I wrote Friday, the Arnold Palmer Invitational was basically over after 36 holes thanks to Adam Scott's impressive 7 stroke lead. But a funny thing happened over the weekend. Scott entered the final round with only a 3 shot lead thanks to Saturday rounds of 66 from Keegan Bradley and Matt Every. Then Scotty's Sunday scorecard turned into a fucking zip code. The 76 on it was merely 14 shots higher than his 1st round of 62.
I don't expect him to shoot 67 or better each round, but an even par 72 on the last day would have given him a ho-hum two shot victory. The only way to describe that type of failure is a choke. Scott knows it too, and he won't overlook his failures with the putter to see where he went wrong. It was tough to watch, and as Yahoo's Shane Bacon tweeted, its one of the few times in life you'll ever feel bad for a millionaire golfer that pulls ass like a movie star.
Every Dog Has His Day  
With Scott's failure at seemingly every green down the stretch on Sunday, an opportunity arose for a challenger to come out of the pack and grab the AP Invite by the balls. Enter Matt Every. Yes, the guy who prior to Sunday was most famous for his arrest and suspension for getting caught with weed at the John Deere Classic in 2010. Every has been playing well in 2014 and has had chances in the past to contend and win, but couldn't close the deal. That all changed at Arnie's place on Sunday when Every knocked the door down to join an elite group of golfers that have won on the PGA Tour.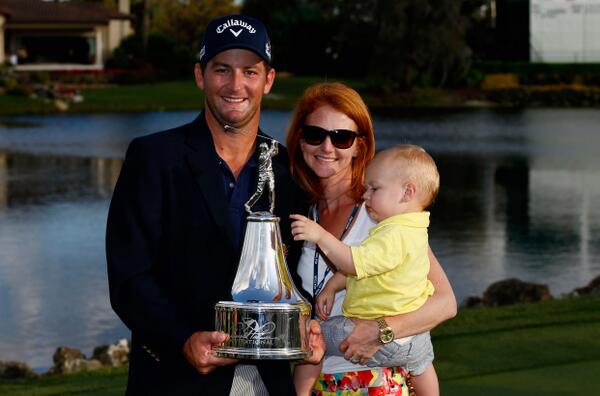 Every is a young, confident player. He's made no bones about speaking his mind in the past and I think many of us were expecting some kind of Patrick Reed-like moment when Steve Sands put a mic in front of Matt after his victory had been clinched. Instead, we got a rare but true heart felt moment on tour in which Every poured his guts out to golf fans watching all across the country. Take a look:
Well done, Matt. The win of course gets Every into the Masters and jumps him up the world rankings. When he was asked if he too was a top 5 player in the world, he gave the more politically correct answer and replied that he was in the top 70. The OWGR released today back that up. But none of what he said in the clip or about rankings were even my favorite Matt Every quote of the week. When asked about other players attire on the course, he quipped the following:
Quotable, smokes pot, and plays with emotion…..yeah, I'm starting to like this guy. I might like his caddie even more. His name is Derek Mason and he had a big hand in Every's win. On 16 when his man was out of position and starring a big number in the face, Mason said 'fuck' about 8 times while giving Every a pep talk to get his mind right and focused. It was brilliant.
Mason also got popped by call-in queer dicks that saw him holding a device that looked like a GPS or something similar. These nerds wanted to see some kind of penalty called, a DQ, or public hanging – but it turns out the device was only a compass that Mason used to try to figure wind direction. Those are perfectly legal. Suck it callers!
The Field
After beginning the wrap around season with a slew of top 20 finishes, the calendar year of 2014 hasn't been too kind to Keegan Bradley, yet. That might change soon as he appears to have found something in his last few starts. He was T12 at Honda, played shitty at Doral, but his middle rounds of 67 and 66 at Bay Hill make me think he's trending in the right direction. He's not playing this week at the Texas Open, as far as I know, but he'll probably be a popular pick at Houston the following week if he's in the field. A good showing there could move him from Masters dark horse to Masters favorite.
Did you see the shot he hit at the par five 6th hole on Sunday? From about 270 yards, Keegs went right at a tucked back left hole location and hit what I think was the shot of the day (47 second mark in clip shown below). He backed that up with a dart into the 17th that would eventually lead to a birdie (2:10 mark in clip) that would get him within one shot of the lead after Every's bogey at the 72nd hole. Take away the sloppy double Bradley made at the 2nd hole and he might have taken Every's candy and nabbed his first win of the season. Instead Bradley's fate came down to the final hole in which his birdie putt stayed high when the break flattened out near the cup (2:28 mark).
Keegs playing well is good for golf fans, but better for people like you and me that want to see more of Jillian Stacey, Bradley's girlfriend shown above.
TV Time
Thanks to March Madness I didn't see any of NBC or TGC's broadcasts from Thursday through Saturday. So when I turned golf on Sunday I was surprised to see NBC had added a new graphic to their pre-shot repertoire, did you notice it? Instead of telling viewers that so and so was playing X number shot on a hole with X par, they showed the numbers 1-4 for a par 4, 1-5 for a par 5, etc. and put a box around the number equal to the shot the player was hitting. What the fuck is that all about? I feel as though they dumbed down golf for the viewers and there's really no reason for it. Just put '2nd shot' on the graphic, '3rd shot', etc. Include the par of the hole and call it good.
Golf fans are knowledgeable and value simplicity. If a network puts up a graphic that says "putting for birdie", or something like that, we get it. There's no need to complicate the whole thing. K.I.S.S. Keep It Simple Stupid.
Oh and we can't omit a comment about Ian Poulter being all wet, can we? Poults made a snowman on the 11th hole on Sunday to drop off the first page of the leaderboard. After hitting his tee shot in the fairway bunker and missing the green 50 yards right, Poults' pitch to the green went long and the ball eventually found its way to the hazard. With one foot in the drink Ian took a bunch of hacks to advance the ball out and Johnny Miller promptly rubbed shit in the would by telling Ian how he would/would not have played the shot. Thanks NBC!!!!! Unfortunately I don't have the footage to show you myself. Good luck finding it.