If Only His Name Were Jerome
I hope you got the joke if you clicked the link (an ode to March Madness). In case you were too busy mulling over bracket possibilities or just weren't interested in a lackluster PGA Tour event, veteran pro John Senden held on to win the Valspar Championship defeating Kevin Na by 1 stroke. Senden, known as a ball-striker extraordinaire, ironically used his short game to gut out his first win in 8 years. His chip in at 16 for birdie, his 25 foot putt for birdie at 17, and his long lag putt at 18 are the 3 shots that made him a champion again.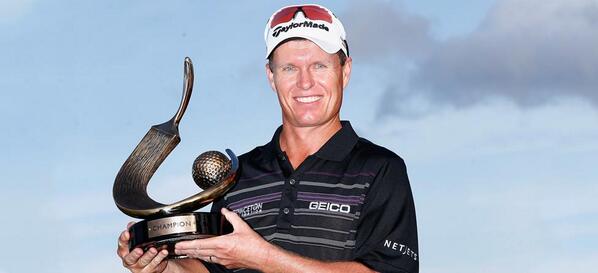 As Senden was about to make bogey at the 12th hole, Gary Koch (filling in for the absent Johnny Miller) told viewers that if Senden was to par out on the back nine and finish 7 under he would win. While Senden didn't par out, he did nix his back nine bogies with birdies to finish 1 under for his round and even on his inward nine. Koch knew how hard the course was playing and that there weren't many birdie opportunities on the way to the clubhouse for Senden's challengers. Nice call, Gary.
The reality is, the field was stuck mostly in neutral on Sunday and Senden's 2 birdies in the final three holes were 2 of the very few birdies anyone made after walking off the par five 14th green. Its not as though Sendo didn't earn it. He did. Kudos to him for winning, but his win felt somewhat hollow with all the shitty shots we saw played at Copperhead.
Were you hoping to come here today and see a bunch of pics of the winner's hot wife? Yeah, I was too, but think again. Here's the Senden family photo:
Woof! Yes, Sendo married a fire crotch. I hate to make fun of her, but I had to post the shot just to prove that not every millionaire tour pro marries a stone cold fox. And who knew John's son was the kid in Jerry Maguire.
The Field
The final round in Tampa started with Robert Garrigus leading the pack. Bobby Swamp Ass played impeccably for 3 days by dominating the par 5s (-10 on those holes alone thru 3 rounds) with his length. However, starting +5 through 6 holes on Sunday dashed Bob's chances of winning quickly. Garrigus in many ways is like a nicer more appealing version of John Daly. Both have battled demons, both are loved by loyal fans, and both hate to play golf at a snail's pace. Getting paired with Kevin Na in the final round did him no favors and his caddie didn't mince words when asked about the pairing on Saturday evening.
Na's status as the tallest mental midget of the tour is widely known thanks to his troubles at the 2012 Players Championship. Like playing companion Garrigus, Na also faltered on the front nine and appeared to be done after a 3 putt double at the par three 8th hole. With how his mind works, that might have been just what Na needed to relieve some of the pressure he was putting on himself thanks to being in the final group. Na birdied 14 and then got within 1 of Senden with a gutsy birdied at the 17th. With Senden in the clubhouse, Na failed to force a playoff when his unlikely birdie putt missed at the home hole.
A week like this should, in theory, do wonders for a journeyman like Na. Big check, tons of exposure, a confidence builder….but instead I think every time he pops up on a leaderboard people end up hating him more. What's to like? He plays so fucking slow and that's all anyone wants to talk about when he's shown at length on TV. He's constantly complaining, barking at his caddie, backing off shots, and generally seems pissed off that he's rich and plays golf for a living. Now he's on golf fans' radars again and most are probably rooting against him. He's got enough issues bouncing around in his head, staying out of the spotlight is the best thing for him until he becomes more likeable, if that's even possible.
In contrast to Na the Valspar Championship gave us Scott Langley, who finished solo third in Tampa. Langley is the first 1st Tee graduate to make it on the PGA Tour. The former NCAA Champ from the University of Illinois is a gritty young lefty that is still trying to assure his future as a professional. Clearly he has the game to make it, he simply needs the opportunities to prove himself. Top 5 finishes like this week will pave the road to bigger and better things for him.
Langley bogied the 16 hole on Sunday after hitting a phenomenal tee shot that split the fairway. He likely would have come up short of winning either way as he finished two behind Senden, but that bogey was the nail in his coffin. Langley seems to thrive off tougher golf courses. He's humble and his game his hardy, which makes him much easier to root for than someone of Na's ilk. I'm becoming a fan and I'm looking forward to seeing what he does next time he tees it up. He might just be on the brink of a win.
Put The Dog Down
Nothing is more clear to me that the Valspar Championship is a dog on the schedule than the fact that Johnny Miller and 90% of the top 20 players on the PGA Tour don't show up to work this week. The list of winners is a bit underwhelming too. John Senden, Kevin Streelman….no offense guys, but you're not moving the needle. Valspar is a new sponsor so don't expect drastic change anytime soon. They seem very happy with the event, the course, and the field they get. You do need another Florida event for this week in March because it provides a bridge to get us from Doral to Bay Hill, but this one as it is currently comprised is a flat out bore.
The course would be interesting to play as a golfer, but it doesn't show well on television. It looked to be in shitty condition to boot. I have no idea why, but there were lots of bare spots in the fairway and browned out spots in the rough for as far as the eye could see. Streamsong is only an hour drive from Tampa. If the WGC Match Play doesn't go there, Valspar should snatch up the resort for its championship. I think it could help attract a better field as well, but the reality is after the match play, Honda, and Doral, most top players want this week off. Bad timing is hard to fix.
As a family man with a young tot, I don't get out much unless its for golf. From the office, to talking to my father to listening to the hacks next to me at the dome today all the comments about golf this week were the same. "What's this week? Who's playing? It's the most boring golf I've seen on TV all year". Etc. Etc. Etc. the bottom line is, nobody was watching except the junkies like me and perhaps you. I'd love to see NBC's ratings compared to what they do at Bay Hill or Doral just to validate my words.
Not-So Shot Of The Day
My god there were a lot of bad shots hit today on the Copperhead Course. Because of that, I can't truly name a 'shot of the day'. Out side of Senden's chip-in, there couldn't be one. But there was a shot that might battle Henrik Stenson's shank at Doral as the worst shot you'll ever see a top 10 player in the world hit.
That's Justin Rose hitting a 100 yard wedge shot about half way to the green on the 9th hole today. I think we've all laid the sod over one, but we all aren't the reigning U.S. Open Champion. Rose is still recovering from a shoulder issue so I suspect some rust might have caused him to do that. It also contributed to his +3 final round of 74 that dropped him out of contention.
As you can see by his Tweet, Rose was a pretty good sport about his chunk. For those that don't know, the hashtag is referring to the old cliche of hitting the big ball (earth) before the little ball (the golf ball).