Trump-tastic
WGC events are supposed to be about the best players in the world all being in the same field, on a great golf course, exhibiting stellar play. The latest edition of the WGC-Cadillac Championship seems to have only one of those three elements correct, the field. Outside of Jason Day, who withdrew before play started due to an injury, the top 50+ players are all in Miami to play this week. They were supposed to be testing Donald Trump's latest overhaul of a golf course at the newly renovated Trump National Doral. Trump made no bones about bringing in world renowned architect Gil Hanse to make the Blue Monster tougher. It had to be done. The old girl needed a face lift and was far too easy with new equipment, better balls, etc. What Hanse did, presumably with the Donald's urging, is make a golf course that is nearly unplayable when the winds of South Beach or blowing.
Why the tour allows a man who can't reconstruct his own hair better than that touch any golf course they contest a championship on is beyond me. Trump has made it clear to anyone who will listen to him that he'd like to host a U.S. Open at one of his courses. Experts typically say that unless he buys Pinehurst or Pebble Beach, that just isn't happening. Knowing this, it appears to me that buying Doral and deciding to remodel it in this ridiculous fashion is his way of showing how small his dick is. What is he trying to prove? "Hey, look at me USGA, I can make a course that's really fucking hard!" It isn't working.
Unless the winds calm down over the next 48 hours, the winning score of the WGC will likely be near level par. With that, the players will complain, the golf course will get tweaked, watered, and whatever else needs to happen to make it more playable for next year, and the tour will try again in March of 2015. If things don't change, don't be shocked if when the contract to continue to play at Doral is due for renewal the tour jumps to a venue the players like better. Go ahead and ask the Jemsek family that owns Cog Hill how these things go down.
Flawed And Foolish
Watching the shots hit by tour pros at Doral bounce into the water every 86 seconds during the broadcast is something to behold. When you watch a U.S. or British Open you see the bogies, you see the carnage, but you rarely see the splashes and subsequent drops that TGC is bringing us this week. It's a different type of entertainment, but 2 rounds of it is already making it a bit a tragedy. Rory McIlroy mentioned to reporters that playing the golf course well right now takes some luck. Winds gusting 30 mph can have that kind of impact, but I still think the golf course is largely at fault. I'm guessing Bitch Tits agrees.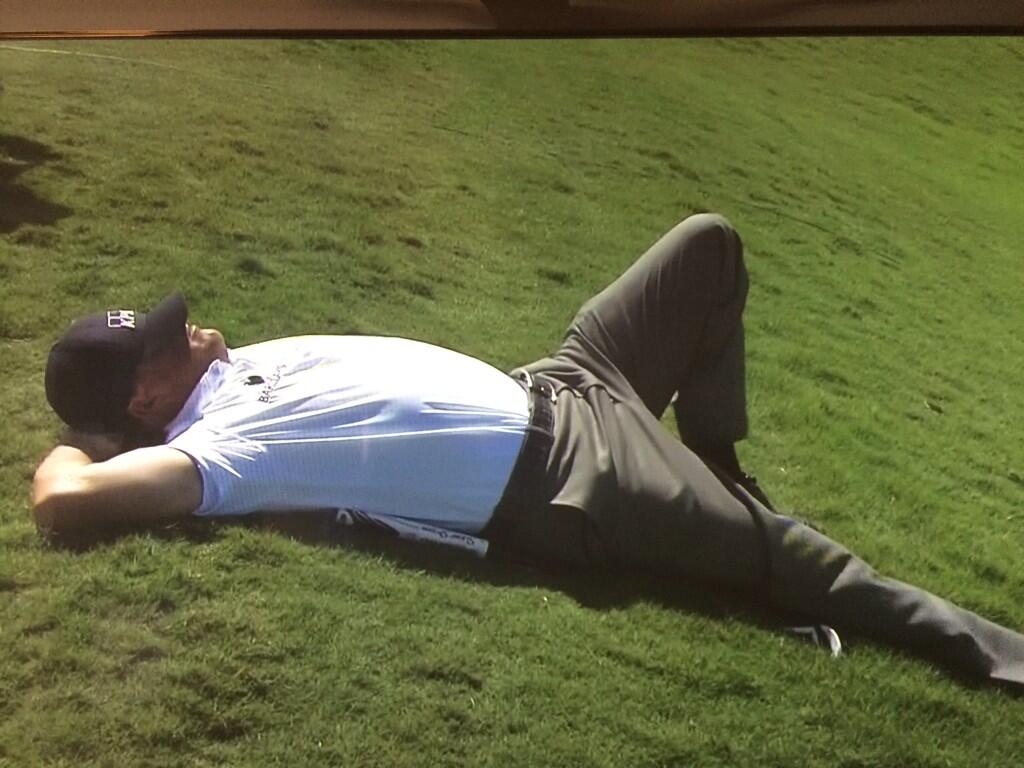 The best change Hanse/Trump made to Doral was at the 16th hole, a short par 4. It was once drive-able with only the perfect conditions. Now almost every player in the field can take a crack at the green from the tee unless the wind is in their face. There are so few birdie opportunities on the Blue Monster now with this redesign that a player who can take advantage of the 16 on Sunday might just end up with the trophy.
The 14th hole was once a nothing hole. Now thanks to Hanse and Trump, it's one of the hardest on the course. I'm guessing Tiger, Stenson, and Adam Scott think that it is an abortion of a hole. The players ranked 1-2-3 in the world, who played together in the 1st and 2nd rounds, all made double bogies on the fucker when they completed round 1 on Friday morning. Blow it up!
The 10th might be even worse that the 14th. On paper a par five always appears as a birdie hole to a tour player. To Australian pro Brett Rumford the 10th at Doral will now never be forgotten. Playing in his first ever WGC event, Rumford was pegged to start his first round on the 10th. The following image from ShotTracker shows how Rumford played his first hole of the championship:
Yeah, that's an 11. Normally I'd dump all over someone (read Kevin Na or John Daly) for making such a large number. They're tour pros. Double digit holes shouldn't be possible. But in conditions like this on a hole with no bailout like the 10th I have to give him a pass. What sucks even more for Rumford is that there is no cut. He starts the tourney 6 over on his first hole and there's no place to hide. He's simply playing for pride and trying to not finish DFL. Good luck, sir.
Tiger And Friends
It wasn't all cloudy, gray, and awful on the course at Doral through 2 rounds. In the midst of his never ending grind, Tiger pulled the longest putt of the year on the PGA Tour out of ass on the par three 4th hole. The bomb proved to be a little shot in the arm his round needed. He birdied the next hole as well and finished his 2nd nine (the front) under par to salvage the day. Better than most….
Henrik Stenson's 1st round got off to a lovely start. He birdied the 1st hole and then pounded a 330 yard drive down the 2nd fairway. Perfect, right? His next shot, an approach to the green with a wedge, was a stone cold shank.
Stenson and Woods are tied at +5, which is amazingly still in striking distance of the lead and tied for 25th. A round in the 60s by either of them tomorrow would put them in the hunt on Sunday. 
Luke Donald had some fun of his own on Friday when some idiot fan picked up his ball in the rough near the cart path and walked away with it. Luckily for Donald, Golf Channel cameras picked up the whole thing and he was allowed to replace the ball.
If no one had seen the fan pick up the ball the Rules Of Golf would have dictated that Donald take a penalty for a lost ball and re-tee. If the same thing had happened to Tiger Woods, all bets are off. Need I remind you of the quirky Quail Hollow ruling from 2012.