Did He Win It Or Survive It? 
A lot of tour players have been asked about the point in their careers that let them know they really 'belong' on tour. Most of them say it is the 2nd win that gave them that feeling, let them know they're one of the best, and secures their spot in the who's who of golf. On Sunday at the Honda Classic, Russ Henley seized an opportunity to win his 2nd tour event in 14 months. For those scoring at home, that's 2 more wins than Rory McIlroy has had in that same time frame.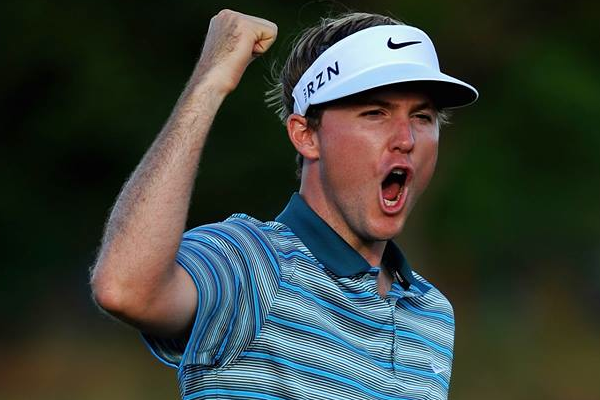 Russ joins a small group of players under 25 years old with multiple tour wins. The rest of the class includes Patrick Reed, Harris English, and Rory. You think there's a bit of talent on that list? Russ isn't as explosive as the other players I named here, but when his putter is hot he can contend. He's also shown to be pretty good at closing the deal when he gets the chance.
Henley found himself in contention this week thanks to holing putts and holing out a few times from off the green. His 3rd round eagle shown below was the shot of the week and it kept him within striking distance of McIlroy at point in the weekend when it appeared Rors might just run away and hide from the field.
Trailing McIlroy by some 4 shots before Rory went off the rails, Russ hung in the final pairing and birdied the 13th hole after gaining a stroke on the previous hole thanks to his opponent's mistake. On 14 when his approach came up short Henley chipped in for another birdie. Then he entered the Bear Trap and let the par three 15th get the best of him. He rinsed his tee shot right and made double to quickly erase the back-to-back birdies. I figured he was done at that point. He parred 16 and 17 while Rory dropped 3 shots and let him get up off the mat, but Henley couldn't capitalize on a chance to make birdie on 18. He hit a horrible chip that left him some 50 feet for birdie and was probably lucky to get that effort down in two considering the nerves he was dealing with.
As you know, Henley prevailed in the first playoff hole when he was the only player to make a birdie as he hit the green in two and casually two putted while the other 3 players made a mockery of wedge play and short game execution. Winning the Honda gets Russell into the field next week at Doral and vaults him up the Fed Ex Cup standings. Does this also make him a Ryder Cup team candidate? It might, and I'm sure Watson is looking for guys who can putt as Henley has shown he can, but Russell still has plenty to prove to make the team and plenty of competition for limited spots. Lets not get ahead of ourselves.
Rory, Rory, Rory
If what I've described above makes it seem as though Rory choked and blew it, well….that's exactly what happened. Clearly Rory's game is back from the shit form he showed for most of 2013. There's no debate there. He proved that to the golf world when he won in Australia a few months ago. But he hasn't won in the states since 2012 and its easy to question his nerves and mental game after a display like his last 12 holes of round 4 at the Honda. He shot 74 (+4) in a round where even par would have made the tournament a snooze-fest resulting in a victory for him. He didn't start the round poorly either. His sharp play from Saturday seemed to be in the bag for the first 6 holes on Sunday, but that's right about the spot in a round when nerves can start to get to you.
I think he started thinking about the end result instead of the shot at hand. There really aren't any other excuses. The weather was fine, the wind was down, and the course wasn't playing that difficult. He made passive swings and poor decisions. As great of a player as he his, take note that he's won his biggest events with HUGE leads coming down the stretch. It wasn't possible to choke those away. Think I'm off base? Consider this: Rory McIlroy is 0-4 in PGA Tour and Euro Tour playoffs. That's not a great trend it makes you question his intestinal fortitude. While he's a phenomenal talent that can blitz any field at anytime, he's not exactly a cold blooded killer like he'll need to be to reach another level.
His awful stretch on 16 and 17 where he dropped 3 shots aside, I did like the fight he showed on 18 when he went for broke and an eagle that would have won him the tournament in regulation play. After a perfect tee shot Rory took something off his 5 wood and played a high cut right at a dangerous hole location. He was left with about 10 feet for the win.
If it wasn't for Henley's Saturday hole out eagle, Rory's shot would have been the shot of the week (and still might have been if he holed the putt). As good as that was, his miss read and subsequent missed putt are more of an indication of his mindset. That wasn't exactly an (old school) Tiger type of moment for him. He has more money than he'll be able to spend in 10 lifetimes. He's the last guy that should be lagging a winning putt near the hole at that speed. Inside the left edge with some heat and that goes in. Then no one is talking about his mistakes, his choke, and the general state of his game.
Tiger Trouble
We are now in the midst of the Florida Swing of the PGA Tour season. Augusta is less than 40 days away. The month of March is upon us. And Tiger Woods has one mother fucking Fed Ex point to his name. He's played in two official events for the season, made the cut in both, and finished neither. What in the name of Fluff Cowan is going on? After what looked like a pedestrian 5 under 65 round on Saturday, Tiger was actually in striking distance of contending in the Honda when he pegged it on Sunday. In hindsight, a mere 67 would have landed his old ass in a playoff. Instead he labored through an awful ball striking round that saw him 5 over through 12 holes. My favorite moment of the round is illustrated below.
On PGATour.com's live stream, they've caught Tiger's J-slice into the hazard on ProTracer and show him asking Joey for a new ball before his tee shot has even landed. Oh my! That's like you grabbing one out of your pocket after ducking one out of bounds in your Saturday game. Of course once he realized he couldn't salvage the round, save any face, and was getting his pummeled by playing companion Luke Guthrie, Tiger's back all of a sudden was hurting and he was forced to WD and leave the golf course. Bull shit. We all know he's going to tee it up at Doral this week and tell the press how he's playing in some pain, he needs treatment every day, blah blah blah. I wish he would have just told the press he had a toothache like Rors did last year. At least with that response I wouldn't have to listen to Chamblee, Miller, Faldo, and the whole god damn morning drive crew try to make us think they're all fucking doctors for the next week.
And if by chance TW does withdraw from Doral because of his 'injury', he'll have exactly one full event left to play in preparation for the Masters unless he diverts from his normal schedule. If you already bet him to win the green jacket in Vegas, you got what you deserve. Remember, I warned you about him playing like shit and catching the injury bug.
The Field
With Henley and McIlroy wrestling with each other to see who could lose the tournament, the door was left open for the likes of Russell Knox and Ryan Palmer to also put their name in the hat as a possible winner of the Honda. Knox looked like a kid about to pee his pants with each shot he hit down the stretch. He made a horrific decision at the 14th when his tee shot settled near the ridge that divided the rough from wood chips right of the fairway. Knox tried to play to the green right after Johnny Miller questioned the decision noting that the ridge could deflect the ball into the hazard. Boom. What's the old saying about a broken clock? Miller nailed it, and Knox's poor decision cost him what could have been his first win (in hindsight).
Palmer didn't really do anything to get into the playoff or play his way into contention, he simply avoided mistakes and played steady golf all day long, until the 18th. He too had a chance to walk into the clubhouse and post 9 under and he bogied the easiest hole on the course. Both Palmer and Knox crumbled to more pressure on the 18th in the playoff when each passively made par.
Finishing T2 for Knox and Palmer is not a bad week for either player. They'll take that anytime, take the check, and hope to learn from the experience. Luke Donald, Sergio Garcia, and Jhonny Vegas also had good weeks by showing signs of life at the Honda. I know Sergio loved Doral in the past, I know he likes the Gil Hanse re-design, and I think he'll be a dangerous player in the field at the WGC next week.
TV Time
Coming out of their post Olympic coma, NBC welcomed golf back to their airwaves with the Honda Classic this weekend. While the Peacock's presentation isn't my 1st choice, they do a great job of covering the contenders and key shots of the final rounds to keep viewers in the loop, reveal the drama that unfolds, and explain what the player is facing. We saw plenty of ProTracer graphics from them too, which is great for viewers because it shows us what kind of great shot makers some of these guys really are.
Sure Johnny was back and as obnoxious as he usually is, but he was also very insightful in his observations. Miller's comment on Knox's block into water off grass/wood chip ridge on the 14th hole was phenomenal. As noted above, he called it 5 seconds before it happened just by seeing the lie on camera. The skeptic in me was thinking perhaps we weren't shown the shot live and that Miller had a preview of it.
When you're watching the Honda, you also know you're going to get a serving of Jack Nicklaus in the booth with Johnny and Dan. There are times when networks give the Golden Bear too long of a leash and he jabbers on for what feels like story hour with grandpa. NBC found a nice balancing act with Jack at the Honda on Sunday. They had him in just long enough to talk about the hospital that benefits from the tourney, some of his changes to the golf course, and some of the shots the players were hitting on camera. Nice job.
On To Doral
Three more Florida weeks, two stops in Texas, and then its Augusta time. Until then, we'll settle for another WGC event at the new and improved Doral. I can't wait to see how NBC shows the changes to the course. The Blue Monster has had quite a face lift since last year in case you didn't know.
Unfortunately, such a big event will be somewhat overshadowed by talk of Tiger's game, his back, and Donald Trump. Donald and his hair are the host and you can bet your ass he'll find the cameras throughout the championship. Find your mute button.