And I Was At Home Depot
When day break came on Sunday morning four golfers were left in Marana, Arizona to battle for the WGC Accenture Match Play Title. Jason Day defeated Rickie Fowler and Victor Dubuisson sniped Ernie Els in the morning matches to advance to the finale. I watched every shot of the championship match through the 16th hole. Jason Day made clutch putt after clutch putt to keep a 2 up lead with two holes to play. JD winning seemed to be a formality, so I did what any suburban male/husband/father would do on Sunday afternoon……I went to Home Depot. What the fuck was I thinking? NEVER TURN YOUR BACK ON MATCH PLAY!!!!
On the 17th hole Dubuisson hit a great shot from the fairway bunker to about 15 feet. Day was also on in regulation and had assured himself of a par after his putt. VD drilled his birdie attempt to shrink Day's lead to 1 up with 1 hole to play. On 18 Day's 2nd shot erred long and he faced a near impossible two putt to end the match. But Dubuisson couldn't capitalize and hit his approach in the bunker. That should have ended it, but VD's great bunker shot and Day's missed 10 foot par putt extended the match to a 19th hole. On the 1st extra hole Dubuisson found himself playing his 3rd shot from the desert when this little miracle happened.
Pars by both players lead to another extra hole. Surely Dubuisson, the Froggie, had run out of lives at that point and Day's solid play would lead to victory. Near the 20th green Day again found himself in the driver's seat with his opponent in the underbrush. Not only was VD off the grid, but his ball was literally under a bush, on the rocks, and behind a grand stand…..yeah, no problem, not for Rasputin himself.
Yes, he did it again. And Day's reaction is absolutely priceless. I can only imagine what was going through Jason's mind. Something like, "what the fuck do I have to do to beat this guy?" sounds about right. Get some garlic cloves and a stake to drive through his heart, Jason. What's ironic about Dubuisson's out-of-his-ass shots is that they go completely against his country's reputation for giving up completely when things get a little hairy. Hey-oh!!!!!!
On the 5th extra hole Day finally prevailed with a birdie at the drive-able par four 15th hole. In a match that went 23 holes, it's odd that Day never trailed. He appeared to be in control for the entire match until his par putt to win in regulation fell short. Day actually either lead or was all square with is opponents over the last 53 holes of the tournament. That's as close to dominant as you can be in match play against competition this good.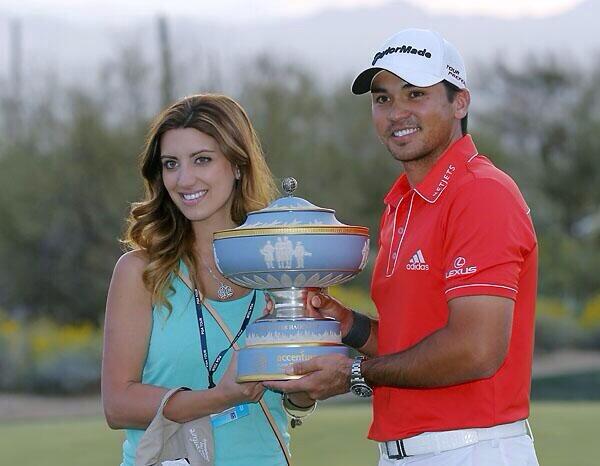 For Day, while this is his first PGA Tour win in almost 4 years, it is his 2nd worldwide win in just a few months. He won the World Cup of Golf in Australia in November. He's playing great and earned enough world ranking points with his victory to vault up to the 4th spot in the world. He won't sneak into Augusta this year unnoticed. Instead, he'll be a popular pick to win the whole damn thing. I'll be curious to see how he deals with such expectations, but I don't think I'd bet against him.
The Field
Match play is such a fickle format that it's hard to knock anyone for losing to a lower seeded player. In this field anyone can beat anyone, however, making the final four and playing on Sunday means you did something right and won at least 4 matches. That has to be considered a successful week for 98% of the field. For Day, he wins and the spoils of his victory are obvious. Els, Fowler, and Dubuisson each won in some other way this week with their play.
For Victor Dubuisson a week in Arizona became a week that could change his life. He was already a great golfer ranked in the top 30 in the world, heading to the Masters, and had a Euro Tour win to validate his career. Now consider that fact that he just spent about 15 hours on American television becoming a bit a folk hero in red pants thanks to his dazzling escapes and swashbuckling play.
Golf fans eat that shit up. While no one was rooting against Day to win, the golfing public engrossed in the Accenture were mesmerized by each shot Victor hit in the closing holes of the match. I'd bet when he played last month at Torrey Pines he likely could have counted the people in the gallery watching his group play on Thursday/Friday on two hands. The next time he pegs it in the states he'll have 5 times that amount viewing him at a minimum. He'll also be paired with better players due to his status being elevated. In all likelihood, Dubuisson's play this week has also assured him of a spot on the European Ryder Cup team this fall.  
What a great week for Rickie Fowler. Not only did he cut his hair, but he broke out of a funk and finishing 3rd might not have mattered as much to any player in the field as it to him. Rick has been working on swing changes with Butch Harmon that have taken some time to pay off. He's also putted horribly most of the year until the last few days. For him to win 5 matches at Dove Mountain is huge for his confidence and his career. His third place finish also moves him into the top 50 in the world which gets him into the field at Doral in two weeks. You think that doesn't matter? Wrong. That's more automatic Fed Ex points, money, and Ryder Cup points.
What also matters in Fowler's case is strengthening his match play record while beating Euros like Sergio Garcia and Ian Poulter. Ryder Cup captain Tom Watson was watching somewhere. Unless Rickie wins this year on tour he likely isn't making the U.S. team as an automatic qualifier. But if he plays well and is in the top 15 in the standings, a showing such as this is something Watson can draw from in considering Fowler as a captain's pick.
By various accounts, Ernie Els was over par for his 6 rounds played this week in the desert. His peers in the semi-finals were all about 10 under par or more for their matches. The good news is, they don't keep score that way at the Accenture. All you have to do is win and Ernie did that 4 times and was thisclose to landing in the final instead of the consolation match against Fowler on Sunday afternoon. Much was made out of his match against Jordan Spieth on Saturday because Jordy is nearly 25 years younger than Els. Ernie didn't think twice about it, he just kept playing his game, kept making clutch putts, and kept winning until Dubuisson squeezed him at the very end of their semi-final match.
Besides playing reasonably well, the thing Els can really take away from this week is the fact that he has returned to a conventional putting method and he can contend and make clutch putts with this technique. While his current stroke isn't something I'd want to bet my life on, it's good enough to make money putts when needed. With Ernie's long game as good as it is, any putter with a pulse in his hands can putt him in to contention on a regular basis.
Time To Move On
Without a sponsor already locked into this event for next year, no one really knows what will become of the WGC Match Play. There are some Florida and Harding Park rumors floating around. I've also shilled for my idea of how to change it a few times but at this point the only thing at appears clear is that a new sponsor will buy in and they won't play again at Dove Mountain. That's fine by me.
When you watch this event for 5 days straight from start to finish, the images and scenes from the host course become a big part of the show. Having to focus on an ugly desert landscape filled with cactus, brush, and dormant grass doesn't do much for television viewers who've recently been inundated with golf porn shown from Riviera, Pebble, and Torrey Pines. Even worse, the course is full of Mickey Mouse bullshit that the players hate. Good shots aren't always rewarded and there are far too many goofy putts and chips that are the direct result of a poor design (sorry Jack).
So good riddance to Dove Mountain for now as we anxiously await an announcement as to where and when the next iteration of this tournament will be played. Correct me if I'm wrong, but was the course built to host such a tournament? I wonder what becomes of a course like this once the tourney leaves town. Can the Tucson population sustain it at the high priced green fee it requires to cover its extensive maintenance? Will tourists snow birds continue to flock there? I simply don't know and am curious to find out.