What A Mess
Three days ago the sleepy town of Augusta, Georgia was hit with a rare but severe ice storm. Some light snow also blanketed the area to provide more rare images of golf heaven covered in white. While the snow will melt away, the ice freezing to the trees, buildings, and other structures did cause quite a bit of damage.
That image shows one of the many famous "Members Only" signs that 'decorate' the property's entrances. A limb from a tree that was encased in ice broke off and fell on it. Several trees on Magnolia Lane were also damaged by the storm.
The club told the Augusta Chronicle that clean up efforts were quickly under way to rid the property of debris and other damage. ANGC expected to be fully operational by the end of the week. Seeing such images makes it hard to imagine we're less than 2 months away from seeing dogwoods and azaleas in full bloom while watching the greatest tournament in the world.
Skaken, Not Stirred
Just as the club tried to get back to normal on Friday, a 4.4 magnitude earthquake was felt in Northern Georgia. While that might not seem like a big deal if you're a native Californian, I'm guessing it was quite a surprise for locals in Augusta. ANGC was again impacted by an act of god because the quake damaged the water tower on the property.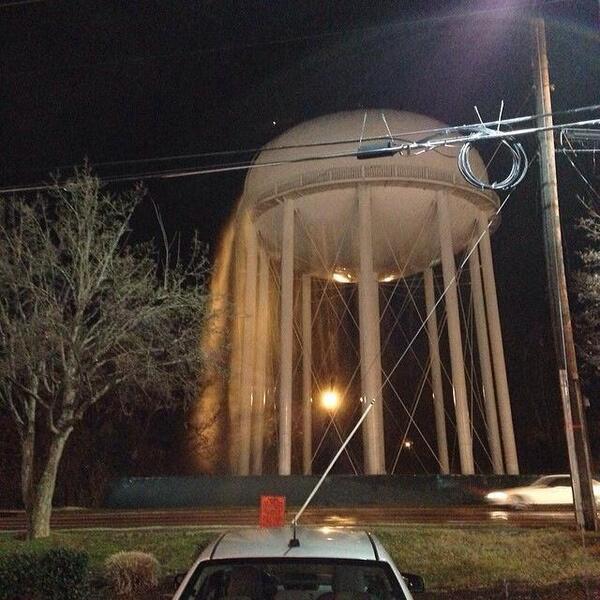 That's not a joke. The water tower is leaking from the side out of an overflow valve on to the street below. Various interwebs sources say the structure is sound and there is no danger of it collapsing. ANGC employees are working around the clock on repairs.
I'm starting to get the feeling that somebody, somewhere, doesn't want the Masters to happen this year. Or perhaps Martha Burk's voodoo training is finally starting to pay off. Lets hope the words 'Augusta' and 'natural disaster' stay out of the news for a while. I can suffer through a lot of things in life, but don't fuck with my Masters.
SUNDAY UPDATE
Although earlier reports indicated that no extensive damage was done to the course, word has leaked late on 2/16/14 that the Eisenhower Tree was damaged to the point that the tree could not be saved. If you're not aware of it, this is the large tree that protects the left side of the 17th hole. It's also the same tree that Tiger hit from underneath awkwardly that hurt his leg in 2012.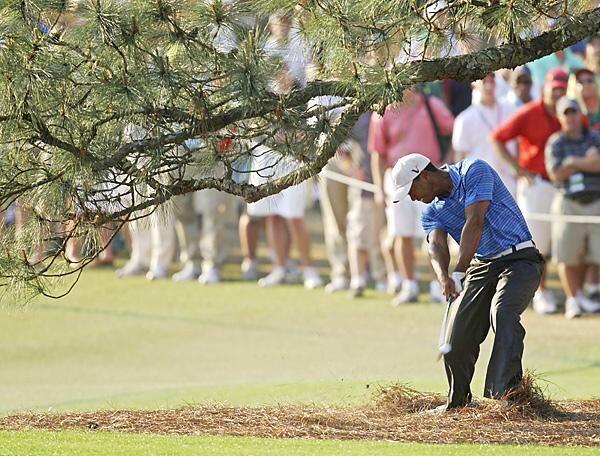 Sadly for golf history nerds, Mother Nature has done to the tree what the former President always wanted. ANGC is still weighing its options as to what it will do to the hole so that the way it is played is not drastically altered. For more on the story, check Scott Michaux's article linked here.
R.I.P
Eisenhower Tree
1889 -2014