A Bottle Of Red
In the spring of 2012 Jimmy Walker began hassling swing guru Butch Harmon to work with him. According to Golf.com, the two got together at Quail Hollow that year for extensive work and afterward continued to look at Jimmy's swing to make tweaks via texts and video files Jimmy sent to Butch via email. After working together this way for a few weeks, Butch went into radio silence and stopped returning Walker's messages. Jimmy didn't know why, but he felt he was making progress with Butch and was devastated by Butch losing touch with him.
Enter Erin Walker to save the day. Mrs. W. hacked Jimmy's phone and sent a text to Butch to get the golf couple back together. Her sleuth ways worked and Butch was back in touch with JW immediately. Jimmy tried to arrange payment for Harmon's services but Butch would take nothing. Walker wasn't having it and when he got home at the end of the year he found a bottle of red wine worth over $1,000 in his wine cellar to send to Butch as a thank you. Walker joined the Harmon stable of tour pros shortly thereafter and look what he's become in the 12 months since.
Thanks to his wife, a bottle of wine, and one of the best instructors in the game, the tour's star gazer is becoming a star. With his win today at Pebble Beach Jimmy Walker has won 3 times in his first 8 starts of the 2013/2014 wrap-around season of the PGA Tour. In the last 15 years only 3 men have had starts as hot as Jimmy to begin their seasons. Those men are Phil Mickelson, Tiger Woods, and David Duval. That's pretty good company. It's also no accident that Woods dominated, Phil won the majority of his majors, and now Walker is excelling as he is, all while under the tutelage of Harmon.
His Iliac Collar Looked Tight
All accolades aside, Walker did a fine job nearly stepping on his dick to lose the Pebble Pro-Am on Sunday. With 8 holes to play he held a six shot lead over Dustin Johnson and Jordan Spieth. Jordy was already in the clubhouse having gone out early and bounced back from his third round 78 with a 67. Johnson was a few holes ahead of Walker and got hot just in time to put some heat on Walker. On 18 DJ had a 6 iron left for his second shot and hit it on the fringe to leave himself a 25 footer for eagle. Down two shots at that time, Dustin left the putt SHORT! Perhaps he had other plans and therefore no interest in a possible playoff.
Johnson's sad eagle attempt should have slammed the door on anyone winning this tourney besides Jimmy Walker. Walker's game looked solid while he kept hitting fairways and greens through the 17th tee. After hitting his tee shot to about 20 feet on the 71st hole, he inexplicably 3 jacked by leaving his first putt woefully short and yipping his next stroke from 4 feet. Yikes. The 18th wasn't much prettier, but his last putt found the side of the hole and Walker held on to win by 1.
I tweeted that yesterday. After today, Walker is a lock to be on Tom Watson's team this fall. Winning 3 times in 8 starts shows he has the game and deserves to be on the team. Watching him close today and knowing the flat stick is a weak part of Walker's game, I can't assure you that Walker's inclusion on the team is a good thing for the American team. I know that sounds harsh, but it's hard enough being a Ryder Cup rookie, let alone one that has shaky nerves and a balky putter.
The Field
Phil is like a dog, he's happy, seemingly wagging his tail at anyone that talks to him, and is easily distracted. The GIF of him below watching the yoga freaks on the beach is priceless. He actually looks like he wants to go chase tennis balls with the other dogs on the beach. Um…Bitch Tits, its your turn to putt! I loved how he told Gary McCord how well he was putting on Saturday then he missed everything he looked at on Sunday. His post round presser was more of the same. "I can't put it all together, it's all right there"…..blah blah blah. An empty West Coast swing from Phillip is usually a harbinger of an off year. I don't think (of course I could be wrong) he's playing at Riv next week either. Florida golf is rarely kind to him which means we won't have any clue what Phil we're getting by the time the bullets fly at Augusta. Phil's got us guessing, and that's exactly when he flourishes.
For some reason I find a bit of joy watching Kevin Na in contention but falling short in the end. He's such a gritty competitor, but he's also an asshole that plays way too fucking slow. He's always bothered by something, backing off, then acting like the shot he hit is going to go in when it's 20 feet short or wide. I do like that he wears his heart on his sleeve, but I will never root for him to win unless he's facing Vijay Singh. Unlikable doesn't describe it. Playing on a medical exemption means Na is under the gun to make money fast to keep his card. His top 5 at Pebble is a huge step in that direction. Get ready for more Na Na Na Na.
TV Time
CBS is usually my favorite network for golf tournaments, but CBS at Pebble Beach is my least favorite broadcast of the year. Nantz' hard-on for all things 17 Mile Drive wears me out. The dogs on the beach in slow-mo, the extensive coverage of the celebrities on Saturday…..oh fucking shoot me. It's all so mind numbing. It's also a lazy broadcast. They don't even try to do anything extra to show the course, demonstrate some of the quirks, etc. I think they rely heavily on the scenery and blimp shots to distract viewers from their weak effort.
Pay no attention to the rumors saying that I wrote this message in the sand: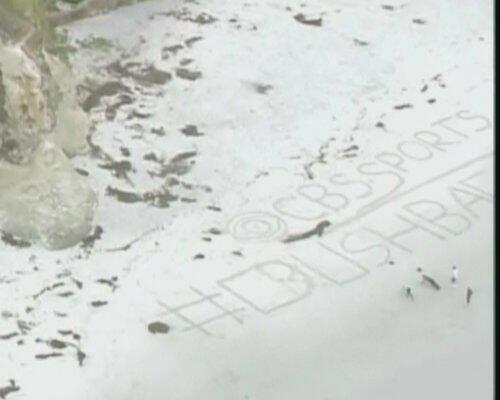 I wasn't there and I think I know how to spell 'douchebag'. For all my complaining about the coverage there were some highlights. McCord and others discussing new tee at the 10th hole was fun, but why didn't they also talk about how they did the same thing at 9 last year? My other favorite CBS moment from the weekend was Ian Baker-Finch playing into the stereo type that all Asians look alike. IBF confused Kevin Na and Richard Lee (both actually Americans) when CBS panned to Lee putting out late on the back nine. Ouch. They do have similar hair cuts, the view was from behind, but the spotter setting Finchy up fucked up.
With the weather delays from the early rounds of the tourney the 3rd round wasn't completed until Sunday morning. That meant the leaders couldn't tee off until 2 pm Eastern time. Slow rounds are inevitable at Pebble Beach, meaning, the leaders never had a chance to finish on network TV. That was even more of a lock with Kevin Na in the last few groups. Thanks to the Golf Channel we did get to see Walker almost choke live when CBS bumped its coverage over to cable. I'm not sure what the arrangement is between TGC, CBS, and the PGA Tour, but thank god it's as seamless as it appears to be. Golf fans are better off for it when coverage runs long.
Clint Being Clint
On Thursday one of Pebble Beach's key investors and leaders, Clint Eastwood, saved the tournament directors life. Clint performed the Heimlich maneuver on the guy before he choked to death and the rest is history. No big deal. Clint spent the rest of the weekend like a great grandpa in the corner of your living room during Christmas. Yes, he wet his pants and murmured to himself repeatedly. No seriously. Ok, not seriously, but that's what it sounded like. Clint was on air with CBS for more than half the Saturday broadcast in the makeshift studio by the 17th tee. Words that did come out of his mouth were barely audible.
On Sunday his old ass climbed up to the tower on 18 to hang with Jimmy and Sir Nick again. I think he spoke 3 times, 4 if you count that groaning noise he made when Dustin Johnson stopped by for an interview. This isn't Jack Nicklaus coming to the tower to talk golf on a course he built at the Memorial. It's not Palmer gracing the players with his presence at Bay Hill. Why is he on? I know he 'saved' Pebble Beach, but that's not enough of a reason to put him on this thrown.
Clint on the air is CBS schilling to the geriatric crowd while they eat dinner with golf on TV at 4 pm. Look at the guy. Sneakers, a blazer, and his new bed-head hair do. His stylist should be so proud. Hey, I like Clint, but somebody should know that the old man on camera or live air for that length of time is far from a good idea.