Phuck Yeah!
When Phil Mickelson withdrew from the Farmers Insurance Open due to injury last week after making the cut there was tons of speculation about him playing in his next event, the Waste(d) Management Open. Today, via Golf World's Tim Rosaforte, Phil told the those who care that he's healed, had a good practice session, and is ready to tee it up on Thursday. Whew! Phoenix without Phil wouldn't be the same. As most know, he's a San Diego boy, but the Arizona desert is his 2nd home having gone to college at Arizona State and winning his first tournament at the old Tucson Open as an amateur. In case you forgot, he's also the defending champion.
That clip of course is from Phil's magical 59.5 round last year at TPC of Scottsdale. I still can't get over Bones' reaction. I think he wanted that more than Phil. Don't expect a repeat from Bitch Tits this year. While saying he will peg it, he's also said he'll have to dial it back some so that he doesn't tweak his back again. Hopefully there forecast calls for warm temps so that Phil doesn't withdraw for fear of injury or pull another muscle. He's a big draw next week at Pebble too.
$500 Million Of Swoosh
Rory McIlroy and Tiger Woods are too good to play desert golf on the PGA Tour this weekend. Can you imagine that twosome coming to the 16th hole on Friday afternoon with the drunkards all foamed up? I can, and the imagery in my head always leads to a blow up doll dressed as a Perkins' waitress being passed through the crowd as they air hump it. Sadly, this won't ever happen as the $woosh boys get paid all too well to be in Dubai for this week's Euro event. Of course Rory and Tiger are paired together and that's the big pre-tournament news out of the middle east this week.
Rory finished 2nd his last time out in Abu Dhabi. His game looked pretty good, but his knowledge of the rules cost him. I expect him to play well and contend. Tiger on the other hand was last seen grinding to break 80 on Torrey Pines South last Saturday. He says he's closer than it looks to playing good golf. When the fuck doesn't he say that? How can we continue to believe that shit? If you can stay up all hours of the night and watch it might be an enjoyable broadcast if only to see the contrast in Rory and Tiger's games at this point.
Last year in Abu Dhabi, Martin Kaymer joined this duo in their little sword fight. (TANGENT WARNING, the update to the post about Kaymer is that his WAG didn't marry him. Instead, she all but outed him as a homosexual on Twitter to me and she's now married to former NHL star Mike Modano. Oh yeah, and she's pregnant.) This year the defending champ in Dubai, Scotsman Stephen Gallacher, gets to be Lucky Pierre. Like me, you probably couldn't identify Gallacher in a lineup if your life depended on it. In case you do tune in and TGC happens to show him, here's some help:
He'll be the Opie-looking-mother-fucker that doesn't have a $woosh on his shirt. There you go, now you've learned something today.
What Would You Throw To The Drunks? 
My assumption with most readers of this site is that you are all fairly astute and follow golf on something more than a casual basis. If so, you already know about the legend that is the 16th hole at TPC Scottsdale. If not, click back here to read my summary of it from last year.
As the shit show of drunk frat boys and hot ASU co-ed goes on around play at the 16th, the players and caddies inside the ropes try to have their fun too. Unfortunately for fans, the caddie races of years past have been outlawed by the no-fun police on the PGA Tour. From what I've seen on Twitter and Instagram, the Thunderbirds that run the tournament have beefed up the sound at the 16 with music being piped in this year. In addition, the players will typically bring gear, swag, food, and other random items from their sponsors for the crowd that harasses them while they're in the cauldron.
Last year (shown above) Padraig Harrington brought Wilson footballs provided by his sponsor and punted them in to the crowd. They were a big hit. Most players bring visors or snacks of some type. As popular as Kingmade Jerky is these days on tour I think you can expect to see a ton of that shit flying through the air this week at the par 3. Kevin Streelman throws Lemonheads, Bubba Watson throws Ping visors…you get the idea. So what would you throw if you were playing? I hear Nicolas Colsearts has ordered chocolates from his homeland to distribute. Lame, right? Won't they melt?
Me? On Thursday I'd throw iTunes gift cards to the masses. That should win them over. On Friday I'd throw condoms, tons of them. Perhaps little packs of KY jelly too. Why? Because all the wasted patrons in the stands are going to leave the grounds and fuck that night. That's what people with tons of alcohol in their system do. You might as well prep them for battle and save them from 18 years of child support or a life time of herpes.
On Saturday they'll all be nursing severe hangovers so I'd distribute as many two packs of aspirin as I could get my hands on. For the hardy fans that can hang in there until Sunday? Twinkies. Those things don't melt, they don't go bad, and they fly through the air well. Who doesn't love a Twinkie?
What would you chuck to the crowd? I think we'd all love to hear. Give me your best. Give me your filthiest. And give me your worst while you're at it. The comments sections of these posts are made for shit like this. Don't let me down.
Southern Snow?
As the current freeze takes over most of the United States, several southeastern states are being blasted with snow. With that we get the inevitable pictures of some of our favorite golf haunts covered in a very rare blanket of white stuff. Augusta National looks good anytime of year, but there's something spiritual about it in the snow. Here's a pic taken today looking down Magnolia Lane.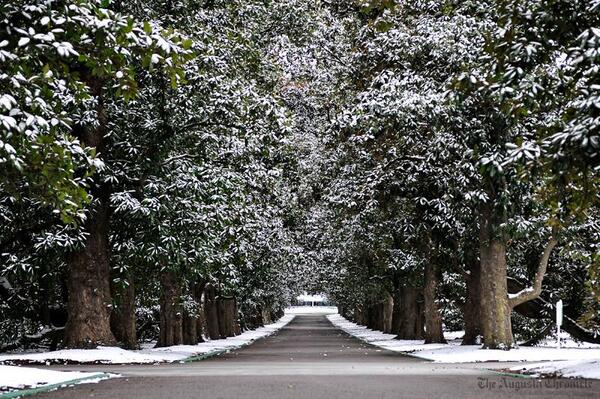 Over the years there's been several famous shots of these sacred grounds engulfed in snow. Take a look at the mini gallery provided below.
And with that you can see that my countdown clock on this site tells us we're only a bit over 2 months from the Masters. That sounds too good to be true and it can't get here quick enough.