Felt Like A Major
With Tiger out of contention, so few birdies being made, and par being a decent score on most holes, the action from the final round at Torrey Pines felt like a major. The rough was thick, the greens were firm, and the winner didn't get to ten under par for four days. That doesn't happen most weeks on tour. At one point, 6 players were tied for the lead with 3 of them sitting at -8 in the club house having completed their rounds. A playoff seemed inevitable.
Golf fans had to be in heaven as the CBS coverage bounced all over the place to bring us the action. They followed KJ Choi as he finished, but came back to the final group to feature  Gary Woodland who lead at the time. They picked up on Jason Day and Graham DaLaet making charges and followed their group closely as both finished the 18th with birdies to tie Choi. Faldo and McCord kept telling viewers that -9 would be the winning score and they were spot on.
When Scott Stallings got to -9 under I assumed that if he could stay at that number he'd find himself in a playoff. Stallings bogied 16 to fall back into a tie with several other players but then played the 18th perfectly to garner a 2 putt birdie and post 9 under. This knocked Choi, DeLaet, and Day out of the lead and sent them home. Stallings needed only to survive attempts from a few players behind him to tie him to be the victor. Once Gary Woodland found the barranca to the left of 17 with his tee shot, Stallings was almost certain to be the champion.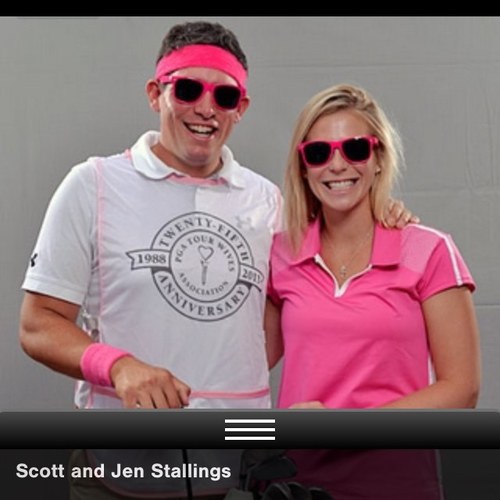 Thick rough and firms greens should have put a premium on finding the fairways at Torrey Pines, but Stallings shot 68 while hitting just 4 fairways. His scrambling along with some good fortune in Woodland's issues, Day's late bogey, and his 2nd shot on 18 staying out of the H2O, aided him in victory. His win today puts Kevin into the field at the Masters as he had not previously qualified by winning last year or making the 2013 Tour Championship. This is Stallings' 3rd win in the past 4 seasons.
CBS Execs Seen Late Saturday Night Buying Rope, Razor Blades, & Drain-O
There is nothing automatic in sports, but Tiger Woods and/or Phil Mickelson playing in the final round of the tournament played at Torrey Pines has happened for 21 straight seasons. Both were in the field this week and both made the cut, which makes their absence on Sunday even more bizarre.
Phil tweaked his back on Thursday in the first round while playing his 10th hole. The Golf Channel caught the injury live when they showed Phil lurch and clutch his back as his tee ball found the rough. He grimaced throughout the rest of his round and hinted that a WD could be coming. Alas, he showed up on Friday and suffered through hitting shots from Torrey's thick rough for another day. He made the cut but told officials that he wouldn't be in the field on Saturday as he didn't want to develop bad swing habits while dealing with the injury. I think Phil made the right choice. He gave fans a chance to see him play and cut his losses. Will his muscle issue heal in time to defend his Phoenix Open title next week? Let's hope so.
Tiger also made the cut a few ahead of the number for the weekend. On Saturday he started on the back 9 of the South Course and didn't do much until he made a snazzy birdie on his 8th hole, the par four 17th. He hit a perfect drive on his next hole and left himself 256 yards to the par 5. Eagle time? Nope. His 2nd shot splashed loudly in the drink and Tiger went on to make a double bogey. It looked to me like he gave up after that. He missed countless fairways, greens, and putts to card a 42 on his 2nd nine. His score of 79 was one shot worse than my round on the South 3 weeks ago.
The round was only 2 shots away from the 81 he shot at Carnoustie in 2002, which is his highest career round as a professional. His 3rd round shit show also left him in 2nd to last place and out of the top 70. That means he gets to go home for round 4 because of the tour's policy to only let 70 players tee it up in the final rounds of their events. I wonder if they regret that now. I wonder what Tiger did with his unused red shirt?
He looked lost. His body looked too big with muscle and a lack of flexibility. Brandel Chamblee, as much as I despise him, made some great points on TGC before Tiger blew up in the 3rd round. BC noted that Tiger's swing speed was measured on the 13th tee in the 2008 U.S. Open at 122 mph. Last year when he won at Torrey it was measured on the same tee at 118 mph. On Thursday it was measured at 115 mph. Muscle doesn't equal distance. Speed does. Several analysts also discussed how bad TW's transition in his swing was and how he wasn't making a full turn. Tiger has been bulking up for years, but if he doesn't find a way to become more limber he's going to bulk his way out of any chance at winning 5 more majors. Maybe he already has.
TV Time
It's always nice to see the CBS team come back to the tour in January at Torrey Pines. I personally enjoy their production of a tournament more than NBC's and TGC's. CBS being at Torrey this week meant something even bigger for one of their on-air personalities. For the first time since being diagnosed with cancer in May of last year, Peter Kostis returned to work. Welcome back, Pete.
Peter's talents didn't miss a beat, unlike Nantz who sounded rusty. His analysis of Jordan Spieth's leg action (or lack of) was great and well illustrated right before Jordy hit a 327 yard bomb on the 9th hole. When Gary Woodland blocked his tee shot right on the 14th Pete showed viewers exactly why. The CBS telecasts from last year when PK was out were lacking in the swing analysis department. Having him back today was a huge upgrade to the CBS golf team, but more importantly it was another slap in the face of cancer. Take that!
Shot Of The Day
Billy Horschel didn't wear his Ralph Lauren octopus pants at Torrey Pines on Sunday, but he did amuse us in other ways. His Saturday round of 77 left William with very slim odds of contending in round 4. Paired with KJ Choi, Billy hit the shot of the day after laying up at 18th.
His reaction…..well….I guess that's Bill being Bill. We should be getting used to it by now. Nice of him to tell KJ there's room for one more in the jar.
The PHX Shit-Show returns next week. As always, I can't wait!