We Should All Be Happy Pablo Won
When someone checks the archives of European golf 25 years from now they'll see the scores of the HSBC Championship in Abu Dhabi and simply figure that Pablo Larrazabal out played two giants of the game on this one weekend (assuming Pablo himself doesn't go on to become a superstar). For anyone who witnessed the Sunday action, you'll know that's far from the whole story.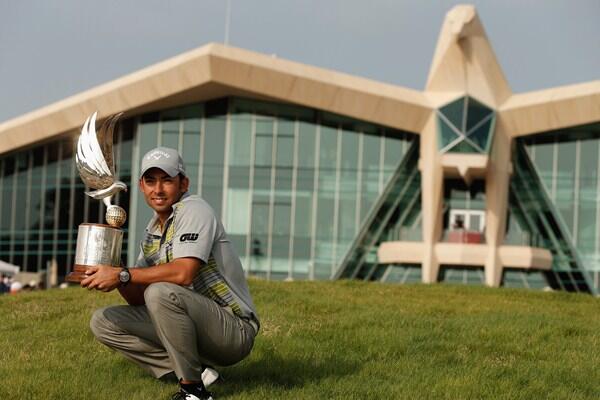 Larrazabal played great. I can't take that away from him. I think he made every putt he needed to that was under 10 feet in the final round. That's tough to beat. He also missed more than half his fairways on a golf course with rough as thick as Rory's head of hair. While his play was at times sloppy off the tee, his round of 67 tells you how damn good he was in almost every other facet of the game.
It was also easy to see how much this meant to him. Playing with fellow Spaniard, Miguel Jimenez, the two friends embraced as they walked off 18 with Pablo starting to tear up. For Rory or Phil, this is just another big check for them with World Ranking points and all the other bullshit they play for. For a guy like Pablo, this could be a springboard to bigger and better things, this is his first win in close to 3 years and only the 3rd of his Euro career. A win like this might be just enough to earn a spot on the Euro Ryder Cup team this year.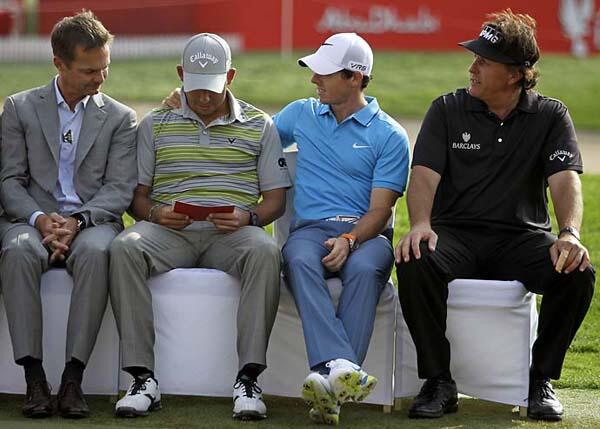 Why should you root for Pablo? Because of Gala Alten. Gala is Pablo's girlfriend. Yes, she's easy on the eyes. I don't know much about her, but if he keeps winning you should expect to see plenty more of her on this site. A gallery of her best shots is provided below for your ogling.
Don't you just love the Euro WAGs? I think the sweater shot is my favorite. Congrats again to Pablo on his victory. Somewhere tonight in Abu Dhabi, Gala has a mouthful of Larrazabals.
Phil's Gift
Phil's glorious 63 in round 3 got him into the final group of the final round after barely making the cut for the weekend. Through 12 holes Philly Mick was 3 under par for the day and had a one shot lead. Larrazabal was playing one group in front of him and had yet to birdie the 13th when Phil teed off on the same hole. Phil's play on this day was vintage Mickelson. He slapped tee shots all over the yard, but scrambled and even made birdies from places he had no business doing so. He didn't make a bogey in the round, which is usually pretty fucking good when you also make 5 birdies.
On the par four 13th, Phil tried to play somewhat safe off the tee by using a fairway wood to place his ball in the fairway. He hit a foul ball that ended up under some shrubs with his only chance of playing it being from the right-handed side. Hilarity ensued.
Classic Phil. I loved his reaction the the ball hitting the club a 2nd time in one swing. Yes, he double hit it. Then he took an unplayable lie. From there he punched out and hit his 5th shot on the fringe of the green. Then, one of the most aggressive players in the history of professional golf left his putt for a double short. How the fuck does he do that? Easy triple bogey 7.
I could waste another paragraph here about Phil's ways and how he plays, but instead I'll let a SFG favorite sum it up best via his tweet.
BTW, Mr. Elling is making a strong early push for the Tweeter of the Year Shutter for 2014. If you weren't watching the telecast, please know that Phil did come back and birdie 3 of his closing 5 holes. He even had a lengthy eagle putt on 18 to force a playoff that missed a few feet wide. Overall I think that's a great week for Phil. He's clearly dialed in and ready to play in 2014 with his new limited schedule. He'll be a heavy favorite along with Tiger to win at Torrey Pines next week.
Foot Foul
The other mega-star that gave Pablo a hand in victory today was of course Rory McIlroy. Like Mickeson, Rory finished in a tie for 2nd one shot behind Larrazabal. In round 3 on his 2nd hole Rory took a drop in which he did not take complete relief with his stance and was penalized two shots for it. Officials waited to notify him of the infraction until after his round. That's smart and fair. I don't think players should be distracted with that kind of shit while in the heat of the battle.
Rory fessed up to the mistake, but did take a shot at the Rule Book explaining that it is a "stupid rule". I agree, but why doesn't he know the rule better? Why didn't he have an official help him with the drop? Why the fuck doesn't his caddie know better? Shame on both of them. When you're playing for that kind of cash, prestige, and ranking points, you have to dot your 'i's and cross your 't's.
Rory went to his tweeter to provide a little humor. I wonder if he's still able to laugh it off knowing that if he hadn't taken the 2 shot penalty he'd be holding a trophy right now?
"Mechanic" Doesn't Seem As Fitting
Well, that about wraps up the week in Abu Dhabi….except for one last thing. Did you see Miguel "The Mechanic" Jimenez work his way into contention? The old cigar smoking, wine guzzling, Spaniard continued his solid play and was only a few shots off the lead heading into the final round. He shot 73 and fell off the pace finishing 7 shots behind Pablo. None of that really matter though. He played his final round looking like this:
With his pony tail and aviator glasses, I felt like he was doing a Paula Creamer impersonation.
While most of the media and fellow tour players call Miguel the Mechanic, that nickname just doesn't resonate with me. My golf buddy has been calling Jimenez "the rapist" for years now based on how he looks. With him wearing shades like those, I think I'm beginning to agree. If anything he looks like the guy sitting in a 1975 conversion van down by the park watching the kids play on the monkey bars. However, there's no truth to the rumor he must stay 500 feet away from all grade schools based on a court order.