Final Round 63s Don't Grow On Trees
The 4th round at the Sony Hawaiian Open began with 25 players 5 shots or less behind leader Chris Kirk. In the end the narrative played out with Jimmy Walker, Kirk, and Harris English all sitting near the top of the leaderboard looking for their 2nd win of the 2013/2014 wrap-around season. Jerry Kelly also put his name in the hat, but never really threatened to win the championship.
Through about 3/4 of the round it looked as if the Sony would be Harris English's to lose. On the 15th hole playing one group apart, both English and Walker hit irons for placement off the tee. Harris was a stroke ahead at this time. Walker's ball found an old divot hole. Harris' tee shot took an awful bounce in the fairway and kicked into a spongy Bermuda grass lie in the rough. Walker played smart and executed his trouble shot perfectly to leave himself an 8 foot birdie putt which he made. Harris lunged wildly at his shot with a short iron and left it in the bunker with little green to work with. He'd play his bunker shot to 5 feet but miss the putt. The hole turned out to be a two shot swing that English didn't recover from. Walker ran away and hid from Kirk and Kelly once momentum was on his side. JW went on to birdie 15, 16, and 17 to post 63 and grab the tourney by the balls.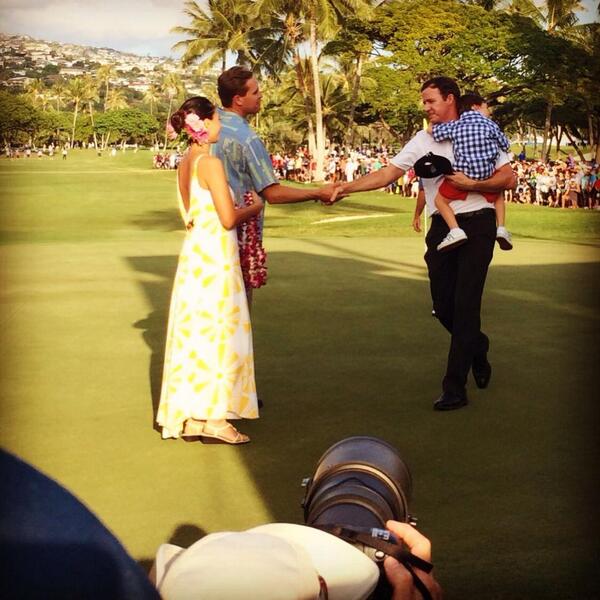 In October when Jimmy won the Frys.com Open it was his first win in some 180 starts on tour. Now almost 90 days later and a handful of starts he has his 2nd victory. It's funny how that shit works. With most things in life, once you bang down the door to get one, the second always seems to come so easily. Jimmy, Kirk, and English are also 1, 2, and 3 in the 'way too early' Fed Ex Cup standings and they're all prime candidates to make the Ryder Cup team in September.
Mrs. Walker
As regular readers here know it's become a tourney wrap-up tradition to show you what the weekly winner's wife looks like while judging and ogling her. When Walker won the Frys I left the Mrs. out of my post. When lightning strikes twice in 3 months, you can't be so fortunate. Now for the unveiling….. I give you Mrs. Jimmy Walker.
Her name is Erin. She likes horses, competes in equestrian events with them, and is the mother of Jimmy's two kids. She also is apparently a huge Broncos fan.That's as far as I'm going to go with that. She seems nice, she's cute, so why say anything mean (for once)? You can follow her on Twitter @tourwifetravels and if you do, rest assured, she's the least annoying tour wife I've found on social networks. Looks like James got a good one.
Cink's Glowing Dome
I nearly spit my beverage all over my phone when the image below came across my Twitter feed earlier this week. Closing his 2nd round in Hawaii, Stewart Cink took his hat off the shake the hands of his fellow competitors and their caddies as players traditionally do. As he did so he revealed what appeared to be an Easter Egg in place of his skull.
It's quite possible that Stew's white dome is the worst case of a farmer tan I've ever seen. Yes, those that know me know that my feet look like that or worse by Labor Day each year (they look nuclear when dipped in the pool), but I'm not on camera and I don't take my shoes off to show my glow after a round.
While this is quite hilarious, I'm not sure what the poor bastard is supposed to do. Can one of my bald readers advise him? He's protecting his tender scalp from cancer while protecting his eyes from the sun. A visor tan line would be 10 times worse. It's not like Stew has to go into work like that on Monday morning. When he's in his office, he has a hat on for 99.9% of his day. Sure it's shitty, but I'd go bald and wear that look around if you gave me the life of a PGA Tour pro and a British Open victory.
Double Double Eagles
On Friday in South Africa at the Volvo Golf Champions event, Joost Luiten holed his 2nd shot at the par five 10th hole for the first professional double eagle of 2014. As I'm sure you know, those are fairly rare. A half a world away later that day at the Sony, James Hahn did the same thing by holing his 193 yard 2nd shot at the par five 9th hole. Thankfully, Hahn's shot was caught on camera by the folks at the Golf Channel. Take a look.
It is believed that this is the first time in history that 2 double eagles have been recorded on major tours in the same day. Last year on the PGA Tour only 2 albatrosses occurred.
Site News
Shit, I almost forgot. As previously noted, the Bitch-Tits-Tax-O-Meter will be coming to an end in the very near future. Obviously 2013 has closed and Phil's tally of tax dollars must go away. I'm still looking for ideas for something to replace it with. One reader did suggest a running total of dollars spent to defend the tour against lawsuits from uber prick, Vijay Singh. Great idea, but alas, that kind of information would be hard to come by. I've also thought about keeping track of the number of cliches Jim Nantz uses on all live CBS and TGC airwaves in 2014, but the thought of that exhausts me.
The bottom line here is, keep the ideas coming. No idea is a bad idea and as with every thing else on this website, nothing is off limits. Happy brain-storming!